Kingsford® 100% Natural Hardwood Blend Pellets
Maple, 20 lb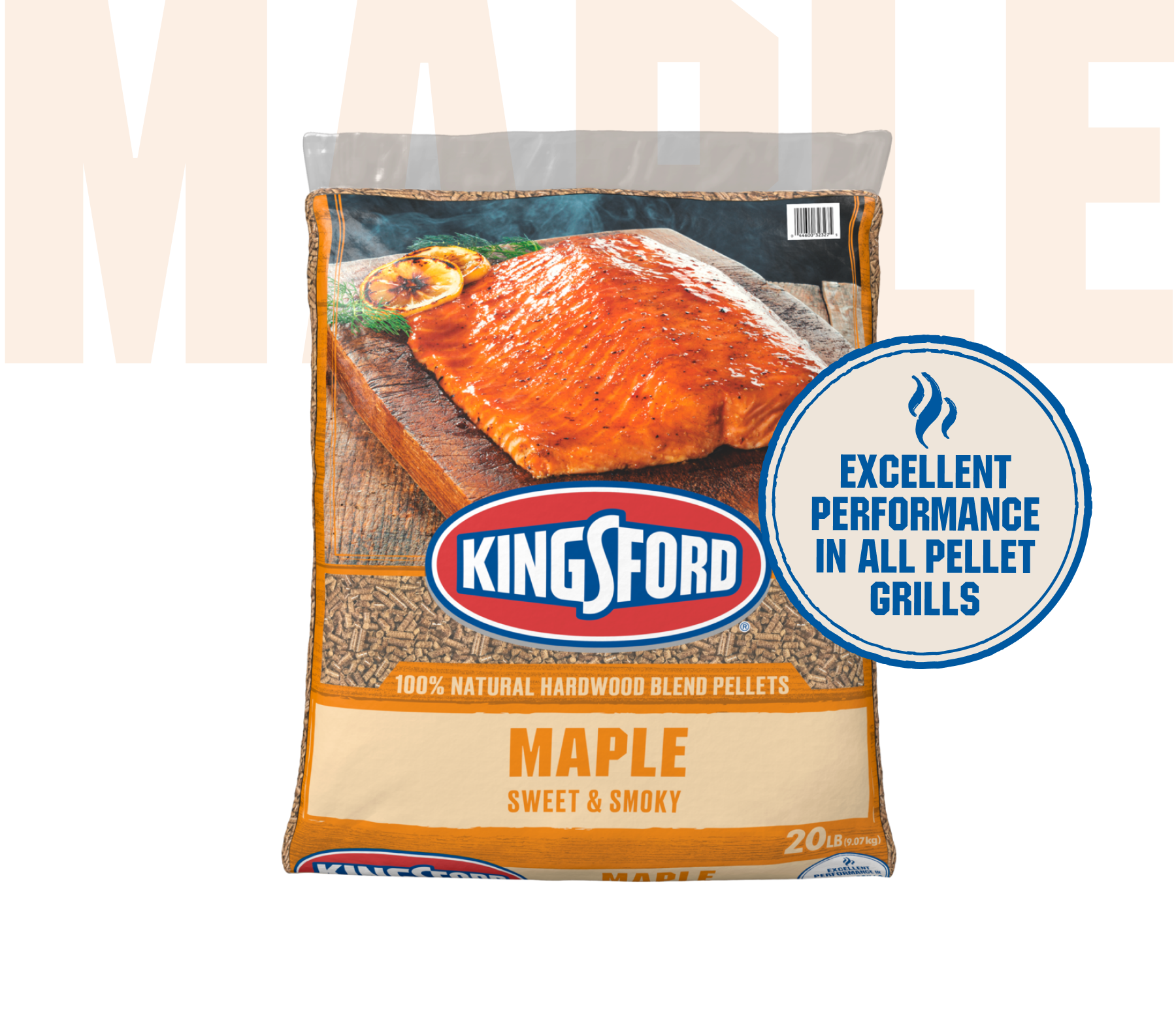 Made in the USA

Pure Flavor Hardwoods

Great for Any Pellet Grill
Embrace the sweeter side of smoke. Grilling with Kingsford® 100% Natural Hardwood Blend Pellets brings you authentic Maple wood-smoked flavor from all-natural American hardwood. Our Kingsford® 100% Natural Hardwood Blend Pellets deliver excellent performance in all pellet grills, including Pit Boss® and Traeger®. Made in the USA, these Kingsford® 100% Natural Hardwood Blend Pellets for grilling contain no artificial flavors, fillers, binders, dyes, chemical additives or oils. Just pure hardwood for pure flavor—what you see is what you get. The sweet and smoky notes of maple hardwood pair well with all of your chicken, ribs, pork, fish, lamb, turkey and vegetable dishes. Kingsford® grilling pellets come in a conveniently sized 20 pound bag. One pound of grilling pellets lasts approximately one hour at low heat and about 30 minutes at high heat depending on the grill manufacturer and outdoor conditions in your area. Trust Kingsford for real wood flavor made easy.
Rated

5

out of

5
by
sandrag141
from
These are great if
These are great if you have a smoker and want to add flavors to it. These are a pellet so they work well in the smoker box and they come in a big bag that is very reasonable priced. I would definitely recommend them
Date published: 2021-03-09
Rated

2

out of

5
by
Axeman
from
Bought 2 bags of Maple, Classic, and Signature
Bought 2 bags of each Maple, Classics, and Signature from my local Lowes. Pellets were very small and broken up especially in Maple. Lost of dust. These were on big pallets at Lowes. I think I will stick with Traeger pellets. Also I could not find Pecan in Kingsford.
Date published: 2021-01-04
Rated

3

out of

5
by
MalloryM
from
Some good features
They produce good flavor on my salmon but it would work best in an actual pellet grill. They burn up too quickly in my regular smoker, I have to keep feeding it every 5 minutes. I would still recommend this product even though the pellets are really small.
Date published: 2020-07-21
Rated

5

out of

5
by
Tnix123456
from
First time using, definitely not last time using!
Finally got a chance to breakout the grill this weekend and a friend brought Kingsford Hardwood Pellets-Maple. I'll admit I was skeptical, but the flavor won us all over! Everything we grilled, and believe me we started adding everything from steaks and burgers, to veggies, to pineapple and s'mores for desert! Everything was delicious and they burned evenly throughout! Next weekend we are breaking out the smoker because these pellets are our new secret weapon! Way to go Kingsford! Also, US made!!! You better grab several bags because you're going to love them!
Date published: 2020-06-16
Rated

5

out of

5
by
John02v76
from
Great product!
I got this a few weeks ago I'm glad I did. The favor this left on the meat was sooo good. I had my family guessing what I put in the meat to taste better than before. I will recommend this to all my family and friends
Date published: 2020-06-15
Rated

5

out of

5
by
Pschristina
from
Just the right amount of maple flavor.
We decided to smoke chicken and pork with the Kingsford Maple pellets. These pellets were easy to light and maintained temperature very well. They added just the right amount of maple flavor to both meats. A+
Date published: 2020-06-14
Rated

5

out of

5
by
Stc313
from
Excellent Product
The Kingsford Hardwood Maple Pellets are a worthy option for your summertime grilling needs. You will not be disappointed by the aromatic flavor when it hits your senses. It is not too overpowering nor is it too weak to be noticeable.
Date published: 2020-06-13
Rated

5

out of

5
by
MzDubs26
from
Great Flavor
I was really impressed with the great flavor of our meal using Kingsford Maple Hardwood Pellets! The pellets gave a great combination of maple and smoke flavor without being overwhelming. We used the pellets in a smoker but I must say this can be used on a grill as well. I will definitely try the Kingsford Hardwood Maple Pellets again!
Date published: 2020-06-12
Rated

5

out of

5
by
Lindsayyminaj
from
Great flavor!
Want to make your veggies taste like a professional chef made them? Want delicious flavor, but don't have much time? Want to get your picky family to eat better, and enjoy their veggies each evening? These maple wood pellets are just the thing. Everyone that has tried the veggies cooked with these has loved them! We have people asking what our secret is... this is it. They were low moisture in the packaging, and have given the most delicious flavor I have experienced. Highly recommend!
Date published: 2020-06-11
Rated

5

out of

5
by
Knysbabygirl
from
Great flavor
I got these about a week ago and it was my first time using anything like this I usually use just propane or charcoal. I loved them the taste of the food was amazing and it was not a messy clean up. I would definitely use these again and recommend them to all my friends and family.
Date published: 2020-06-10
Rated

5

out of

5
by
Shannon3888
from
Good product
this worked out perfect for our first grilling of the season. it flavored the meat well. the smoke even smelled good. dont need much of the product to have a great tasting mean. definitely plan to use it on different meats other than beef.
Date published: 2020-06-09
Rated

5

out of

5
by
SacBay
from
Fantastic!
We wanted to try another brand of Pellets for our Traeger and landed on Kingsford. We decided to purchase the Maple sample flavor to use with our ribs. They did not disappoint. The smell was amazing and not as sweet as I thought it would be. The maple smoked ribs turned out perfectly. We will definitely buy Kingsford pellets in the future.
Date published: 2020-06-08
Rated

5

out of

5
by
Anonymous
from
Amazing!!
I received the product in the mail today and omg!! I would totally recommend! My husband and I enjoyed the flavor it left on the chicken in the smoker! We will most definitely use this flavor again. I would definitely purchase this again!
Date published: 2020-06-08
Rated

5

out of

5
by
Farmer66
from
Best wood pellets I have every purchased
These wood pellets are the best I have ever purchased. First, they have the least fines of the many brands I have tried which leads to a better, cleaner burning of the product. They appear to be less stressful on the auger that feeds the burning pot because they are so "clean."- The product also is the best I have used as far as how long a bag will last which means they are very economical. The flavor is very, very good. I am very pleased and by far the best wood pellets I have purchased.
Date published: 2020-06-07
Rated

5

out of

5
by
Babyface
from
Pellets
I never tried this maple wood pellets but i like it i told my family and friends about it i will be getting more of this thanks tryit for letting me try it cant wait till i get more stuff to try love the things i got so far
Date published: 2020-06-07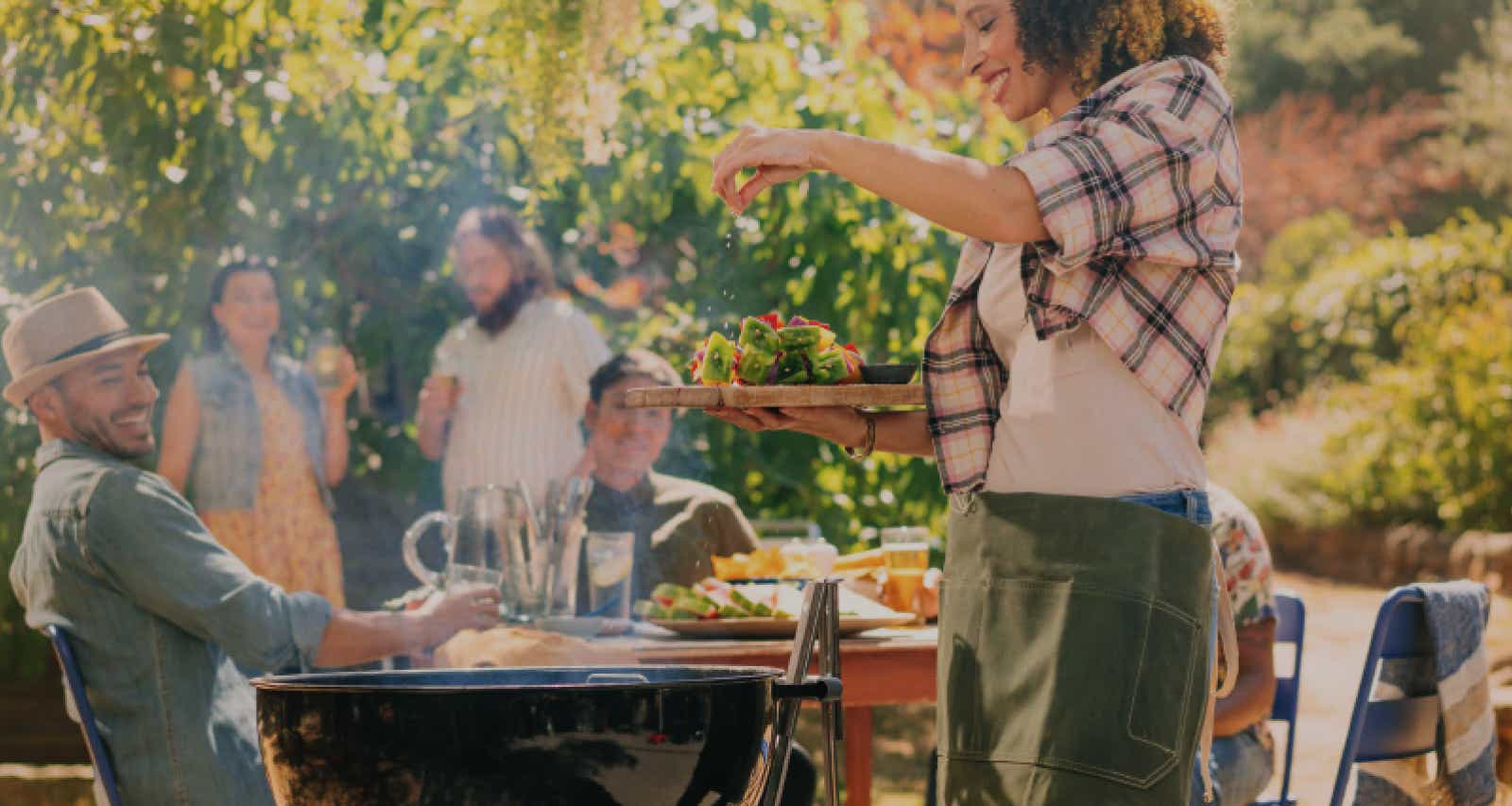 Light your fire with all new Kingsford® products.
Explore our full range of charcoal, pellets and flavor boosters to take your grilling to the next level.