Kingsford® 100% Natural Hardwood Blend Pellets
Maple, 20 lb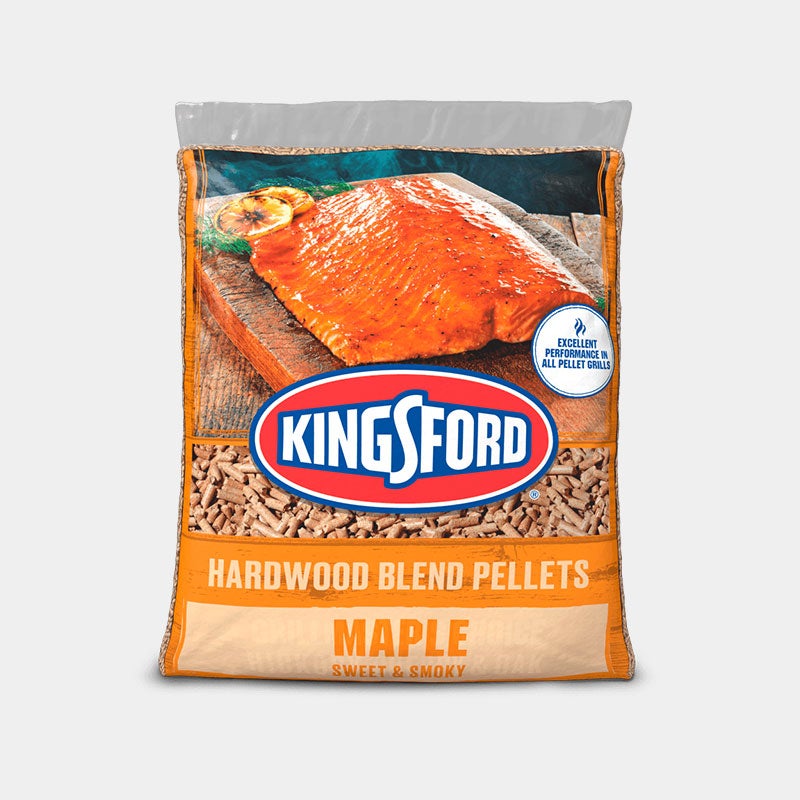 Embrace the sweeter side of smoke. Grilling with Kingsford® 100% Natural Hardwood Blend Pellets brings you authentic Maple wood-smoked flavor from all-natural American hardwood. Our Kingsford® 100% Natural Hardwood Blend Pellets deliver excellent performance in all pellet grills, including Pit Boss® and Traeger®. Made in the USA, these Kingsford® 100% Natural Hardwood Blend Pellets for grilling contain no artificial flavors, fillers, binders, dyes, chemical additives or oils. Just pure hardwood for pure flavor—what you see is what you get. The sweet and smoky notes of maple hardwood pair well with all of your chicken, ribs, pork, fish, lamb, turkey and vegetable dishes. Kingsford® grilling pellets come in a conveniently sized 20 pound bag. One pound of grilling pellets lasts approximately one hour at low heat and about 30 minutes at high heat depending on the grill manufacturer and outdoor conditions in your area. Trust Kingsford for real wood flavor made easy.
---
---
Made in the USA
Pure Flavor Hardwoods
Great for Any Pellet Grill
---
Adventurous Eats
---
Take your taste buds outside their comfort zone with these unexpected twists on grilling favorites.
Rated

5

out of

5
by
Lindsayyminaj
from
Great flavor!
Want to make your veggies taste like a professional chef made them? Want delicious flavor, but don't have much time? Want to get your picky family to eat better, and enjoy their veggies each evening? These maple wood pellets are just the thing. Everyone that has tried the veggies cooked with these has loved them! We have people asking what our secret is... this is it. They were low moisture in the packaging, and have given the most delicious flavor I have experienced. Highly recommend!
Date published: 2020-06-11
Rated

5

out of

5
by
Knysbabygirl
from
Great flavor
I got these about a week ago and it was my first time using anything like this I usually use just propane or charcoal. I loved them the taste of the food was amazing and it was not a messy clean up. I would definitely use these again and recommend them to all my friends and family.
Date published: 2020-06-10
Rated

5

out of

5
by
Shannon3888
from
Good product
this worked out perfect for our first grilling of the season. it flavored the meat well. the smoke even smelled good. dont need much of the product to have a great tasting mean. definitely plan to use it on different meats other than beef.
Date published: 2020-06-09
Rated

5

out of

5
by
SacBay
from
Fantastic!
We wanted to try another brand of Pellets for our Traeger and landed on Kingsford. We decided to purchase the Maple sample flavor to use with our ribs. They did not disappoint. The smell was amazing and not as sweet as I thought it would be. The maple smoked ribs turned out perfectly. We will definitely buy Kingsford pellets in the future.
Date published: 2020-06-08
Rated

5

out of

5
by
Anonymous
from
Amazing!!
I received the product in the mail today and omg!! I would totally recommend! My husband and I enjoyed the flavor it left on the chicken in the smoker! We will most definitely use this flavor again. I would definitely purchase this again!
Date published: 2020-06-08
Rated

5

out of

5
by
Farmer66
from
Best wood pellets I have every purchased
These wood pellets are the best I have ever purchased. First, they have the least fines of the many brands I have tried which leads to a better, cleaner burning of the product. They appear to be less stressful on the auger that feeds the burning pot because they are so "clean."- The product also is the best I have used as far as how long a bag will last which means they are very economical. The flavor is very, very good. I am very pleased and by far the best wood pellets I have purchased.
Date published: 2020-06-07
Rated

5

out of

5
by
Babyface
from
Pellets
I never tried this maple wood pellets but i like it i told my family and friends about it i will be getting more of this thanks tryit for letting me try it cant wait till i get more stuff to try love the things i got so far
Date published: 2020-06-07
Rated

5

out of

5
by
Suzieque
from
Perfect for a pellet grill
I've had these for about a month and use in a pellet grill. Work just as well as the pellets that originally came with the grill. Smell great and add a nice flavor to the food. Easy to use -nothing special required.
Date published: 2020-06-05
Rated

5

out of

5
by
Paigec
from
Great quality for a great price
I'm so glad I found these pellets. We used them in our Traeger grill and they worked great. They are great quality for a great price. We will be buying this brand from now on. It gave our food a great smoked flavor. Definitely would recommend.
Date published: 2020-06-05
Rated

5

out of

5
by
mstew07
from
Smells nice!
This Kingsford Hardwood Pellets smells nice. Meat smells heavenly. It last long. Perfect for smoking meat. I love the unique smell of it. It brings the natural flavor of the meat and seasoning I used. It adds heavenly smell.
Date published: 2020-06-03
Rated

5

out of

5
by
Audrey92
from
Wonderful flavored smoker chips
I bought this product to use in my smoker and oh my is it amazing! It makes everything taste so good and smells wonderful. It's a great product if you have a smoker or charcoal grill! You will not be disappointed so go try it!!! Highly recommend!
Date published: 2020-06-03
Rated

5

out of

5
by
Robbel
from
Makes food Delicious!
I would recommend these pellets! I used to buy a different kind for my Traeger but I really liked the price and quality of these. They were packaged carefully, good quality and worked great. I have used these pellets on several different types of food, hamburgers, ribs and trying a chicken tonight. The meats were very flavorful. The pellets did not flare up and before long a wonderful smoke was pouring out the chimneys of the BBQ. My Traeger ran perfect with them in and the ribs tasted amazing! If you love to BBQ, then give this product a try - you won't be disappointed.
Date published: 2020-06-02
Rated

5

out of

5
by
Carebear
from
Excellent flavor
These Kingsford maple pellets were way more than I expected. The flavor that this product puts into the meat is truly out of this world. You don't really even need to use any special seasoning. I will be buying these the entire summer. The maple pellets made the food taste professional each time that I used them. My guests were all very pleased and had asked how I got that flavor. Of course I told them, Kingsford hardwood maple pellets. This company truly lives up to its name and product.
Date published: 2020-06-02
Rated

5

out of

5
by
3lilladies
from
Smells amazing
We cooked ribs on the grill using the Kingsford hardwood pellets in maple flavor. The smell of the maple wood pellets smoking was so fragrant in a good way. My ribs came out with the best taste yet! Everyone ate every bite, they had so much flavor with the smoky maple. I definitely recommend to anyone with taste buds! I cant wait to try the rest of the Kingsford flavored wood pellets
Date published: 2020-05-31
Rated

5

out of

5
by
BenMonica
from
Great for grilling!
These pellets are great! The smell great in the bag and even better while the smoke. The flavor they put into the food is mild and tasty. They are evenly cut and a good small size so they feed consistently and provide for even heat. I like to mix up the flavors I use while cooking and these are definitely nice to have in the mix!
Date published: 2020-05-30
Rated

5

out of

5
by
A1984
from
Love it
I bought this for my husband and we love it it gives our food a Great Flavor. I love how it doesn't make your food taste like charcoal and you have that nice wood flavor also. I would recommend this to anyone looking for something new because we absolutely love it.
Date published: 2020-05-30
Rated

5

out of

5
by
Missyh50
from
Yummy
Great product!! My bbq was so much better this Memorial Day with the chips. Loved the smell and great taste to the burgers and pork. Cant wait to try all the other flavor if chips that is offered.. Family was impressed
Date published: 2020-05-26
Rated

5

out of

5
by
AHan28
from
Yum!
Our family loves to smoke out on the weekend. Kingston has always made amazing products in our eyes. We just tried the maple smoking pellets for the first time and we will be absolutely purchasing more. Such a great smoking taste it adds too all meats and veggies put on the smoker. We also enjoy that they don't burn up too quickly. These are nice quality pellets!
Date published: 2020-05-26
Rated

5

out of

5
by
Squirrel
from
Great flavor
I don't have a pellet smoker but do have a regular electric one. Put a handful of these chips in with my other wood and could really notice the flavor. Will try it with my charcoal bbq and also mess around with the qty in the electric smoker. Great product from kingsford as usual, been using their charcoal forever
Date published: 2020-05-25
Rated

4

out of

5
by
Statesv
from
Great product!
I barbecued last Saturday . We had baby back ribs and the maple pellets gave it great flavor. They had a little sloppiness that I thought was delicious. I would recommend using these. I'm going to grill salmon next.
Date published: 2020-05-25
Rated

5

out of

5
by
Queenie 68
from
Makes Amazing Barbeque
I had the opportunity to try the Kingsford Hardwood Maple Pellets today, and I'm so glad i did. These maple pellets are amazing! They made my grilled ribs taste ten times better than just using my regular grilling. I will definitely be adding them every time i grill. Anyone wanting better tasting food should definitely add the Kingsford Hardwood Maple Pellets.
Date published: 2020-05-23
Rated

5

out of

5
by
bowens
from
Perfect for grilling
We have a pellet grill and use it often in the summer. Since getting these pellets we have already grilled several times with them and everything has turned out delicious. The maple flavor gives the food a sweet and smokey flavor to it. We have used these to grill fish, veggies and chicken. Trying ribs next to see how they turn out. They burn very well and with constant heat. Great quality wood with no fillers so you get that authentic maple flavoring.
Date published: 2020-05-23
Rated

5

out of

5
by
Melz413
from
Yum!!!!
This stuff is really good. Smells amazing and adds a delicious flavor to the food. It is easy to use and works well with any pellets grill. I would definitely be buying this kind from now on. Please buy if you love a maple sweet flavor.
Date published: 2020-05-21
Rated

5

out of

5
by
Bobbie1988
from
They was great
We grilled some steaks last night and put some in my grill and they worked great and the food was so great and im glad i got them and i will be buying some more when i run out of them they was the best
Date published: 2020-05-20