Kingsford® Signature Flavors Flavor Boosters
Garlic Onion Paprika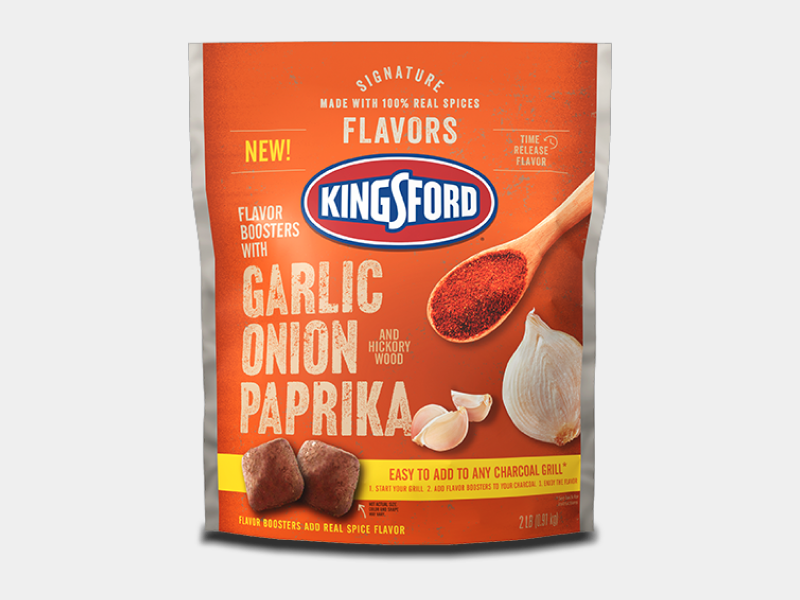 Your grill has never seen flavor like this. Get savory, caramelized flavor you can see, smell and taste with Kingsford® Flavor Boosters. The steady time release of garlic, onion and paprika flavors makes for an elevated taste to any grilling experience. Easy to add to any charcoal grill*, Kingsford® Flavor Boosters are ready in about 15 minutes to start grilling all your favorite foods. Light your grill as you normally would, add flavor boosters to lit coals and enjoy. Also available in 100% real spice pellets and blended charcoal briquets.
The 100% real spice flavor pairs well with chicken, beef, pork, fish and vegetables.
* See back of pack for instructions.
---
---
Ready to cook on in 15 minutes
---
Adventurous Eats
---
Take your taste buds outside their comfort zone with these unexpected twists on grilling favorites.
Rated

5

out of

5
by
Laguera47
from
Great product
I got the Kingsford Signature Flavors Booster Garlic Onion Paprika and it is good, it helps flavor the food and isn't an overwhelming flavor. It works work's well for meat and vegetables on the grill also leaves just the right amount of flavor to the food!
Date published: 2022-04-14
Rated

5

out of

5
by
Jfer
from
Yummm!!
We've used this when grilling everything. We love it! Ended up using a bit more than recommended and it really intensified the flavor. I Iiked it best when grilling chicken, shrimp, peppers and onions. Looking forward to trying the other flavors as well.
Date published: 2022-03-23
Rated

5

out of

5
by
Raina
from
Added that extra flavor
These help make grilled pork chops even better. I always make my chops the same way, so I could definitely tell that they were more flavorful using this. They did catch quite easily and was ready to go in right around 15 minutes
Date published: 2022-03-23
Rated

4

out of

5
by
Sheri64
from
Impressed!
This was a game changer, that I'm glad we tried! Used this for different meat on the grill, but my favorite was using chicken. You get the many notes of flavors. Garlic, onion.... And the smell is amazing! Was easy to use. Just add it to your already going charcoal. I will definitely add this to our routine of cooking on the grill for sure!
Date published: 2022-03-22
Rated

4

out of

5
by
LovelyB79
from
The Flavor is Amazing
So I got this Kingford Signature Flavors a month ago and I just put it to use the last couples of weeks for the really good grilling weather. First let me say it was packaged well and when you put it on the charcoals and grill your meat it has a smoked garlic taste and it gives the meat more flavor and juices.
Date published: 2022-03-20
Rated

5

out of

5
by
Joiful32
from
Delicious
Kingsford Signature Flavor Boosters are a blessing. No more having to go to a BBQ restaurant when you can simply buy a baggie of the flavor booster and make delicious BBQ at home! It's easy to use and so well worth trying!
Date published: 2022-03-16
Rated

4

out of

5
by
Akatem
from
Smells great
I'm always looking for ways to spice up my barbecue. These coals are super fragrant. I cooked chicken breast on the grill and it totally helping the chicken. You need to season your chicken but the smoke coming off of these adds a nice flare. I'll definitely try other flavors.
Date published: 2022-03-15
Rated

5

out of

5
by
Cassie52
from
Great product will buy again
The first time I opted to try these, I just did simple burgers and hot dogs. When I first opened the bag, you could instantly smell the hickory and herbs. They smell great! I was also pleased that these were more of a wood chip than a charcoal, as I originally thought. Immediately upon lighting, I noticed the nice, rich smelling smoke coming from the grill. The yard smelled soooo good. Everything cooked very well and had the nice wood smoked taste I love! I really couldn't taste the herbs as much as I liked. The second go with these, I used them on chicken breast, and I added more flavor boosters and less charcoal. Again, great smell, great smoke. The taste of the chicken was super! The smokey rich flavor packed with the herbs from the boosters was amazing, and my mouth waters just thinking about it! My advice is that if you are not getting the flavor you want, add a few more! I noticed they have another flavor in the store I'm excited to try.
Date published: 2022-03-14