Kingsford® Signature Flavors Hardwood Pellets
Cumin Chili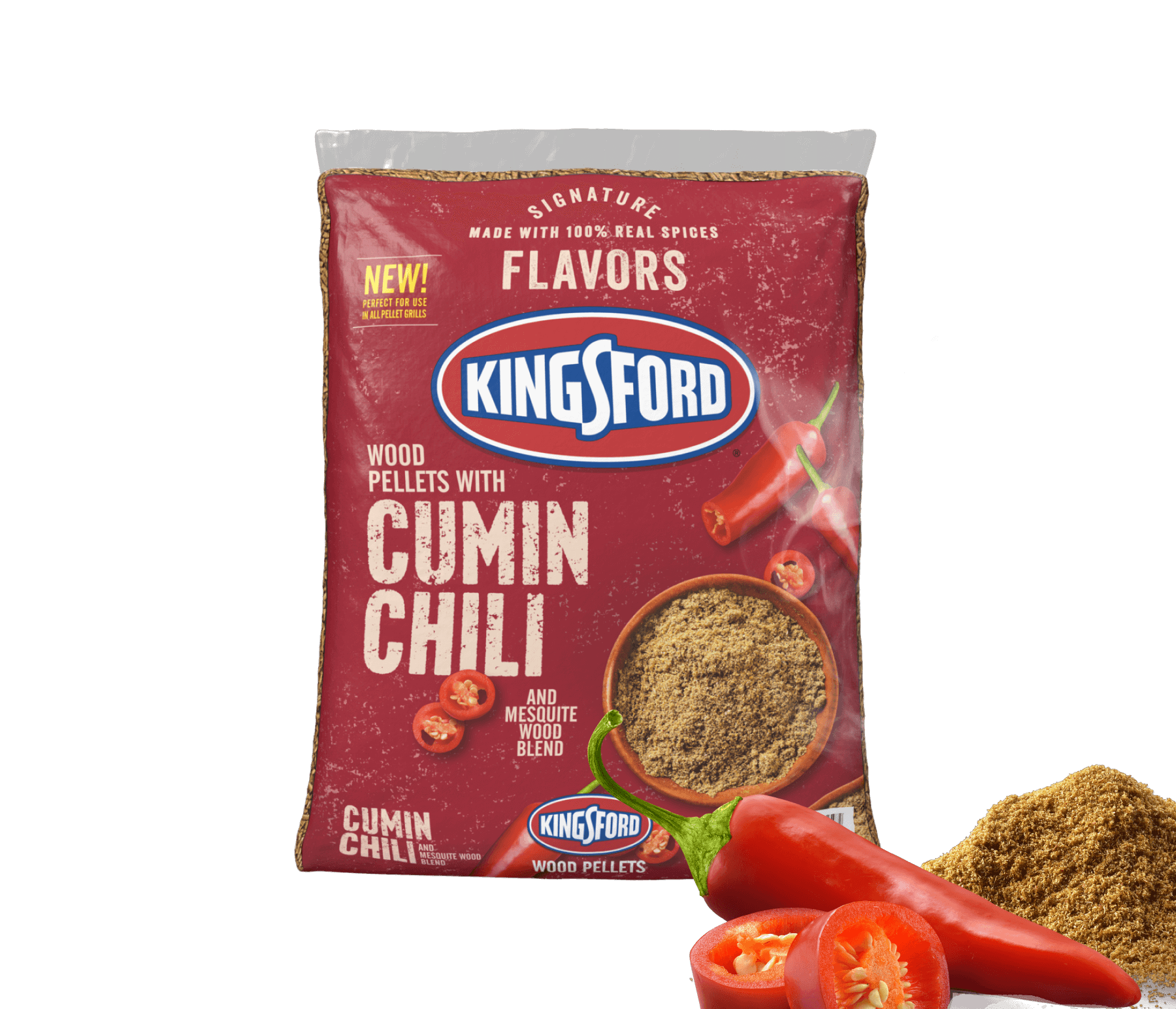 Made in the USA

Great for Any Pellet Grill
Experience flavor like never before. Made with a mesquite wood blend, these grilling pellets are infused with 100% real spices for an extra layer of flavor for your entire cook. No fillers. No binders. No preservatives. No bull. Enjoy excellent performance in all grills*, including Traeger and Pit Boss.
The 100% real spice flavor pairs well with all of your chicken, beef, pork and ribs dishes.
* See back of pack for instructions.
Rated

5

out of

5
by
Inspectorjsg
from
Nice smoke
I have an Oklahoma Joe smoker and I use a variety of Kingsford pellets. They were well and give great flavors and smell awesome when cooking.
Date published: 2022-07-03
Rated

5

out of

5
by
The Bozz
from
Best Smell ever
I bought my husband a smoker for his birthday and boy all he does is sit in his man cave ever weekend and cook out. My husband used the - Kingsford Cumin Chilli Signature Flavors Hardwood Pellets and he thinks he's the best cook ever now.
Date published: 2022-03-16
Rated

5

out of

5
by
Cresantm
from
Flavorful
We got a new grill and this is perfect for us! It adds so much new flavors to our meat I couldn't believe it. I was worried it would be too spicy however it gives the meat or whatever I'm grilling just a kick of flavoring. So much better than regular charcoal.
Date published: 2021-12-13
Rated

5

out of

5
by
Pschristina
from
Wow!
I'm so glad to get the chance to try these. They really step up the flavor game for my wood pellet grill. The extra kick of smoky from the cumin and flavor from the chili is amazing. So good with both chicken and pork. Haven't got to try beef yet but I'm sure it will be just as amazing.
Date published: 2021-11-30
Rated

5

out of

5
by
Amandamariebaby21
from
This are great
I have been using this on my pellet grill for a week or so and I love the flavor that it gives on my food. It smells good and makes the food I cook on the grill taste good. I will definitely use this whole bag.
Date published: 2021-11-07
Rated

5

out of

5
by
Melissa10
from
Amazing
I got the Kingsford signature flavor pellets cumin and chili. I used them in my smoker with the ribs and the ribs turned out so good. The pellets added so much flavor to the ribs. I can't wait to try the other flavor pellets cause they are so worh it.
Date published: 2021-11-03
Rated

4

out of

5
by
Pyroberts
from
Super flavor
This is such a great product to be able to add a nice smokey flavor to your food without having to add a ton of seasoning. It eliminates the need to even use flavoring unless you want something additional. I love the flavor and convenience.
Date published: 2021-11-03
Rated

5

out of

5
by
Annieday9909
from
Wonderful flavor
I have been smoking meats with these Kingsford signature flavor pellets for several weeks now and I am very pleased with how well they envelope the meat and provide a smoky and unique flavor. I really appreciate how well they smolder evenly and last a long time in my smoker. These do an amazing job for chicken and beef for fajitas. I wish I had them sooner.
Date published: 2021-11-03
Rated

5

out of

5
by
Pamiam
from
Smokin' Flavor
Kingsford Signature Flavor Wood Pellets in Cumin, Chili and Mesquite Wood Blend is an amazing choice for people who take grilling and seasoning seriously. I love how the combined cumin and chili unite for a unique flavor experience that merges with my secret seasoning dry rub blends. The chicken quarters that I prepared smelled so good as they cooked. I'm pretty sure that my entire neighborhood took notice, and got hungry. I like that these are made with a mesquite wood blend, since it's one of my favorite grilling woods. I also like that they don't contain any artificial colors or flavors. The pellets lasted a good amount of time in the smoker, and performed well, and the heat was consistent. I definitely prefer this flavor over plain wood chips, and it saves me time not needing to season my own wood. I definitely recommend that everyone try these Kingsford Signature Flavor Wood Pellets in Cumin, Chili and Mesquite Wood Blend, and I look forward to trying other Signature Flavor Blends.
Date published: 2021-11-02
Rated

5

out of

5
by
bsb1121
from
Smoking with all the flavor!
I got this for our smoker, since we're trying new techniques and flavors. I had a BBQ last weekend and used these pellets. The cumin and chili is subtle, but everything tasted insane! I couldn't be happier!
Date published: 2021-11-02
Rated

5

out of

5
by
djanuaryjr
from
These are awesome for adding a little extra flavor
I got these pellets a few weeks ago and ha e been saving them for the next time we made chili. Now that the weather is turning and getting colder, last night was the night. I made some chili then used these pellets in the smoker for about an hour and a half on a low smoke with the pan of chili in it. The flavor was amazing. I had been told about smoking chili and have even eaten smoked chili before but this was the first time I have made it. I'll be keeping these pellets around for awhile just for this. Also thinking about trying it on salmon.
Date published: 2021-11-02
Rated

5

out of

5
by
joovalle
from
These pellets give your meat the right flavor
First off when I opened the package I could smell the cumin so I was ready to cook some BBQ right away but it was raining so I had to wait. I cooked some chicken and fajitas on the day I was going to cook, we have always done a minimal spice blend on any meat we grill. I used a combination of charcoal, mesquite and these Cumin chili pellets. The pellets did not add any additional smoke to my regular grilling. I do not smoke my meat, I do a grill method but the pellets did give my meat a nice flavor, it was not over powering cause to much of a cumin flavor can be a turn off the chili flavor was also not overpowering it had just enough kick. If you do not like spicy food I would not suggest this item but if you do then this is a must get for your grilling.
Date published: 2021-10-27
Rated

5

out of

5
by
Robbel
from
Great bag of pellets
I can't speak to other applications, but these have worked great for what I've used them for: cold smoking cheese. The pellets are consistent, well-formed (not dusty or powdery), light and burn well, give off good smoke, and create delicious tasting cheese with a well-rounded smoke chili tasting flavor. I've had problems with ash getting on my foods from some pellets, but not these. And I've had trouble with some pellets not maintaining a consistent smoke/burn all the way through down the smoker tube. Not these. Also, used this bag to smoke a brisket on my Traeger. The brisket came out absolutely perfect. Granted I had never smoked anything before and the brisket didn't come off the Traeger until 3am. But that's not the pellets fault. The 3am dinner I had was delicious. I was exhausted but it was delicious. Likewise I've been eating the leftovers for the better part of the last week.
Date published: 2021-10-26
Rated

4

out of

5
by
Bhensl
from
Great flavor!
These pellets bring all the flavor! They are perfect to give it that subtle smoky Mexican flavor without being too much. We usually stick with the basics, apple, hickory, etc but these were a nice change of pace and something new we'll add into our rotation when we want that zing.
Date published: 2021-10-25
Rated

4

out of

5
by
thecacuraks
from
Yummy
This flavor is something we really enjoyed. It does have a bit of a kick to it. So if you are not a fan of spice I would not choose this flavor. It went really well with the chicken and burgers we smoked.
Date published: 2021-10-25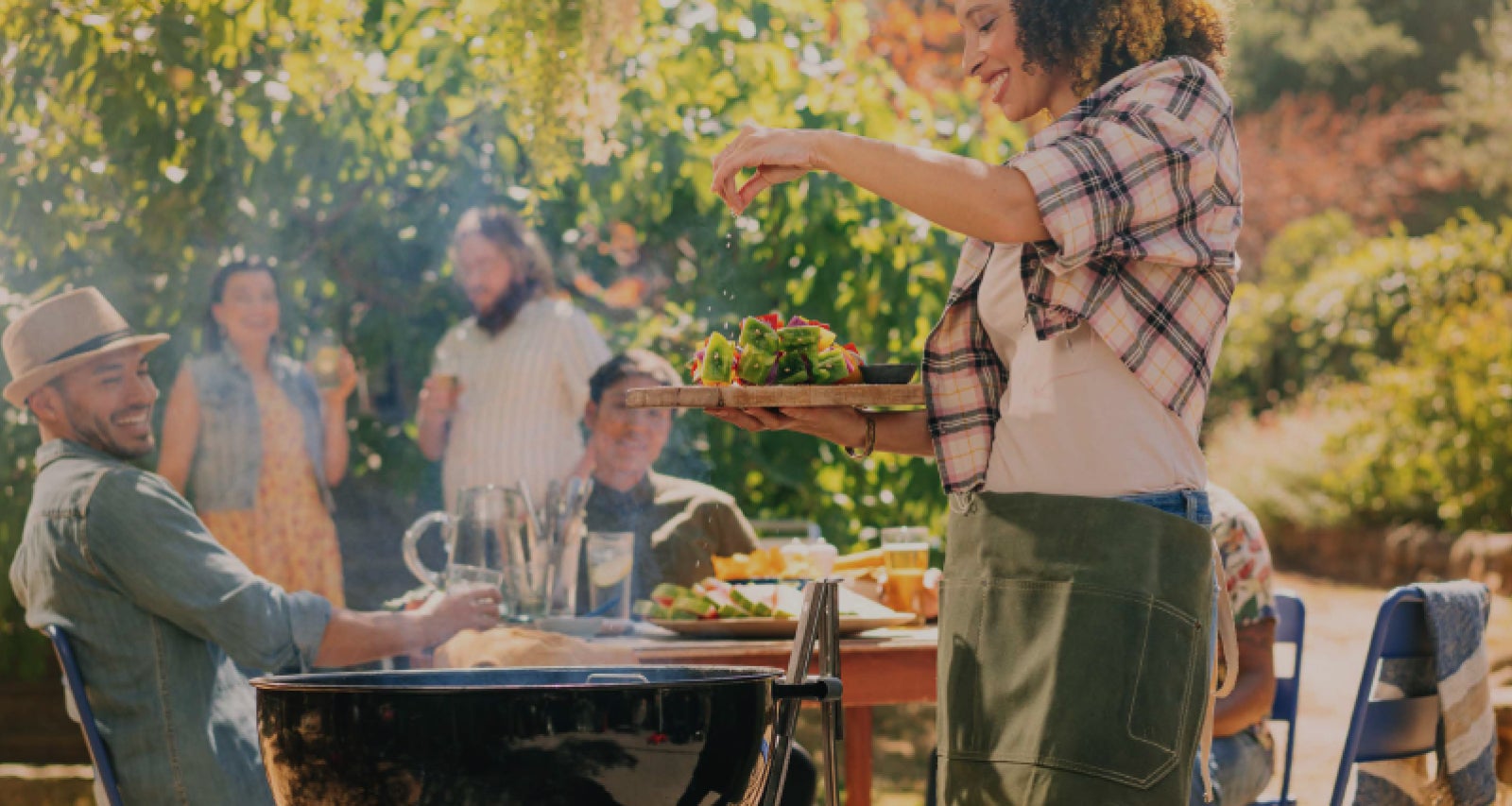 Light your fire with all new Kingsford® products.
Explore our full range of charcoal, pellets and flavor boosters to take your grilling to the next level.