Kingsford®
Match Light® Charcoal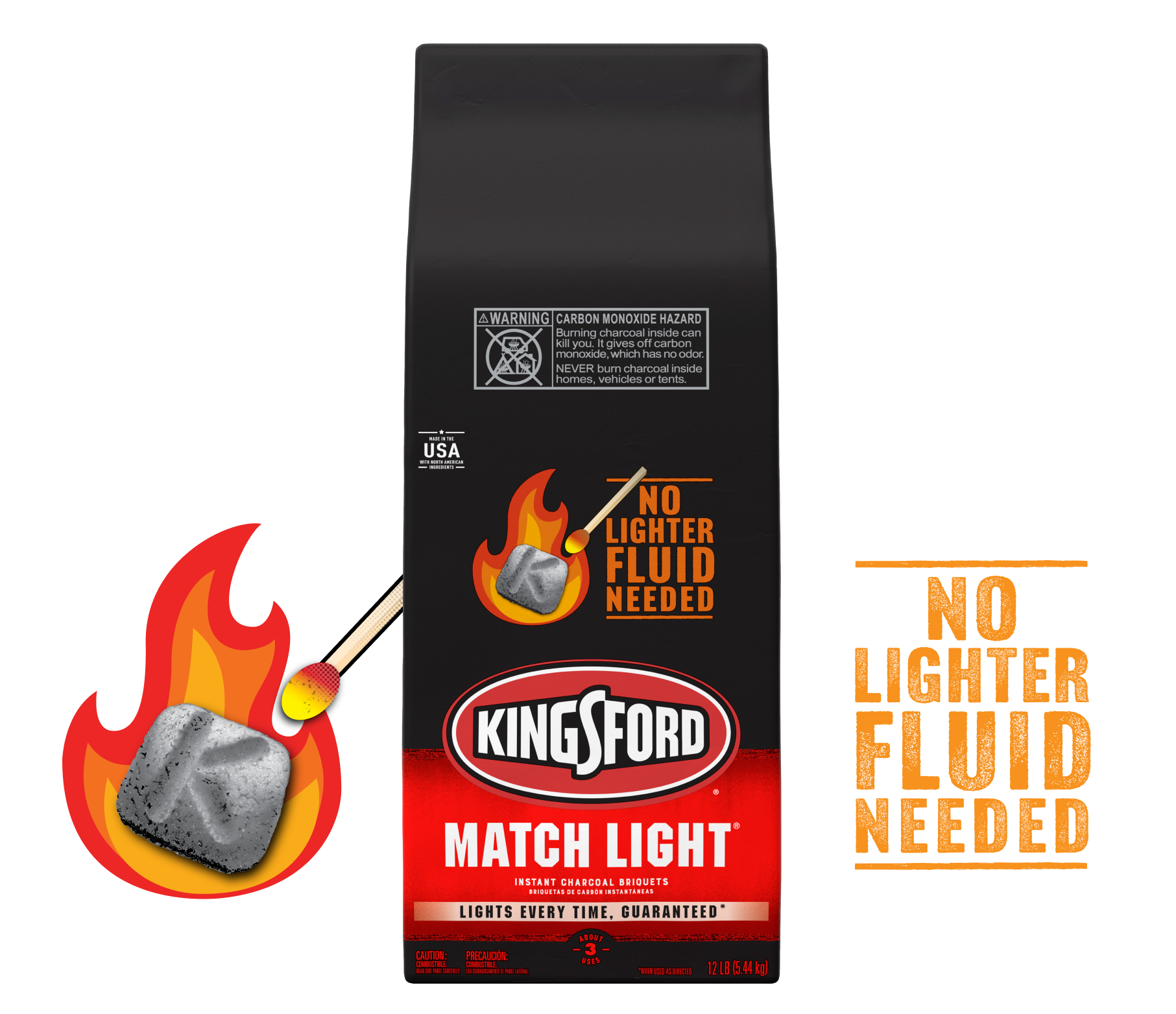 No lighter fluid needed

Ready to cook on in 10 minutes
Kingsford® Match Light® Charcoal lights every time—guaranteed.* Because the briquets are infused with just the right amount of lighter fluid, they light instantly*, and stay lit with no lighter fluid needed. They light with just a match and are ready to cook on in 10 minutes — making them perfect for tailgates and other on-the-go events. And our Match Light® Charcoal is made with North American wood and the same quality ingredients as Kingsford® Original to deliver an authentic wood-fired BBQ flavor — instantly. Available in a variety of sizes, from 4-lb. to 2x16-lb. bags.
For best results, always close the bag tightly after use. Kingsford® Match Light® Charcoal should last 1–2 years in unopened bags stored in a cool, dry place. For best lighting results, partially used bags should be rolled tightly down to the level of the briquets in the bag and securely closed. Additionally, storing open or unopened bags in a cool, dry place will help maintain performance.
Learn
HOW TO ARRANGE CHARCOAL BEFORE GRILLING
Discover the best ways to grill and smoke using Kingsford® Charcoal Briquets. We'll show you how much charcoal you should be using to achieve the right grilling temperature, and techniques to use for different types of food. It's easy — just follow along.
Rated

1

out of

5
by
fishstick
from
Match Light Does Not Work
Bought two bags to take on vacation. Used within three days of purchase. Neither bag would even try to light. I had to go to the store and buy lighter fluid. Match light is false advertising. I can't believe all the reviews that say they had the same experience - wouldn't light.
Date published: 2023-08-06
Rated

3

out of

5
by
Jack 1987
from
Still needed fluid
Bought the match light while on vacation in Florida I always buy this back home in Wisconsin I couldn't get the charcoal to light with anything I even placed the the bag in there to try to spread the fire quickly and it didn't
Date published: 2023-07-31
Rated

3

out of

5
by
Manny boy
from
Still need lighter fluid
Spend the extra money with the intent that the charcoal will light instantly, however, not the case, still need lighter fluid. We still keep buying it thinking we got a bad batch.
Date published: 2023-07-27
Rated

5

out of

5
by
Jfdnp
from
Consistently good
Have used this product for a number of years..always deivers. The rare occasion where there was an issue lighting was in a bag that sat partially open for over a month…. Little harder to might but never needed fluid
Date published: 2023-06-22
Rated

1

out of

5
by
Toes
from
Match lite
I've bought 2bags so far. I will never buy it again. I still need starter fluid. Total waste of time and money
Date published: 2023-06-18
Rated

5

out of

5
by
Sad no light
from
No light
I have been using kingsford for as long as I can remember and allways great my wife bought two big bags match light but I had to buy lighter fuild they had no light to them please send me free bags
Date published: 2023-06-04
Rated

5

out of

5
by
esteemeetsbeauty
from
Worth it
Love using this with our grill! Definitely does not take a long time for them to ignite.  Price is definitely worth the value! If you're looking for some thing that is going to make your summer backyard party kick into high gear definitely use that in your grill!
Date published: 2023-06-02
Rated

1

out of

5
by
Joe5046
from
Very disappointed
I have always used your charcoal when cooking. I would use it along with hickory. But recently I purchased 2 bags from Meijer and neither bag would light. The charcoal just sat there not igniting at all. Needless to say I purchased one of your competitors bags and Memoial Day was a success. I guess I'm using another brand from here on out.
Date published: 2023-05-29
Rated

5

out of

5
by
Bigchuck54
from
Lights every time. Lasts long. I've been using it
As long as you KEEP THE BAG CLOSED. It lights every time we only come over had a problem is when I forgot to close the bag. It is a good flavor and long lasting.
Date published: 2023-05-26
Rated

1

out of

5
by
Ralph
from
Match Light is a rip off.
Match Light is useless and expensive. I used up almost an entire lighter trying to get it to light. Finally used dead grass and twigs to get a fire going hot enough to light the briquets. Being lazy and gullible cost me $18. Never again
Date published: 2023-05-08
Rated

1

out of

5
by
No lighty tonighty
from
Kingsford Matchlight doesn't light instantly
Looking forward to having a cookout with the family. Decided to pay a little extra for the Kingsford insta light. Neither bag lit up. Very disappointed because I still had to go purchase lighter fluid and delay the party over an hour. I would have added the video of my multiple attempts, but I don't want to create a YouTube channel just to show you the product doesn't work. Quality control please!
Date published: 2023-05-07
Rated

1

out of

5
by
DPH62
from
You all have made a bad batch of charcoal
The last 2 bags of your product I have bought does not lite. Something has changed I have never had this problem.
Date published: 2023-03-26
Rated

5

out of

5
by
JoeC
from
Best Charcoal !!!!
Easy to use. Consistent quality. Always good results.
Date published: 2023-03-22
Rated

5

out of

5
by
denarisg36
from
Kingsford Match Light
What I love about these charcoal is that you don't need lighter fluid to get these babies going. They are already drenched in fluid so just light and watch them do their thing. Great barbeques year round for me. Happy grilling.
Date published: 2022-09-24
Rated

1

out of

5
by
Chimera
from
DOESN'T LIGHT!
I tried everything including applying a lighter directly to the charcoal would not light. What a waste of $10. I'll stick with the store brand from now on.
Date published: 2022-08-27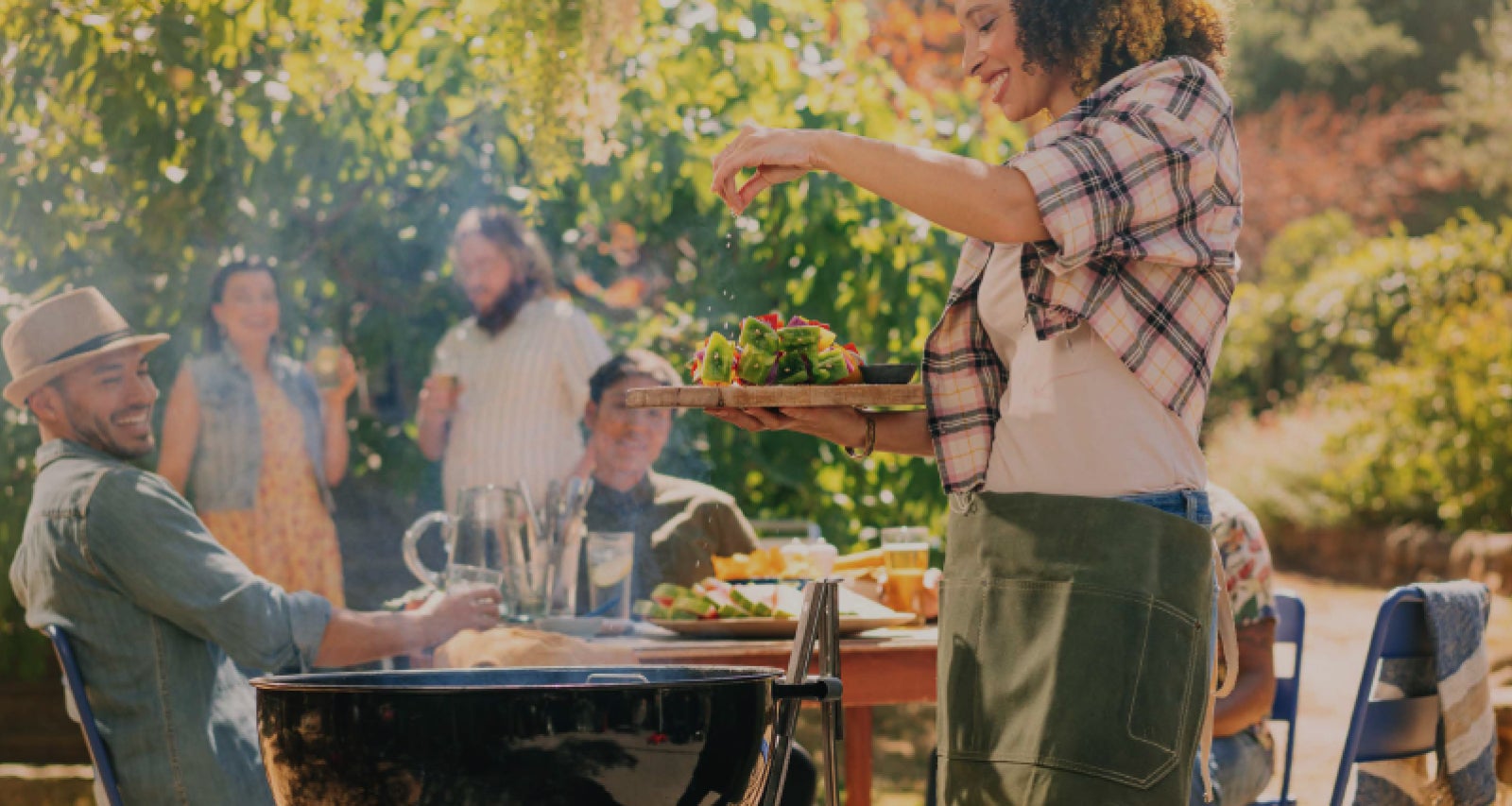 Light your fire with all new Kingsford® products.
Explore our full range of charcoal, pellets and flavor boosters to take your grilling to the next level.