Kingsford®
Professional Briquets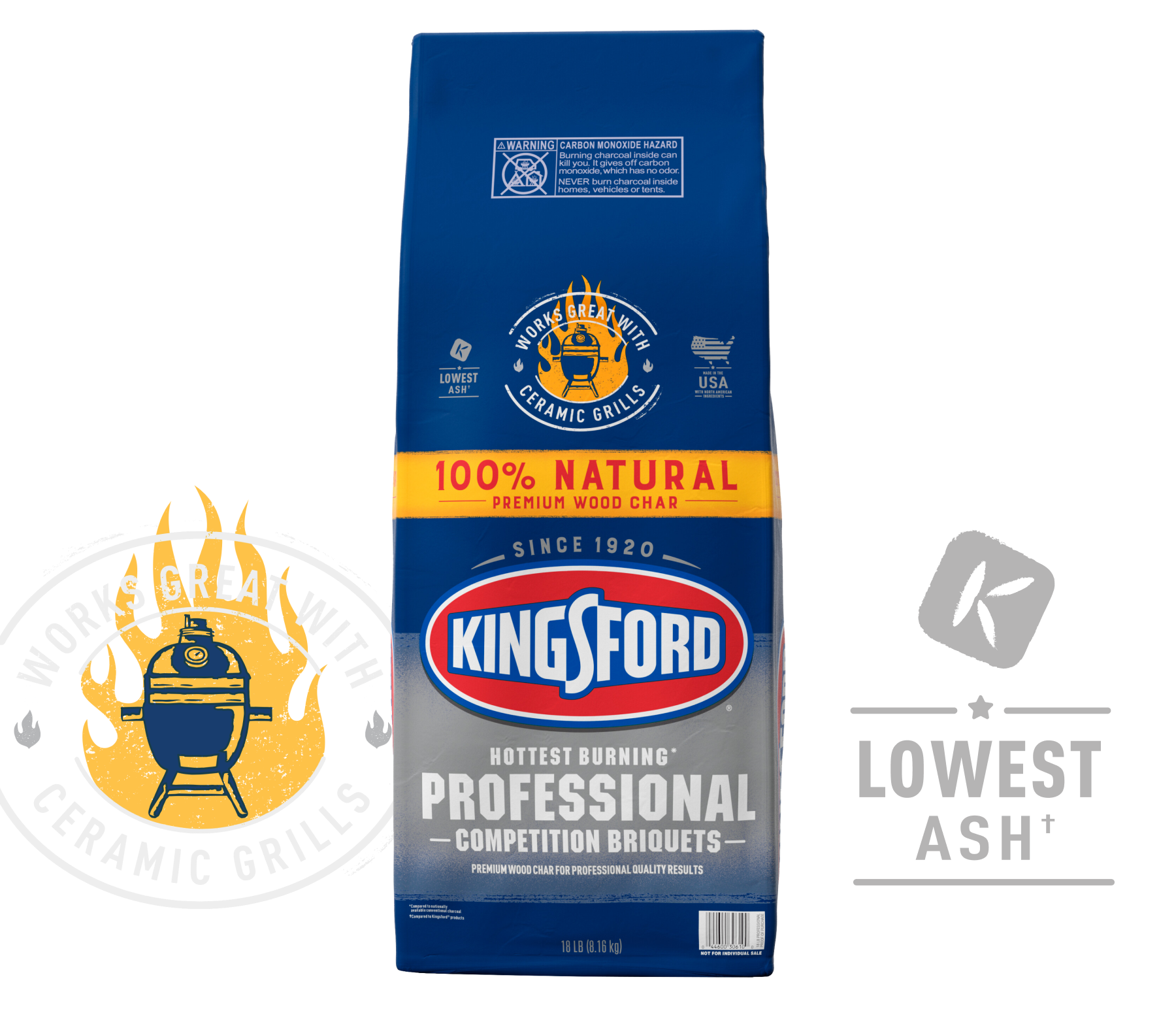 100% natural ingredients

Made in the USA

High heat

Low ash
Kingsford® Professional Briquets are made in the USA* with 100% natural ingredients and premium wood char to ensure professional-quality results. They provide a hotter burn† that's perfect for searing flavor into any of your favorite meats. They also feature Kingsford's lowest ash formula, making them great for ceramic grills and smokers. They're ready to grill on in about 10 minutes, and deliver high heat and a consistent burn time every time. Available in variety of sizes, from 8-lb. to 2x18-lb. bags.
* With North American ingredients
† Compared to nationally available conventional charcoal
Rated

5

out of

5
by
cat___lady
from
Best!!
Kingsford Professional is the best!!! Burn out quickly! And its leaves a lot less ash too, which is not as crazy messy. Always delicious meat and vegetables! Can't recommend it enough!
Date published: 2023-10-15
Rated

5

out of

5
by
HT 13
from
I switched from lump
I have primarily been using lump charcoal since I went back to charcoal grilling. I had tried several brands of easily available lump. They were fine, they cooked fine, nice and hot. I just always got this heavy smoke almost a hint of diesel and it bothered me. I randomly bought a 2 bag pack at BJs I think, only because it was there. I have stayed with it. It's very consistent and I still smell like smoke but I don't get any unpleasant smells from it. I am very happy so far and will stay with it because it works so well.
Date published: 2023-06-02
Rated

5

out of

5
by
Heavy D
from
Kingsford professional briquettes
Loved the heat that the Kingsford professional briquettes produced. The skin on the chicken that I bbqed was amazingly crispy and the flavor was amazing.
Date published: 2022-06-30
Rated

5

out of

5
by
Bledsoe
from
Nice Burn!!!
Hands down the Kingsford professional competition brand is the best I have ever used in my smoker. My spare ribs have never been better. I got a nice long burn. It was really easy to keep the temperature that I wanted and I was just completely impressed with the flavor that was set into the meat. Way to go Kingsford!!!!
Date published: 2022-05-31
Rated

5

out of

5
by
SuperC
from
Professional has great smoke flavor
Purchased some at end of last year. Hoping it goes on sale and also is in stock for the coming grilling holidays. Really enjoy the smoke flavor and high heat. Also, you get the smoke of a chunk charcoal without all the sparks of a chunk charcoal. Hoping to get a deal and load on on some in the Spring sales.
Date published: 2022-03-10
Rated

5

out of

5
by
Tim Beardsley
from
Great Product
It's great and does wonderful with steak especially when you want that wooden char. My problem is I no longer can find it as we were buying it at Costco and they have not had any now more a couple of months but I did see Amazon had it for a ridiculous price of almost 70 Dollars for 2 bags and that's crazy. Guess I will have to go back to the regulars Charcoal
Date published: 2021-11-10
Rated

5

out of

5
by
rodell
from
Long burning low ash high heat, great in smoker!
The first time I used these I could tell they were much hotter than original. The burgers had a nice sear and I come back to the grill 3 hours later to see that it was still holding at about 350 degrees! The next time I smoked a pork butt and the heat these retain over time is fantastic! Highly recommended!
Date published: 2021-10-21
Rated

1

out of

5
by
Shockey0331x
from
TERRIBLE COMPARED TO ORIGINAL
LearnED person that will tell ya they don't burn hotter(tested with a 1500°C K2 thermocouple) and is NOT a low ash formula it's honestly the WORST charcoal I have ever used. Colder than lump and burns even faster. You can feel the lack of weight easily. The decent formulations of competition and long burn are gone cause they got cheap. Use original/lump.
Date published: 2021-09-13
Rated

1

out of

5
by
NCinMtp
from
Did not get very hot.
Usually use Kingsford Original. Purchased Kingsford Professional from Costco. It advertised it is the "hottest burning"and we thought two 18 pound packages were a good deal. This product was extremely disappointing. The coals did not get very hot. After taking an extremely long time in the grill, the chicken was still not cooked through. My husband literally could touch the coals with his hand. We will only be purchasing the original from now on.
Date published: 2021-07-30
Rated

5

out of

5
by
Debman
from
Great product
I started buying this and loved it. Now it is the only one I buy. Stays hot longer
Date published: 2021-07-23
Rated

1

out of

5
by
herman
from
these seem to be damp
tried these pro series briquets they failed me, should have stuck with the original , never had a problem just thought these would crust the steak better
Date published: 2021-07-01
Rated

5

out of

5
by
Anonymous
from
I use this for incense making
I'm pretty happy with Kingsford professional charcoal because it says it's all natural
Date published: 2021-06-11
Rated

5

out of

5
by
fridam50
from
i don't know much
i don't know much about these but my dad uses them a lot when he cooks meat and barbecue
Date published: 2021-06-10
Rated

1

out of

5
by
VT smoker
from
Burns way too fast
I have been using the original Kingsford Charcoal for over 40 years. For the first time I purchased this product from costco and immediately went to use this in my Rocky Mountain Smoker. I was terribly disappointed on how quickly this product burned in comparison to the Charcoal I usually purchase in a two pack from Home Depot. I still recommend Kingsford but let the buyer beware on this item
Date published: 2021-06-04
Rated

5

out of

5
by
gloriac49
from
This is by far
This is by far the best charcoal I've ever used. It's perfect for large gatherings burns for a long time
Date published: 2021-05-25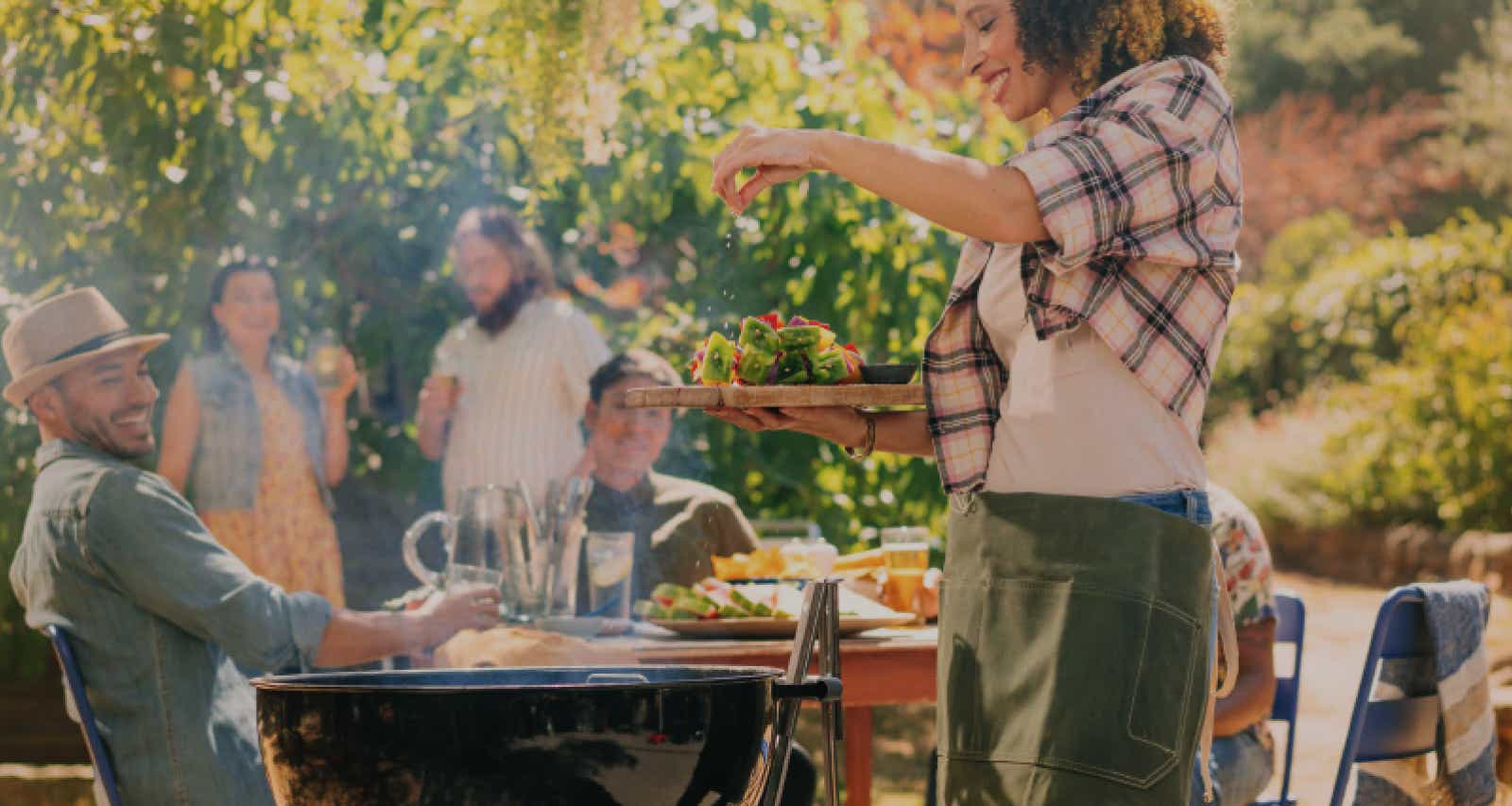 Light your fire with all new Kingsford® products.
Explore our full range of charcoal, pellets and flavor boosters to take your grilling to the next level.