Kingsford® Signature Flavors Flavor Boosters
Cumin Chili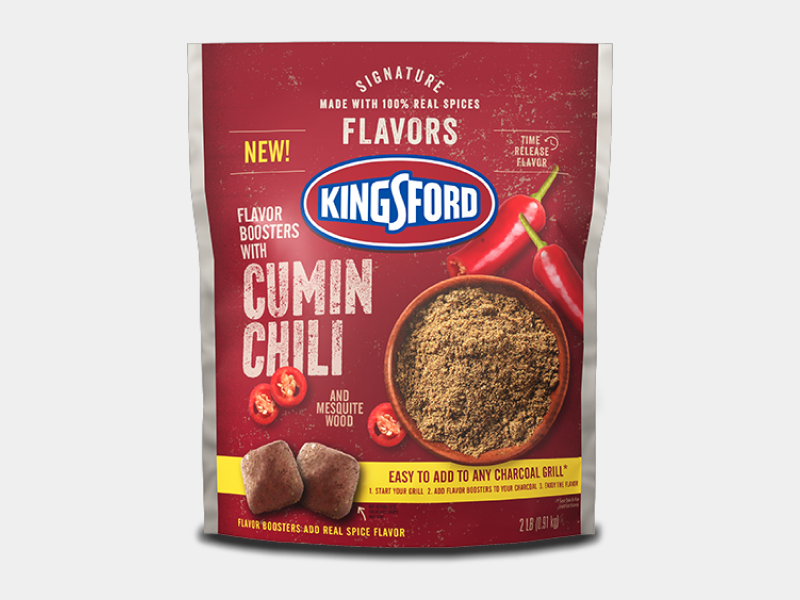 Your grill has never seen flavor like this. Get bold, smoky flavor you can see, smell and taste with Kingsford® Flavor Boosters. The steady time release of cumin and chili flavors makes for an elevated taste to any grilling experience. Easy to add to any charcoal grill*, Kingsford® Flavor Boosters are ready in about 15 minutes to start grilling all your favorite foods. Light your grill as you normally would, add flavor boosters to lit coals and enjoy. Also available in 100% real spice pellets and blended charcoal briquets.
The 100% real spice flavor pairs well with chicken, beef, pork and ribs.
* See back of pack for instructions.
---
---
Ready to cook on in 15 minutes
---
Adventurous Eats
---
Take your taste buds outside their comfort zone with these unexpected twists on grilling favorites.
Rated

5

out of

5
by
Bigalpha1969
from
Wow! These really add flavor!
First, I was very impressed how much taste this added to my steaks! I've used on pork chops, chicken, etc! Anything you can grill! The taste is really great! Very easy to use and a little goes a long way! I was wondering about the small bag, but realized you don't have to use much at all! I will be trying all these floors! Very highly recommended!
Date published: 2022-12-28
Rated

5

out of

5
by
TaterT
from
Excellent way to add another layer of flavor
While this is no substitute for properly flavoring your meat before grilling, it does add an additional subtle layer of flavor to the cooking process. The little booster blocks were easy enough to use, I just placed them on the charcoal before adding the meat, and closed the lid for a while, which gave the chicken a nice smoky flavor above and beyond just grilling it by itself.
Date published: 2022-05-16
Rated

5

out of

5
by
Anonymous
from
Amazing
I am officially obsessed with this product. It adds a lot of flavor to any grilled meat, but I especially adore it on ribs. It is very easy to use and it tastes absolutely amazing, it even smells great while cooking.
Date published: 2022-04-25
Rated

5

out of

5
by
Shaira
from
Yum
Waited for a perfect sunny day to do this. And it did not disappoint. Gave my bbq extra deliciousness. I made sure my bbq is just basicly seasoned. It yes, I tasted cumin. Will definitely get different types next time. Thank you!
Date published: 2022-04-01
Rated

5

out of

5
by
Ambere77
from
Great taste
The Kingsford flavor booster tastes amazing. It is extremely easy to use. All you have to do is add it to the Kingsford charcoal you already use. The taste of cumin chilli is not over powering it is just a hint bit makes burgers and steak a nice kick.
Date published: 2022-03-24
Rated

5

out of

5
by
Ashley43
from
Great Product!
I was unsure how much flavor these flavor boosters would give but we were pleasantly surprised! These flavor boosters are very potent in the best way! Our bbq was taken to the next level. I am so happy with this product.
Date published: 2022-03-17
Rated

5

out of

5
by
Daisycreek
from
Great Smoked Flavor
These flavor boosters of Cumin and Mesquite are great to grill with giving it a great bold and smoked flavor.we grilled a beef brisket and it had the perfect flavor and we enjoyed it a lot.it is made of 100% real spices and wood flavor that gives your meat the perfect taste.
Date published: 2022-03-16
Rated

5

out of

5
by
ThatDadGuy
from
Great Flavor!
My wife and I tried these briquettes to see how much of a difference they would make from the regular. I'm glad we tried them cause the extra flavor is a definite bonus, we tried these on some burgers and they were even better than before!
Date published: 2022-03-15