Kingsford®
Match Light® Charcoal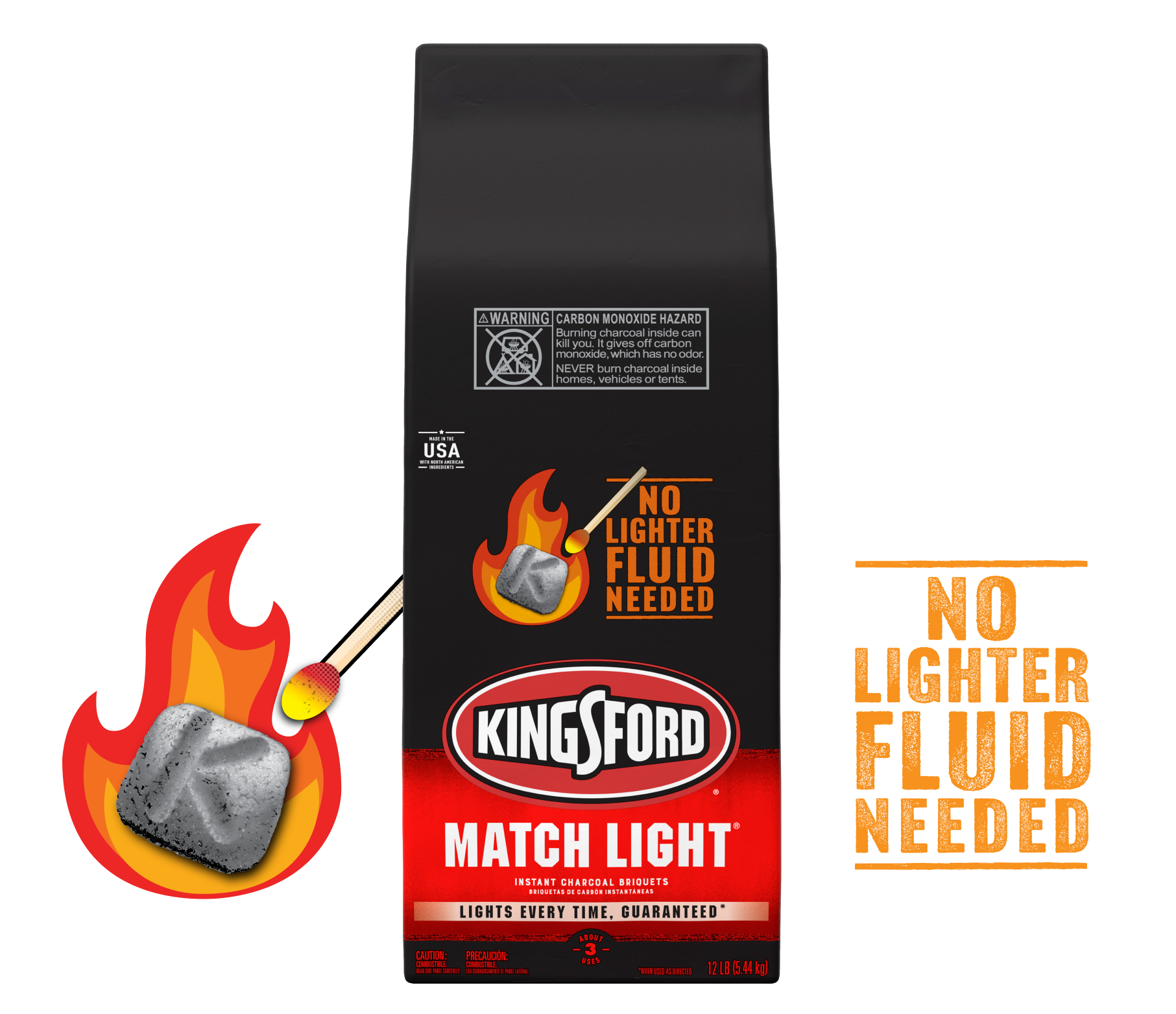 No lighter fluid needed

Ready to cook on in 10 minutes
Kingsford® Match Light® Charcoal lights every time—guaranteed.* Because the briquets are infused with just the right amount of lighter fluid, they light instantly*, and stay lit with no lighter fluid needed. They light with just a match and are ready to cook on in 10 minutes — making them perfect for tailgates and other on-the-go events. And our Match Light® Charcoal is made with North American wood and the same quality ingredients as Kingsford® Original to deliver an authentic wood-fired BBQ flavor — instantly. Available in a variety of sizes, from 4-lb. to 2x16-lb. bags.
For best results, always close the bag tightly after use. Kingsford® Match Light® Charcoal should last 1–2 years in unopened bags stored in a cool, dry place. For best lighting results, partially used bags should be rolled tightly down to the level of the briquets in the bag and securely closed. Additionally, storing open or unopened bags in a cool, dry place will help maintain performance.
Learn
HOW TO ARRANGE CHARCOAL BEFORE GRILLING
Discover the best ways to grill and smoke using Kingsford® Charcoal Briquets. We'll show you how much charcoal you should be using to achieve the right grilling temperature, and techniques to use for different types of food. It's easy — just follow along.
Rated

1

out of

5
by
Njk28
from
You had one job...
The whole concept of match-light charcoal would mean that one doesn't have to use anything but a match to light it, right? Apparently not this stuff, where marketing must have gotten a bit too confident for the development team to back up that claim. A half pack of matches, a good 3 minutes of a hand lighter, and a few fistfuls of newspaper were wholly insufficient to generate even the slightest flame from these dudes. It should be noted, this was a just-opened package. Oh, you say the charcoal needs to be stored inside, per the useless YouTube tutorial? Great, except a) I'm not storing anything this supposedly flammable in my house, and b) that advice is nowhere on the bag. Prospective buyer, do yourself a favor: get a gas grill or a chimney and some real charcoal. If you're going to spend a half hour prepping a grill, may as well make it worth it.
Date published: 2022-08-22
Rated

5

out of

5
by
lana
from
ONLY CHARCOAL TO USE!
This is how to start it, never have I had a problem starting this charcoal. Take a small mini propane tank (find at Walmart)with a torch that lights with a click of a button. Bam! that's it! Lights it and never have problems with it staying lit or going out!
Date published: 2022-08-06
Rated

1

out of

5
by
Mary and Eric
from
Won't light
I just bought a bag of match light because the coals I started with by Kingsford didn't all burn and the meat I was cooking needed more time on the grill. I started with a clean grill and piled them, and went to light them and nothing happened. I tried many times if one lit it wouldn't spread, and would go out. Don't waste your money.
Date published: 2022-07-17
Rated

1

out of

5
by
EMC59
from
Match Light is horrible charcoal
Oh sure it lights without lighter fluid however they go out as soon as the lighter fluid is gone. They do not even burn all the way through. Very disappointing as this use to be a good product. I will never ever buy again.
Date published: 2022-07-11
Rated

2

out of

5
by
Biff
from
Would not light
Always use a chimney to light my charcoal. And tried match light, would not light. Had to spray it down with charcoal lighter to get it to ignite
Date published: 2022-07-01
Rated

1

out of

5
by
Josie
from
Horrible
Bought 2 bags and they did not light up Had to make my burgers inside
Date published: 2022-06-30
Rated

4

out of

5
by
paulg15
from
Easy light
Loved how fast you could light the coals. Easy to use. Only use what you need or add what you one from the start, if you have to add more it will smell like lighter fluid for a bit. But still would use again
Date published: 2022-06-07
Rated

5

out of

5
by
Beau
from
I love it
I have been using match light for years never had a problem lighting it. It is great.
Date published: 2022-05-21
Rated

1

out of

5
by
Never buying this again
from
Absolute garbage
How does this company continue to put this product in stores, so deceiving. Tried lighting it for an hour, used paper towel and everything else to ignite the coals. Absolute garbage. Will never purchase this product again
Date published: 2022-05-08
Rated

1

out of

5
by
Mike1982
from
Horrible
I have three bags at my home. I kept buying giving it another chance. Again ruined our dinner. I'm so upset. Shame shame on them. I want my money back. Thanks for ruining three dinners. That almost 60 dollars I want my money!!!!!
Date published: 2022-04-03
Rated

1

out of

5
by
Chan
from
It won't light
I used to use the regular charcoal, but decided to give this match light a try. It did not light at all. The bag has not been opened and it was stored in my cool garage. I stacked the briquettes and lit from the bottom corners. Absolutely nothing happened on either side. So of course I had no choice but to use lighter fluid. I hope my food doesnt taste like lighter fluid because if its already infused in the coal they should light right up and I should have to use lighter fluid. But nothing happened. I am highly disappointed!
Date published: 2022-01-24
Rated

1

out of

5
by
Anonymous
from
would not light
After years of using kingsford it has now become one of the worst "instant light" charcoals on the market. The past 4 bags purchased have never caught flame like they used to. EVERY SINGLE ONE has required the use of lighter fluid just like normal charcoal. I have to say the quality has definitely lost its touch over the past years. At one point I had even gone back to the grocery store for a store brand knock off that was way better. I kept going back to you, however you have continued to let me down. Its just another disappointment in what used to be a great brand. Sorry kingsford but you have now lost a loyal purchaser because of your product quality.
Date published: 2022-01-16
Rated

1

out of

5
by
Norma
from
Will not light
Just bought a bag and can not get it to light. Even using lighter fluid it will not burn.
Date published: 2021-12-21
Rated

5

out of

5
by
itsyourmainegirl
from
We have a charcoal
We have a charcoal grill and this is the only kind of charcoal my husband will use. The instant light takes the struggle out of lighting the coals. It is a little bit more expensive than just regular coals but it's worth the price.
Date published: 2021-11-25
Rated

1

out of

5
by
Gary A
from
Terrible product
I would never buy this product ever again, it flamed up to quickly only to put itself out. The result was half cooked chicken that had to go in the oven. What made matters worse is I bought the bag with 1/3 of the bag filled with charcoal.
Date published: 2021-11-09
Rated

2

out of

5
by
Pancho
from
Briquette would not light!
Have used them numerous times before with no issues…At our Lions Club BBQ Tuesday they would not light. After several attempts we had to use lighter fluid to start the briquets and then they burned away very quickly. The extra cost of the match light is not worth it.
Date published: 2021-10-21
Rated

1

out of

5
by
Sully
from
Not what it Used to be
I have bought bags before they just don't work like they used to very disappointing
Date published: 2021-10-12
Rated

1

out of

5
by
Jerry 1978
from
Doesn't light instantly
I bought this a week ago. Isn't lighting instantly at all
Date published: 2021-10-02
Rated

3

out of

5
by
tigrcrek
from
DIssapointed
I used this product three times and when I went to use it for the fourth time(and I had a guest here) the product didnt light up, I had no lighter fluid(match light ) so I had to go and unwrap my large 6 person grill and fire that up to make dinner for two...whats up with this product ......
Date published: 2021-09-06
Rated

1

out of

5
by
Wittengirl82
from
Did not light
I bought this a few weeks ago and it did not light like it says on the bag. I went through almost a box of matches. Had to go to store to get different charcoal and lighter fluid.
Date published: 2021-09-06
Rated

2

out of

5
by
Lea jenine
from
Fluid taste!
I generally use the original Kingsford briquettes, that require fluid. I've NEVER had a problem with the original, and love it. Just last night, I decided to barbeque a rack of ribs, and a pack of chicken thighs. My mouth was drooling at the thought of this dinner. Come to find out I needed more charcoal. Ran out & Tried the match light for the first time. I will say that it did light, without any problem, so that was convenient and why I gave it 2 stars.. The smell of the fluid was rather strong, upon opening the bag, but it kind of made sense if it doesn't require fluid, right? Right. So, I carried on. Lit the grill and waited a good 25 mins until the charcoal was coated over with ash, and I felt like any fluid would be burned off! Wrong! My entire dinner was sadly ruined. Everything tasted like fluid, despite waiting. I've always turned to Kingsford, and had high hopes for the match light experience. Unfortunately after this experience, I can't say I'll ever try it again. Literally wasted a whole rack of ribs, pack of chicken thighs, and I have about half a bag of the match light left, that I don't see me using again. I'm sorry to be this person, but I have to keep it real.
Date published: 2021-09-03
Rated

1

out of

5
by
Chrissie
from
Going back to either gas or charcoal and fluid
I'm on my 3rd bag of Matchlight and have only had 1 good experience. I've stored as directed and followed instructions for use. I'm done. I've been trying for 30 minutes to get it to light with no success. No wind and dry charcoal. The concept is great but it still needs work. I don't recommend this product at all.
Date published: 2021-08-29
Rated

1

out of

5
by
Tiki
from
Caution
On the 4th of July we had a bag self ignite. It was not near a heat source, but was in the sun. It caught the house on fire. we put the fire out but had to replace garage door, the jam and electrical. I will never buy this charcoal again.
Date published: 2021-08-15
Rated

1

out of

5
by
Willie58
from
Beyond disappointing
I rented a camp in the Adirondacks and when I arrived,I discovered the grill was charcoal. So naturally I picked up a bag of match light because of Kingsford's exceptional reputation. In hindsight, I should have gone with the no name brand. It took at least 10 minutes to get the charcoal lit because it kept going out. Then it took well over 30 minutes for the coals to turn gray. I can deal with that but then my food tasted like lighter fluid. I had to drive to the closest town about 15 miles away to get something for dinner because the meal I grilled was inedible.
Date published: 2021-07-30
Rated

1

out of

5
by
Apps
from
Bring backup lighter fluid
I bought a bag of Match Light to take a baseball game to tailgate beforehand. We could not get the coals to light. We even tried burning part of the bag to ignite the coals. Still didn't work. We ended up eating the overpriced food in the ballpark spending about $150 rather than the good food we brought.
Date published: 2021-07-14
Rated

1

out of

5
by
Ben98
from
Won't burn
I've been using Match Light for years with no problems. Now all of a sudden, we've had three bags that wouldn't light in the last couple of weeks - stacking, newspapers, etc., nothing has worked. What is going on with Match Light?
Date published: 2021-07-13
Rated

1

out of

5
by
Cujo
from
Nasty
Used Kingsford Match Light yesterday. It very difficult to light and wen we grilled our $40 tenderloins on it the came out tasting like light fluid. Buyer beware
Date published: 2021-07-12
Rated

1

out of

5
by
MATCH unlightable
from
4th bag since May that doesn't burn
4th bag I've bought since May that must've been rained on or too hold to light...
Date published: 2021-07-10
Rated

2

out of

5
by
Natalie1233
from
Works great unless it's windy
I bought a bag from Kroger thinking I'd save some money and skip out on lighter fluid. Then about the third time using it, the wind blew it out right after it lit and I couldn't get it started without lighter fluid, which I didn't buy because the instructions literally say not to use it.
Date published: 2021-07-08
Rated

5

out of

5
by
bethl73
from
This is what we
This is what we always use anytime we do cookouts or just cooking on the grill! Prefect to no need for lighter fluid
Date published: 2021-06-21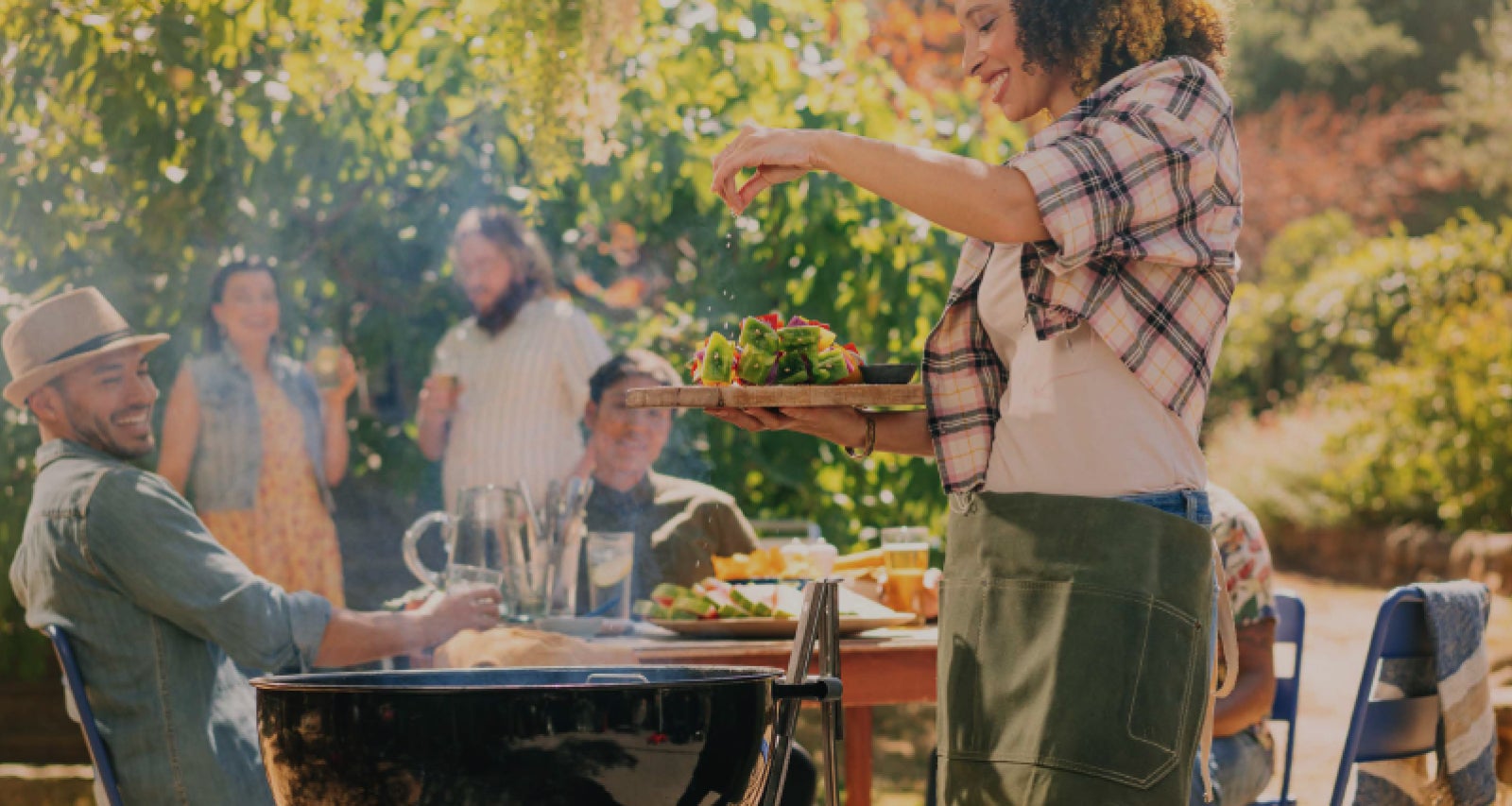 Light your fire with all new Kingsford® products.
Explore our full range of charcoal, pellets and flavor boosters to take your grilling to the next level.