Kingsford® Signature Flavors Flavor Boosters
Garlic Onion Paprika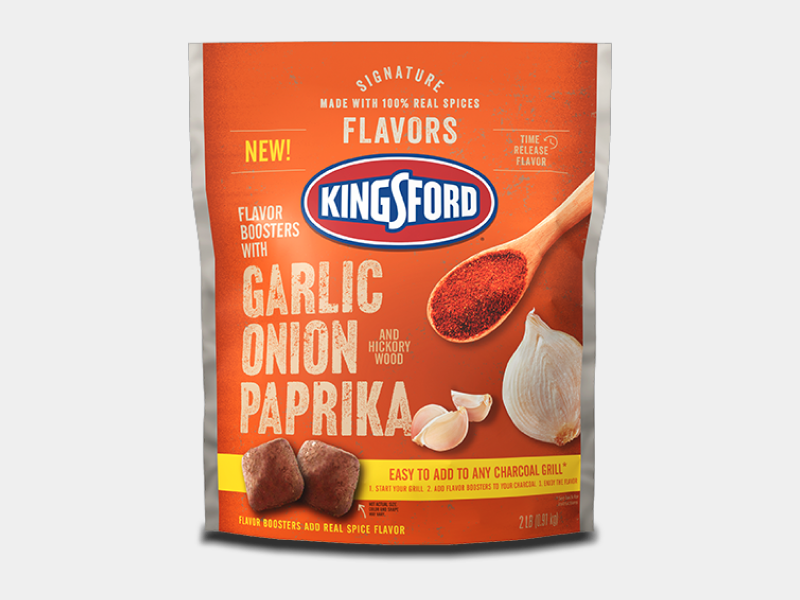 Your grill has never seen flavor like this. Get savory, caramelized flavor you can see, smell and taste with Kingsford® Flavor Boosters. The steady time release of garlic, onion and paprika flavors makes for an elevated taste to any grilling experience. Easy to add to any charcoal grill*, Kingsford® Flavor Boosters are ready in about 15 minutes to start grilling all your favorite foods. Light your grill as you normally would, add flavor boosters to lit coals and enjoy. Also available in 100% real spice pellets and blended charcoal briquets.
The 100% real spice flavor pairs well with chicken, beef, pork, fish and vegetables.
* See back of pack for instructions.
---
---
Ready to cook on in 15 minutes
---
Adventurous Eats
---
Take your taste buds outside their comfort zone with these unexpected twists on grilling favorites.
Rated

1

out of

5
by
afdsafa
from
Commercial is stupid
The "gorgeous" commercial is stupid. Not the right word.
Date published: 2022-03-12
Rated

2

out of

5
by
ENESSTRANAK
from
Not what was expected
Overall I feel this product is a good idea to add a flavor boost to your grilling BUT it didn't hit the mark I was expecting. I felt the scent was stronger and more robust and the flavor profile that it added was ZIP. With such a strong scent I was expecting huge flavor added but it didn't hit that mark. I would try another flavor but this one fell a bit short.
Date published: 2022-03-10
Rated

5

out of

5
by
Thom3540
from
Love this
I have been looking for a little something extra, beyond spices and seasonings for when I use my grill and this is great for that! It's so easy to use, you just put them on top of the regular charcoal and it does the work for you. I'm really pleased with the taste it gives off.
Date published: 2022-03-10
Rated

5

out of

5
by
Lynn9398
from
Work great!
This is my first time using the Signature Flavors Boosters (Garlic, Paprika, Onion and I'm really impressed with the added smoked flavor. I was not expecting the flavor to be so enhanced! I will definitely try other flavors!
Date published: 2022-03-09
Rated

5

out of

5
by
angelrose32
from
Awesome
My hubby loves these and the food tasted great after using them for the bbq. These really added some amazing flavor to the meats that my hubby grilled on the bbq. We are going to buy more of them and if there are more flavors we would definitely try them all.
Date published: 2022-03-09
Rated

5

out of

5
by
Ronnie71
from
Kingsford Garlic, Onion and Paprika Flavor Booster
Wow! The Garlic, Onion and Paprika Flavor Boosters are a real treat. I used them with chicken and it took my meal to another level. Garlicky, smoky infusion. Cant wait to try the other flavors! They are easy to use and definitely boost your flavor!
Date published: 2022-03-09
Rated

5

out of

5
by
freath
from
Makes your BBQ even better
WOW! That's all I can say about these flavored charcoal. It makes your BBQ experience way better with that smokey flavorings added. I used this for chicken and beef and loved it with both! Will definitely always be using this in my charcoal grill.
Date published: 2022-03-07
Rated

4

out of

5
by
Armando
from
Add flavor without the spice
Got the kingsford Garlic, Paprika, Onion. I tried it with plain meat to see how much flavor it would add. I followed directions, closed grill top for 15min while the meat cooked. Surprisingly good amount of flavor on the meat. Burns slow and adds aroma/flavor while meat cooks. Would recommend pre-seasoning.
Date published: 2022-03-07
Rated

4

out of

5
by
Octobreana
from
Not too bad
It definitely did add some flavor. I would have preferred a stronger infusion but I know not everyone does. If you're looking a good hint of flavor though this is definitely for you. I might buy it again.
Date published: 2022-03-05
Rated

5

out of

5
by
NatalieS
from
Fun flavored charcoals!
I tried these fun flavored charcoals and was not disappointed the smoky seasoned flavor definitely made my bbq taste extra delicious! Comes in other flavors as well! Would recommend you give it a try!
Date published: 2022-03-04
Rated

5

out of

5
by
NikkiK
from
Wow!
This take barbecues to the next level! Whoever invented this is a genius. We used this for our burgers on the grill and oh my goodness! It gave hints all three spices to our burgers. But let's talk about just the way it smells while your cooking! Phenomenal! Makes you so hungry and so ready to eat!
Date published: 2022-03-04
Rated

5

out of

5
by
Ibemags956
from
The aroma sure hits you in the face!
These boosters are so interesting. I've never tried anything like this before while bbq'n. We in Texas love to bbq. The spices sure hit you in the face! The smell is amazing. I could tell where it enhanced the flavor in our chicken. It wasn't too noticeable but it was there. I'd love to try out the other flavors. I'm always open minded for new concepts and I enjoyed my chicken.
Date published: 2022-03-04
Rated

4

out of

5
by
aniket
from
Amazing product
I received this right on time for my BBQ party. I was heavily dependent on the rubs to get the flavor and also used other form of flavoring products. but this is a game changer, no hassle nad just need 1 or 2, just mix with the coal and you are golden. only 1 thing to remember is if you put alot the flavor is going to be overpowering and plus if you are adding same spices then it can have a really strong flavor which might kill the meat's taste. I learnt it in my first use. all in all a great and innovative product and plus the whole neighborhood knows you are bbqing something awesome. highly recommend for anyone who wants to get flavor without using and mixing all the spices in rub. definitely not a substitue for a rub, but definitely adds the flavor
Date published: 2022-03-03
Rated

4

out of

5
by
Glen G
from
Great for that added zing!
I brought out the Weber charcoal grill out of the garage in the cold because I was itching to these flavor boosters on some ribeyes. These are interesting and definitely add flavor to the meat. I would definitely use these again. The only reason I'm not giving them 5 stars is because I think some might find them a little overwhelming. (Just use less of them)
Date published: 2022-03-03
Rated

5

out of

5
by
Vm2992
from
Gamechanger!
I've never used anything like the Kingsford flavor booster before. I've always relied on heavy amounts of seasonings to reach my desired tastes. I've recently been concerned with my with my sodium intake. These boosters it's boosters really helped to limit the amount of seasoning I needed for my meat. It was also good for veggie. I definitely want to try out other flavors. This is a really awesome product. Great flavor.
Date published: 2022-03-03
Rated

5

out of

5
by
Cj72
from
Mmmm
Kingsford® Signature Flavors flavor boosters are a wonderful way to infuse flavors into your grilled foods effortlessly. The name Kingsford should say it all. I've used Kingsford products my entire life.
Date published: 2022-03-02
Rated

5

out of

5
by
dneudm1
from
This is really cool; adds great flavoring
I tried out the Kingsford - Kingsford® Signature Flavors Flavor Boosters — Garlic Onion Paprika and this is really cool; adds great flavoring. We bbq'ed some chicken. I just added some salt and pepper to see if this would add flavoring, and it did! I was impressed! It is very subtle, but the charcoal, smoky flavor with the added hint garlic, onion and paprika was so flavorful. I would definitely buy again, and highly recommend trying.
Date published: 2022-03-02
Rated

5

out of

5
by
Rainbow7596
from
Love!
This charcoal added a nice little bit of flavor to the steaks that I was grilling this weekend. The smell was amazing while cooking! I'm pretty sure I made my neighbors jealous. The charcoal burned well also. I'd love to try other flavors, so I can't wait to see what else there is flavor wise. We are big garlic lovers! I recommend giving this charcoal a try!
Date published: 2022-03-01
Rated

5

out of

5
by
Kare
from
Was skeptical but ended up surprised!
So i was skeptical as to if these truly infused flavor into foods on the grill, and I was pleasantly surprised to find that they do. You aren't going to be hit with the huge, bold flavor like you would putting seasoning directly onto your food, but it's such a nice compliment to add to your foods. I tried chicken and also whole grilled carrots and it worked for both.
Date published: 2022-02-28
Rated

5

out of

5
by
MommaF
from
BBQ game changer!!
I'm going to be totally honest!! I was really skeptical about this at first. My husband bbq'd chicken and pork. That was the best tasting BBQ meat we've ever had. Even my pickiest eaters were going back in for second helpings. You won't regret getting this. You'll have people wondering what's your secret!!
Date published: 2022-02-28
Rated

5

out of

5
by
Deanny
from
Gives my food a lot of depth
I tried this out and you can smell the added onion and garlic the minute you open the bag. It ended up adding some great depth to my food. I'm very excited to use this more when we don't have snow on the ground
Date published: 2022-02-25
Rated

5

out of

5
by
TaraBeara
from
Great flavor!
I love this idea! It is such an easy way to add flavoring to food. I used about 6 boosters and the flavor was perfect for my chicken and vegetables. I was worried the flavor would be too strong for my kids but they loved it! I can't wait to try more flavors.
Date published: 2022-02-25
Rated

5

out of

5
by
Kiamara1
from
Great smell and burn
These charcoals will make you hungery just smelling them. They were easy to light and had a great burn time. My neighbor even commented on my dinner before I had even put anything on the grill. The charcoal flavored the chicken without being overwhelming and I will buy again and maybe try out the other flavors.
Date published: 2022-02-25
Rated

5

out of

5
by
Unigrackon
from
Smells great!
If you're using charcoal, you like smoke flavor. These are a great new idea, for all of your flavor experimenting. Firstly, the way they smell just out of the bag was great. They added a depth of flavor that I will definitely be adding to my arsenal. Can't wait to try the other flavors!
Date published: 2022-02-24
Rated

3

out of

5
by
Kingsford flavor boosters
from
Easy to start and burned great
I used the Kingsford Signature Flavor Booster Garlic, Onion, Paparika flavor on my steaks and they were amazing!!! The taste and smell was phenomenal. They burned real well when I started them. I will definitely buy these for all my BBQs in the future
Date published: 2022-02-23
Rated

5

out of

5
by
Missy519
from
Spice up that meat
Are you tired of the same old grill tasting chicken, burgers, steak or pork? Do you wanna impress your friends and family? Want to keep things a little less messy but yet favorable? I can honestly tell you it's time to make the change. Stop using those old charol pieces. It's time to create magic on your grill without all the hassle. These are hands down the best invention you can have when grilling out. Spring has sprung and our tummies are full with delicious smoked garlic onion paprika chicken. It was a total hit and would absolutely do it over and over again. These have made my job just little easier. It gave pur chicken a fabulous taste and not that charol burnt taste either. They are easy to install and certainly a life changer. I would definitely recommend these to anyone who loved to grill as much as we do. I will definitely look into buying more and different flavors! No cons at this time.
Date published: 2022-02-22
Rated

4

out of

5
by
Sara H.
from
Great smell! added extra flavor
We added these to the charcoal in our grill the other night when we decided to grill some salmon. The smell as it was cooking was amazing. The flavor wasn't as strong as the smell but our salmon dinner was delicious. Easy and straightforward to use.
Date published: 2022-02-22
Rated

5

out of

5
by
Aaron S.
from
FlavorTown
Just one of these briquets on the Weber adds tons of flavor to your food. I used it on hamburgers and cauliflower steaks. Both came out tasting fantastic. I can't wait to use these in smoker when I'm working on ribs or pork butt..
Date published: 2022-02-22
Rated

5

out of

5
by
AvgNCNiceGuy
from
Elevated Grilling
I love this product! Even if you are not the best griller (I certainly am not!), it makes whatever you are cooking smell amazing. Better than eating my grilled chicken afterwards, I more enjoyed my neighbors walking by with an "mmmm, that smells delicious" look on their faces as I was cooking with it. Using this product is such an easy way to impart flavor to your grilled foods. After your normal charcoal briquets ash over, you simply add a few flavor boosters onto the lit coals and the aroma soon becomes readily apparent. The steady, time-released boosters infuse extra flavor right into whatever you are cooking. It works equally well on meats and vegetables. I used them recently to cook chicken breasts. I was delighted by the results. It was just a hint of added garlic, onion, and paprika without at the same time not at all overpowering my normal seasonings to my chicken. Because these come in a variety, I excited about trying these both on other grilling occasions and trying the other flavor boosters.
Date published: 2022-02-21
Rated

5

out of

5
by
Elastep
from
Amazing Flavor Booster!
I did not even know such things as flavor boosters exist! So, I've tried using it and BOOM! It makes grilling so much better! It's absolutely amazing how much more flavor my food gets! I've recently grilled chicken wings for a small party and it was a hit! Everyone was asking how I got such a standout flavor! I am now a total-one-love fan of the Kingsford's Flavor Boosters!
Date published: 2022-02-21