Kingsford® 100% Natural Hardwood Blend Pellets
Hickory, 20 lb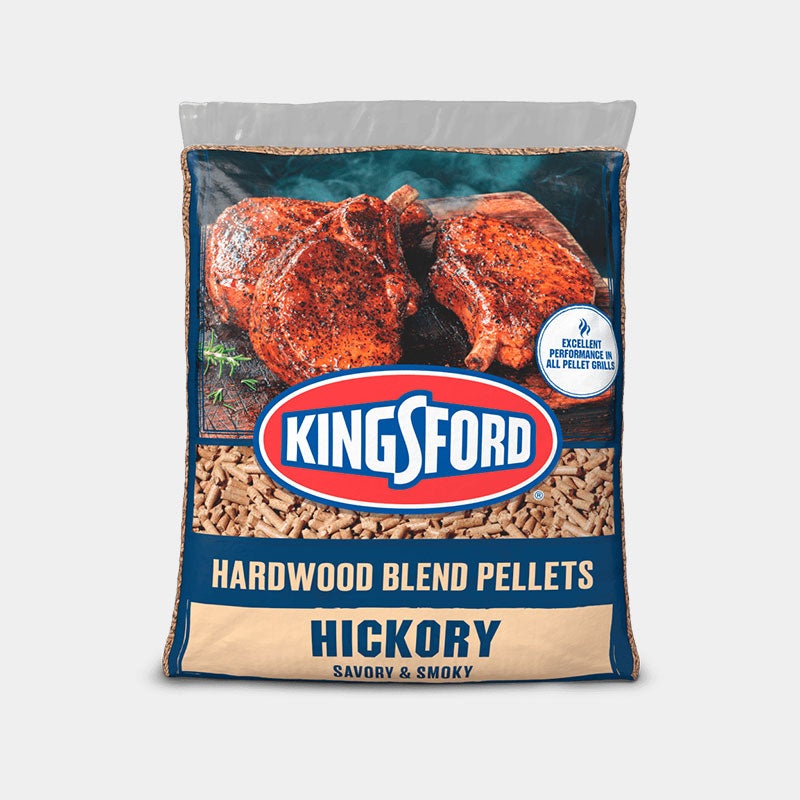 Embrace the savory and smoky flavor of classic hickory wood. These Kingsford® 100% Natural Hardwood Blend Pellets for grilling bring you authentic Hickory wood-smoked flavor from all-natural American hardwood. Kingsford® 100% Natural Hardwood Blend Pellets deliver excellent performance in all pellet grills, including Pit Boss® and Traeger®. Made in the USA, our Kingsford® 100% Natural Hardwood Blend Pellets for grilling contain no artificial flavors, fillers, binders, dyes, chemical additives or oils. Just pure hardwood for pure flavor—what you see is what you get. The savory and smoky flavor of hickory hardwood pairs well with all your beef, chicken, ribs, pork, lamb, turkey and vegetable dishes. These Kingsford® grilling pellets come in a conveniently sized 20-pound bag. One pound of grilling pellets lasts approximately one hour at low heat and about 30 minutes at high heat depending on the grill manufacturer and outdoor conditions. Trust Kingsford for real wood flavor made easy.
---
---
Made in the USA
Pure Flavor Hardwoods
Great for Any Pellet Grill
---
Adventurous Eats
---
Take your taste buds outside their comfort zone with these unexpected twists on grilling favorites.
Rated

5

out of

5
by
iamlenhall
from
Very good for pellet smokers
I don't cook on my pellet smoker that much these days but I've used this brand before and I was pleased. They gave my meat a nice hickory wood flavor and you can't go wrong with that.
Date published: 2022-12-26
Rated

4

out of

5
by
Ab86
from
I love that it's real hickory wood
It's so hard to find these pellets in store. They're worth it, but I wish they were easier to get. I also find that freshness is inconsistent when I do find it. Sometimes they're super shiny, more often though they look dull and like they haven't been properly stored.
Date published: 2021-04-14
Rated

5

out of

5
by
sandrag141
from
These are great if
These are great if you have a smoker and want to add flavors to it. These are a pellet so they work well in the smoker box and they come in a big bag that is very reasonable priced. I would definitely recommend them
Date published: 2021-03-09
Rated

2

out of

5
by
Frescapop
from
Ash, ash, ash
For this cook I was using an a smoke table top smoker. Something happened this time that has never happened before. My smoker created a ton of ash within the first two hours and covered my igniter causing my smoker to go out. I vacuumed out the chamber, started the smoker again and two hours later had the same result. This was with the hickory pellets. I initially thought it was a problem with my smoker but after reading some reviews I have found that this has occurred with other customers as well. I don't know if the pellets are just not compacted enough or what but they definitely burn differently than other pellets.
Date published: 2021-03-08
Rated

4

out of

5
by
AStauby
from
Wanted to like these more than I do
After using up my stash of Rec-teq pellets for my RT-700, and hearing that you guys were partnering together, I was excited to get my hands these. I had to use a couple other brands that I could buy locally, in store, until I could get some of the Kingsfords in so I've had a chance to test out multiple pellets... I like the cost of the KingsFord but in my experience they create a ton of ash and I've had trouble getting them up to higher temperatures (I've been through 5 bags of varying types with the same results). The 3 other brands I've used had no problem with that and they even got up there relatively quick but with these it takes much longer and won't go as high. Aside from that, I do like the flavor and the amount of smoke they create so they they're still a good pellet, I just hope there can be further development of the product for improvements.
Date published: 2021-01-23
Rated

1

out of

5
by
BT71481
from
No heat
I bought this product twice, thinking the first bag may have been a bad batch, and had the same results both times. I had an excessive amount of ash build up, loss of heat, and a few times they snuffed out. I ended up going back to my other brand and emptied out my hopper and tossed the remaining Kingsford brand. For the quality I've received from Kingsford charcoal throughout the years, I expected the same in their pellets, but was let down. Defiantly cheaper pellets but not very cost effective.
Date published: 2020-11-26
Rated

5

out of

5
by
tfr7315
from
Love that Hickory Flavor
I've cooked with hickory before, but when I couldn't get any hickory wood, I bought the Kingsford Wood Pellets. I was pleasantly surprised! The flavor was excellent and the pellets burned easily/ Kingsford has always been the standard in my opinion that everyone else strives to achieve! Wonderful products!
Date published: 2020-09-06
Rated

1

out of

5
by
Experienced Smoker
from
Really Unimpressed
We used these pellets in our Ooni pizza oven and they would not stay lit. We have successfully used other types of hardwood pellets with no problem - achieving temps hot enough to cook a pizza in ~90-12 seconds. These pellets barely got us to a safe cooking temp. I wish I had taken a photo to share just how poorly they burned and the large amount of ash that was produced compared to other types of pellets. Will not be purchasing again and we'll be throwing out the rest of the bag we have.
Date published: 2020-07-02