Kingsford® 100% Natural Hardwood Blend Pellets
Hickory, 25 lb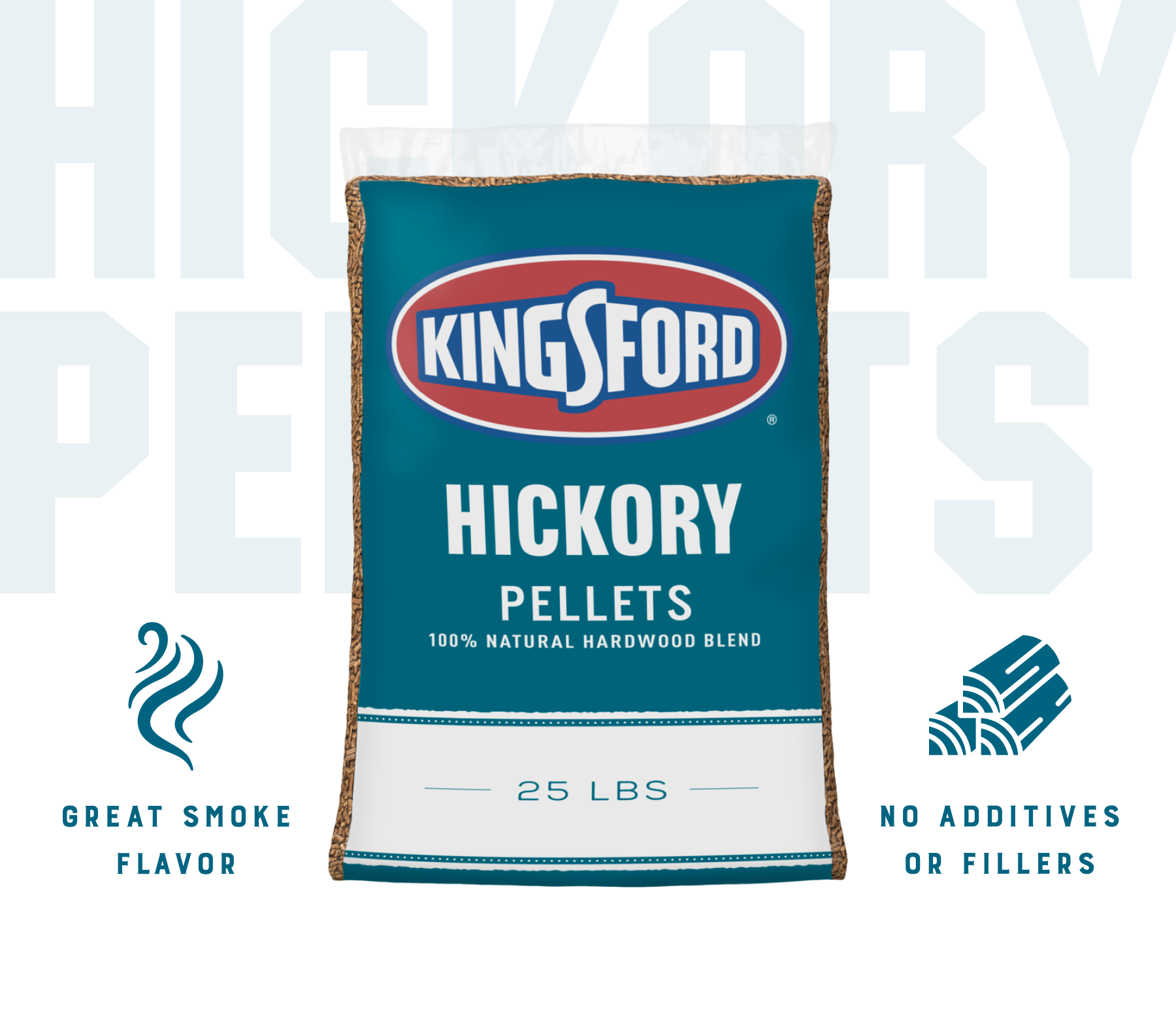 Made in the USA

Pure Flavor Hardwoods

Great for Any Pellet Grill
Embrace the savory and smoky flavor of classic hickory wood. These Kingsford® 100% Natural Hardwood Blend Pellets for grilling bring you authentic Hickory wood-smoked flavor from all-natural American hardwood. Kingsford® 100% Natural Hardwood Blend Pellets deliver excellent performance in all pellet grills, including Pit Boss® and Traeger®. Made in the USA, our Kingsford® 100% Natural Hardwood Blend Pellets for grilling contain no artificial flavors, fillers, binders, dyes, chemical additives or oils. Just pure hardwood for pure flavor—what you see is what you get. The savory and smoky flavor of hickory hardwood pairs well with all your beef, chicken, ribs, pork, lamb, turkey and vegetable dishes. These Kingsford® grilling pellets come in a conveniently sized 25-pound bag. One pound of grilling pellets lasts approximately one hour at low heat and about 30 minutes at high heat depending on the grill manufacturer and outdoor conditions. Trust Kingsford for real wood flavor made easy.
Rated

5

out of

5
by
RamG
from
Great pellets
I bought this a month back. It is a really great product and provides amazing flavor. I am a happy consumer
Date published: 2020-06-11
Rated

5

out of

5
by
Maxie21
from
Adds great flavor
I bought this to use with my gas grill, instructions were easy to follow to use on gas grill and has great additional flavor to food. Looking forward to continue using this summer and trying other varieties.
Date published: 2020-06-09
Rated

5

out of

5
by
Tina W.
from
Great grilling with these
Loved these Hickory wood pellets. Great grilling with these. They made the food taste and smell so much better. Adds flavor to everything.. Best when used for smoking in my opinion. Easy to use and great quality.
Date published: 2020-06-08
Rated

4

out of

5
by
hoch82
from
Awesome Flavor
Being part of a large family, we are always using our smoker to make enough to feed everyone. We use it for almost every single get together. These Kingsford pellets added a smoky hickory flavor to the ribs we just made. They were delicious. Can't wait to try the other flavors!
Date published: 2020-06-02
Rated

4

out of

5
by
Krissy2427
from
Adds flavor!
I used this during a small cookout that I held. It was my first time using a product like this. What I enjoyed is I didn't use a large amount and see got the hickory smoke flavor on the burgers! I will be trying it soon with chicken on the grill!
Date published: 2020-06-02
Rated

5

out of

5
by
harleytexas
from
Great product~
Kingsford Hardwood Pellets — Hickory, made my food taste amazing. Nice burn, good smoke, and beautiful flavor on my food. These were great and added a lot to my barbecue.I would recommend them to everyone.
Date published: 2020-06-01
Rated

5

out of

5
by
GoPokes
from
Nothing like a smoked meat
These pellets exceeded all expectations and I'll never buy another brand. I used these on a gas grill but they delivered a wonderful hickory flavor. The Instructions provided for different types of grills/smokers was informative and helpful. Overall highly recommend.
Date published: 2020-05-31
Rated

5

out of

5
by
Rose4krystal
from
Great aroma
When we got these I was so excited to use them, perfect time for Mamorial day cookout. The wood pellets started easily and have an even burn. The smell that came from was smooth, not strong, and I loved the slight flavor it gave my meat.
Date published: 2020-05-30
Rated

5

out of

5
by
Bellafab
from
Good
I really like the flavor that these hickory pellets bring to the grilled meat! Especially some steaks! It also smells great outside while grilling! You don't need alot to grill with either. Very easy to use and convenient!
Date published: 2020-05-29
Rated

5

out of

5
by
Gharp
from
Game Changer
During this pandemic we've been dealing with we had gotten very bored with the same old food we had been eating. I decided to cook more on the grill and that is where the Kingsford Hardwood Pellets in Hickory came in to the picture. These things are a game changer. I use them to add flavor to everything now. Whether it's chicken, chops, steak, seafood, it all has an enhanced flavor that is amazing.
Date published: 2020-05-28
Rated

5

out of

5
by
Jenni928
from
Smoking!
I have a charcoal grill. I put the pellets in an aluminum foil pouch, poked holes in the top, and placed on top of the coals. I placed them on the edge of the charcoals after they were white and right before putting chicken. Quite quickly a wonderful smoke was pouring out the chimney of the grill. I am very impressed with the flavor, the lasting consistent slow burn, and smoke they put out. Overall a great product that will last me most of the summer, maybe even the whole year! Give this product a try it adds great Hickory Flavor. Perfect for smoking chicken, beef and even veggies
Date published: 2020-05-28
Rated

5

out of

5
by
MicheleT
from
Awesome product
I tried this product over the weekend & actually liked it. It gave the burgers a hickory smoked taste to them. I would definitely recommend this product & will definitely like to try the other flavors.
Date published: 2020-05-27
Rated

4

out of

5
by
amyk
from
Great taste!
We used the Kingsford Hickory Wood Pellets in our smoker and were not disappointed! It gave us a flavorful steak and obviously, easy to use. We will always use Kingford pellets from now on and try the different flavors! I would recommend this product to others!
Date published: 2020-05-27
Rated

5

out of

5
by
scarle291
from
Added Great Flavor
Kingsford Hickory Hardwood Pellets work great! We used them in our smoker and they put out a great hickory smoked flavor. The pellets lasted a pretty long time in the smoker. We have used them when smoking chicken and pork loins. Everytime they have worked really well. Usually we just use wood chips but we will definitely be using these pellets from now on as the flavor was much better with pellets and the heat stayed consistent in the smoker.
Date published: 2020-05-26
Rated

5

out of

5
by
Vette611
from
Perfect Smoke Favor
I had the cherrywood pellets and smoked a rack of ribs and salmon, it came out with the best flavor and taste. The ribs were super tender and the smell from the pellets made you want to eat the food before it got done. The salmon did not need any extra seasoning the favor from the cherrywood pellets was enough. I will definitely purchase these pellets for the whole summer.
Date published: 2020-05-26
Rated

5

out of

5
by
Lizzy21
from
Great Product
I am very happy with this product. I recently made a cook out and used it and it was so tasty. I used the hickory smoked and it left my meat very tasty. My whole family loved it , they thought i had used a new ingredient on the meat but it was the pellets. I will definetly be buying this product alot this summer and my fsmily will to aswell.
Date published: 2020-05-26
Rated

5

out of

5
by
Short
from
Love the Hickory
I have enjoyed using the pellets on my gas grill. It adds the same great hickory taste as my smoker does. Very easy to use on a gas grill. I wrapped the pellets in aluminum foil and poked in the top of it to allow it to smoke.
Date published: 2020-05-26
Rated

5

out of

5
by
Hope A.
from
Easy to use!
I always thought there was some sort of esoteric mystique surrounding the art of smoking foods. It seemed like something beyond me, even though I consider myself a good cook. I am familiar with charcoal and gas grilling, and assumed that to try smoking foods myself, I'd have to buy an expensive smoker. Wrong!! These pellets have me hooked!! I tried these out on charcoal, and will definitely try gas next, but let me tell you -- it was so easy! I did buy myself an inexpensive pellet tube online to go with them (even though you can put the pellets directly on the coals as well). It just seemed like the easiest way for me to ensure I wasn't burning the pellets up too fast. I will try without the tube next time to see if the result differs. I filled the tube and set it on top of the lit coals. Once the fire died down, and the pellets started smoking nicely, I put on my steak and corn. As I've stated, I am a smoking newbie, but wow, the flavor! Perfect, and the smoke ring was very evident on the steak. And while there was a good amount of smoke coming off of the pellets, I didn't feel like I was curating an inferno in my back yard, if you know what I mean. I liked that it produced a lot of smoke for my food without alarming the fire department two blocks over. These pellets have definitely got me intrigued to try more. I used the hickory flavor this time, and will be picking up some of the others as soon as I can. Other more experience meat smokers can probably offer you a wealth of sophisticated thoughts on these pellets, but as a beginner, I say go for it -- the pellets make backyard meat smoking accessible to everyone!
Date published: 2020-05-25
Rated

5

out of

5
by
La Nena
from
Great cookout must have
We are loving these pellets. My hubby read the instructions on the bag and we decided to do some ribs with my husband secret seasoning and I have to say it came out so good. We smoked them with these pellets and you can tasted that it was smoked and you can see the smoked rims on the ribs. Love them and we are continuing buying these.
Date published: 2020-05-25
Rated

5

out of

5
by
Sweet47374
from
Fantastic Hickory taste
These are great smoking pellets for your grill. I own a charcoal grill so after the briskets where hot I filled up a sheet of aluminum foil then put about a cup a pellets into the foil close it up and poked multiple tiny holes. So that the smoke will generate throughout. This was my first time smoking with pellets and came out to be a great experience. Had a nice strong Hickory flavor to the meat. Which so far I've grilled thick porkchops. Cant wait to try some other meats with this.
Date published: 2020-05-24
Rated

3

out of

5
by
Anonymous
from
I bought this a months ago so happy I did .but they are ready to switch pellets so we have a great meal !!
Date published: 2020-05-23
Rated

5

out of

5
by
Kendra7
from
Kingsford Hardwood Pellets in Hickory
I received my Kingsford pellets in Hickory and followed the easy instructions ,I also added normal Kingsford charcoal. I absolutely loved the smell of the hickory smoke. It made my chicken and hamburgers so flavorful. I can't wait to try the other pellets that Kingsford carriers like cherry, and natural. I would highly recommend grabbing a bag to anyone that loves to grill out.
Date published: 2020-05-23
Rated

5

out of

5
by
lvwither
from
Kingsford hickory pellets
I recieved my bag and couldnt wait to use. I have a gas grill and bought a pellet cone to put on the coals. I cooked a steak and burgers. The taste difference from just gas to gas with pellets was so much better. I will use this product on a regular basis. Love it
Date published: 2020-05-22
Rated

5

out of

5
by
Handy Andy
from
Amazing flavor!
I can't believe how good hickory can make meat taste. I just followed the directions for the charcoal grill, and wow! No artificial fillers or additives. Just 100% hickory for that amazing smokey flavor!
Date published: 2020-05-22
Rated

5

out of

5
by
Ironfist
from
Greatest product ever
I've used Kingsford all my life even in the Military and my Dad used it also. He was in the Military also this new one makes the burgers tastes interesting and very good.
Date published: 2020-05-22
Rated

5

out of

5
by
Stacey
from
KINGSFORD IS #1
In my opinion, if you're not grilling with KINGSFORD, then you're not really grilling. We used the KINGSFORD Hickory Pellets and charcoal to grill steaks for dinner and as always, with KINGSFORD, our steaks were phenomenal. KINGSFORD ALL THE WAY!
Date published: 2020-05-21
Rated

5

out of

5
by
Clwiljas
from
BBQ pellets
I got the Kingsford Hickory pellets and tried them for the first time ever. I honestly have missed out on flavor when it comes to the grill. This is my new "secret ingredient"for all my grilling for now on. Around my house grilling is a must do all year no matter the temperature outside. Kingsford Pellets will become a staple along with Kingsford Charcoal. Very great quality and a reasonable price.
Date published: 2020-05-20
Rated

5

out of

5
by
Eric the game cook
from
Slap ur momma good chicken
Wow use the Hickory charcoal kingsford and oh wow that hickory taste went in the boneless chicken that i season with salt and garlic and parsley dry rub and wow 18 min on grill chicken was juicy and way good hickory taste not overpower my 3 kids ate everything in there plate
Date published: 2020-04-16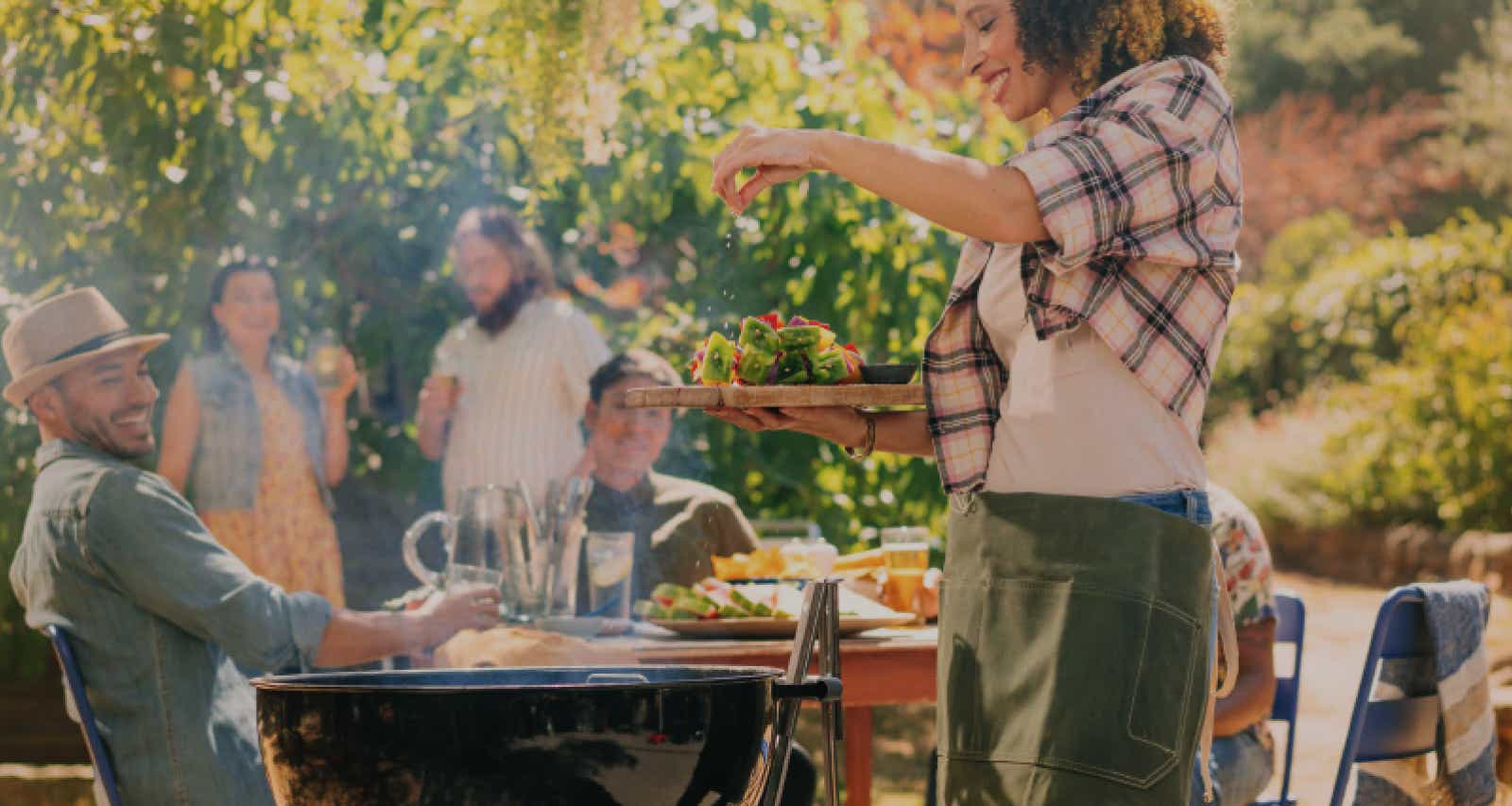 Light your fire with all new Kingsford® products.
Explore our full range of charcoal, pellets and flavor boosters to take your grilling to the next level.