Kingsford® Signature Flavors Flavor Boosters
Basil Sage Thyme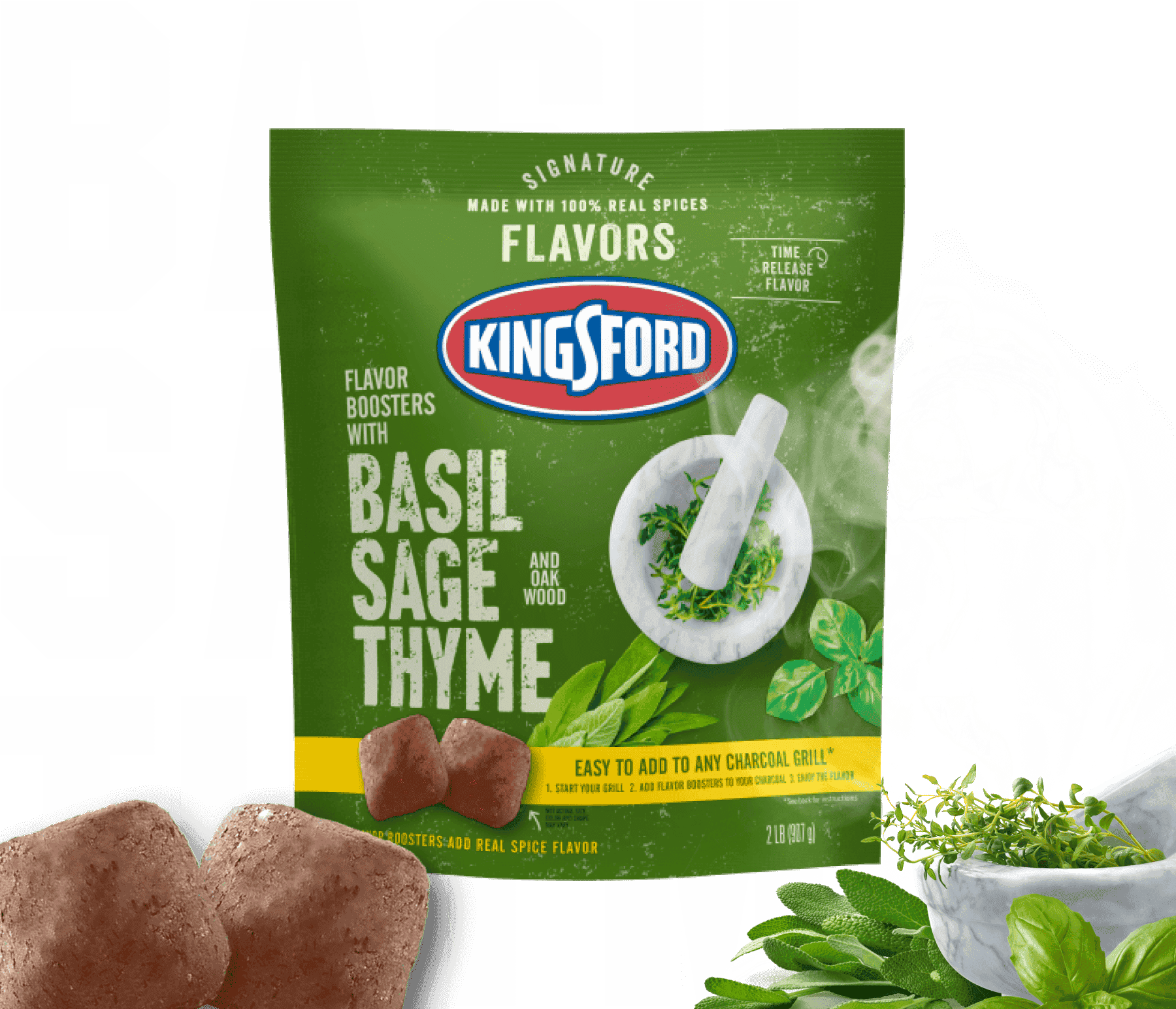 Ready to cook on in 15 minutes
Your grill has never seen flavor like this. Get smooth, balanced flavor you can see, smell and taste with Kingsford® Flavor Boosters. The steady time release of basil, sage and thyme flavors makes for an elevated taste to any grilling experience. Easy to add to any charcoal grill*, Kingsford® Flavor Boosters are ready in about 15 minutes to start grilling all your favorite foods. Light your grill as you normally would, add flavor boosters to lit coals and enjoy. Also available in 100% real spice pellets and blended charcoal briquets.
The 100% real spice flavor pairs well with chicken, turkey, lamb, pork, shellfish and vegetables.
* See back of pack for instructions.
Rated

5

out of

5
by
Kellyg76
from
Wonderful taste!
We tried this out on some chicken first and it tasted amazing!! Just the right amount of flavor. Plus my picky kids even liked it! I can't wait till summer comes, we will be using this for sure! My husband is a big griller and is pretty picky about what he uses. He was even impressed with the flavor this provided.
Date published: 2022-03-14
Rated

5

out of

5
by
lobo84
from
Good flavor on my last cookout
I used this with my charcoal grill and it was well worth it. I like the flavor it passes on to the pork chops I made during that grilling. I hope I can find a larger bag for a decent price before my next cookout.
Date published: 2022-03-12
Rated

5

out of

5
by
Jenny
from
My new favorite charcoal
I'm so impressed with this charcoal. The charcoal is easy to light and burns down fairly quickly, without too much smoke or smell. I used it twice - once with marinated chicken, and the second with just seasoned chicken, so that I'd be able to compare the difference. The herbs in this charcoal didn't overwhelm or compete with the marinade, they really blended well. But with the plain chicken - the basil and sage really came through, and were a nice complement to the smoky BBQ flavor we all love in charcoal. This makes any meal taste like better, and I have since gone out to buy other varieties. Highly recommend!
Date published: 2022-03-11
Rated

5

out of

5
by
Lupev1826
from
Great flavor!
I received a sample of Kingsford flavors flavor booster In basil sage thyme from try it sampling. I grilled some chicken and it was delicious. It definitely does the job. It will be my new go to when grilling.
Date published: 2022-03-10
Rated

5

out of

5
by
MrsKShaeffer
from
Interestingly Great!
I'm highly impressed with this new flavor booster from Kingsford. It adds a great flavor to chicken, and a huge plus because it's not overpowering. It is quick to come to heat - roughly 15 minutes. I like the fact that it's on the cheaper side than smoking wood, that's a huge plus considering inflation.
Date published: 2022-03-09
Rated

4

out of

5
by
KimmieKat02
from
Interesting product
I enjoyed the flavor boosters, but need to experiment more with them to fine tune my experience. The first time I used the boosters as directed on the bag and my chicken was a little too strong. The second time, I used the same amount for my pork chops and it was much better. Both tasted delicious from the flavor combinations, but the intensity was different. I like grilling out, so I will try the other flavors as well on a variety of meats and vegetables. I can't wait to try kabobs with everything cut uniformly when the weather improves enough to grill outside again. More surface area should give the smoke a chance to permeate the meat more evenly. I look forward to using the flavor boosters for bigger cookouts and making people enjoyable meals. The smell is amazing, you will definitely impress friends and family!
Date published: 2022-03-09
Rated

5

out of

5
by
Grillinnnnnmama
from
Added flavor
It added more flavor to my steaks when we added it to the grill. It was was extra boost and we loved it. We started thinking of more foods with could use it with and the list was endless this was a great find.
Date published: 2022-03-09
Rated

4

out of

5
by
star29
from
simple suttle flavor
First off i don't know if it was operator error but it did take me a bit to get lit. but once it was lit it smelt amazing and it left such a great flavor on our food we have tried it with chicken and salmon so far and now i need to buy every one they make.
Date published: 2022-03-08
Rated

5

out of

5
by
Kels
from
Very interesting product
Used this recently - I'm new to grilling but this product is quite easy to use. I've used it cooking with chicken and beef steak so far, and it definitely adds additional flavor on top of the seasoning we used on the meats. Would recommend.
Date published: 2022-03-08
Rated

4

out of

5
by
Carocaro
from
Added flavor, but smell too strong
These flavor boosters definitely added flavor to my grilled steaks. However, the smell it gave off when the charcoals were burning was way too strong and overwhelming. It didn't smell like basil sage or thyme, it smelled more like a medicinal herb.
Date published: 2022-03-07
Rated

5

out of

5
by
Brazen
from
Surprisingly tasty
The Kingsford basil, sage, and thyme flavor booster has such a surprisingly good taste, especially on chicken. It is not overpowering or false tasting. It does not take a lot of pellets to get a good flavor.
Date published: 2022-03-07
Rated

5

out of

5
by
Amber1989
from
Wow at that extra flavor
I was so curious to see how much or if any flavor it would actually provide while grilling. I was more then excited and pleased to find out that yes, it does exactly what it says it does! My family absolutely enjoyed trying Kingford's signature flavor boosters.
Date published: 2022-03-06
Rated

5

out of

5
by
Aprilj
from
Amazing
I highly recommend these. First time and they made our meat 10 times better. Im a picky person and don't like alot of different stuff. I have no complaints about this. The flavor was just right perfect. Not too little and not too much. Will be buying more and trying other varieties
Date published: 2022-03-04
Rated

3

out of

5
by
FawnH
from
Decent
This charcoal is ok. I'm a dedicated "griller" and grill all year long; running through a lot of wood and charcoal. The flavor is decent, had low level of smoke, decent heat and not a lot of flare ups. You also get peace of mind with it being organic. The only negative was that it didn't last as long as I assumed it would. Yes, it may produce "heat" for a long time, but the question is … how much of that time is usable heat? I used it in an open portable grill which allowed for more unrestricted airflow which may have contributed to the faster burn time. Therefore, you may get a better burn time when used inside a closed grill/smoker.
Date published: 2022-03-04
Rated

5

out of

5
by
BdayQueenFeb13
from
new grill product
I can't wait to add this kingsford boost to my grilling this summer at the cookout or just anytime I want something new. I love how you can smell the flavors all in the bags. I know this going to be me and my family new product of the season.
Date published: 2022-03-02
Rated

4

out of

5
by
AnthonyRieth87
from
Great taste!
I was a bit skeptical to try flavor boosters but gave it a chance. Just mix it in with your regular charcoal and light it up. Overall the flavor was pretty good. I have a few other things Id like to grill up and try it with.
Date published: 2022-03-02
Rated

4

out of

5
by
GTOW
from
Great Tasting
I was given the opportunity to try this product out. I used it one day while I was grilling chicken. It helped in the flavoring of the chicken. I added a little to try it out. The flavor booster did enhance the flavor of the chicken. I believe this product would be good to try with other meats or vegetables on the grill.
Date published: 2022-03-01
Rated

5

out of

5
by
Jan07
from
Great flavor!
I was very intrigued to use this as I have never thought of using this before but since I am a huge fan of herbs in meat, I decided to give it a try. To be honest, I didn't expect a whole lot of difference to the flavor and aroma, but it actually really boosted the aroma and flavor of the meat. It's not overbearing and makes the food smells really good and yummy. It's just another way of making food more appetizing/flavorful and more enjoyable for everyone.
Date published: 2022-02-28
Rated

5

out of

5
by
keke9090
from
Excellent flavor
Fire up the grill with these wood pellets that are bursting with flavor! As you open the bag Kingsford Signature Flavors Basil Sage & Thyme will add subtle great flavor to any item you grill. It only takes a handful of pellets to your grill to season your food perfectly. I love the pellets on chicken, fish, vegetables, or any food combination. Everyone loved it. I highly recommend Kingsford Signature Flavors.
Date published: 2022-02-28
Rated

5

out of

5
by
Great flavor
from
Fire
I have just used Kingsford® Signature Flavors Boosters — Basil Sage Thyme and I'm in love. These briquettes have made both my hamburgers and steaks taste so much better. I can't believe the amazing basil and sage thyme taste it bring to my meat!
Date published: 2022-02-27
Rated

3

out of

5
by
Karrie
from
I thought it was overpowering
I was excited to try this out. So simple and so easy to use. Just start your grill and when it's time add them to the charcoal and the smoke and heat with flavor your meat. For me I thought the flavor was to overpowering of the basil. If you're a basil lover then this one is for you. My husband loved it. We will be trying out other flavors.
Date published: 2022-02-27
Rated

5

out of

5
by
nikko
from
Great product!
I received my sample last week and asked my husband if he wanted to grill some fish and chicken . Of course he was ready. We grilled our food with the flavor boosters , and it came out pretty good. The fish and chicken picked up just the right amount of flavor for the time they cooked. I was quite pleased , not too much and not too little, just the right amount. Looking forward to grilling more with the flavor boosters.
Date published: 2022-02-26
Rated

5

out of

5
by
Jstephens28
from
Added flavor
I'm a big fan of these for added flavor while grilling chicken on the grill. I personally wouldn't use these for any other meat because it adds a very strong flavor. It seems to only go well with chicken . Overall there easy to use and burn well. I would pick these up if on-sale but probably not full price
Date published: 2022-02-26
Rated

3

out of

5
by
Amillz
from
They are ok.
I've always used kingsford charcoal briquettes as they light easy and stay lite for cooking on the grill. I tried the basil sage and thyme flavor booster briquettes, which smelled really good while cooking, but didn't notice a lot of that flavor in the meat. I might try some in our smoker and see if that transfers the flavor more with slower cooking.
Date published: 2022-02-26
Rated

5

out of

5
by
Krissy2427
from
Yum!
What a fun new product! It gave an added flavor to my food which was wonderful. They are easy to use and give just that added amount of flavor you need and want! It has an organic camping feeling that I can get in my own backyard flavor!
Date published: 2022-02-25
Rated

5

out of

5
by
meg025
from
A nice touch of flavor
My Kinsford Signature Flavors Boosters Basil, Sage, Thyme are really no for kicking up the flavor when I grill. I used this mix when I was grilling chicken and it really helped to bring a nice flavor to the meat. These are really easy to add to my coals and I like that you really only need a few of them to boost the flavor of what you are grilling.
Date published: 2022-02-25
Rated

5

out of

5
by
opal247
from
made chicken great
i had gotten this and tried on my grill and it made my chicken 10 times better here omg was so delicious flavors at its best here my whole family was wondering what i did to improve the flavor ! i showed them the bag and they want me to purchase it now
Date published: 2022-02-24
Rated

5

out of

5
by
MrsG
from
AMAZING
Kingsford Basil, Sage & Thyme flavor enhancer charcoal briquttes are the best!! Easy to use as you just add them onto your already fired up charcoal! The smell just circulated through out our backyard, I think the neighborhood was drooling! We tried it with Chicken and could not have had a better result. The chicken had soaked up just enough flavor, it was as if we paid high dollar for our meal. Nope, made it on the grill. Can't wait to try the other flavors!
Date published: 2022-02-23
Rated

5

out of

5
by
KL56
from
Excellent flavor!
My boyfriend and I used these flavor boosters to grill vegetables, and it added such an excellent flavor to them! We'll definitely be using these again in the future - adds a lot of complexity to the taste!
Date published: 2022-02-23
Rated

5

out of

5
by
Asbury320
from
Great for chicken
The Kingsford Basil, Sage and Thyme was perfect! We had a 70 degree day so we grilled up some chicken for dinner and it turned out amazing! The flavors were the perfect consistency and the chicken tasted fantastic! Can't wait to try other flavors.
Date published: 2022-02-23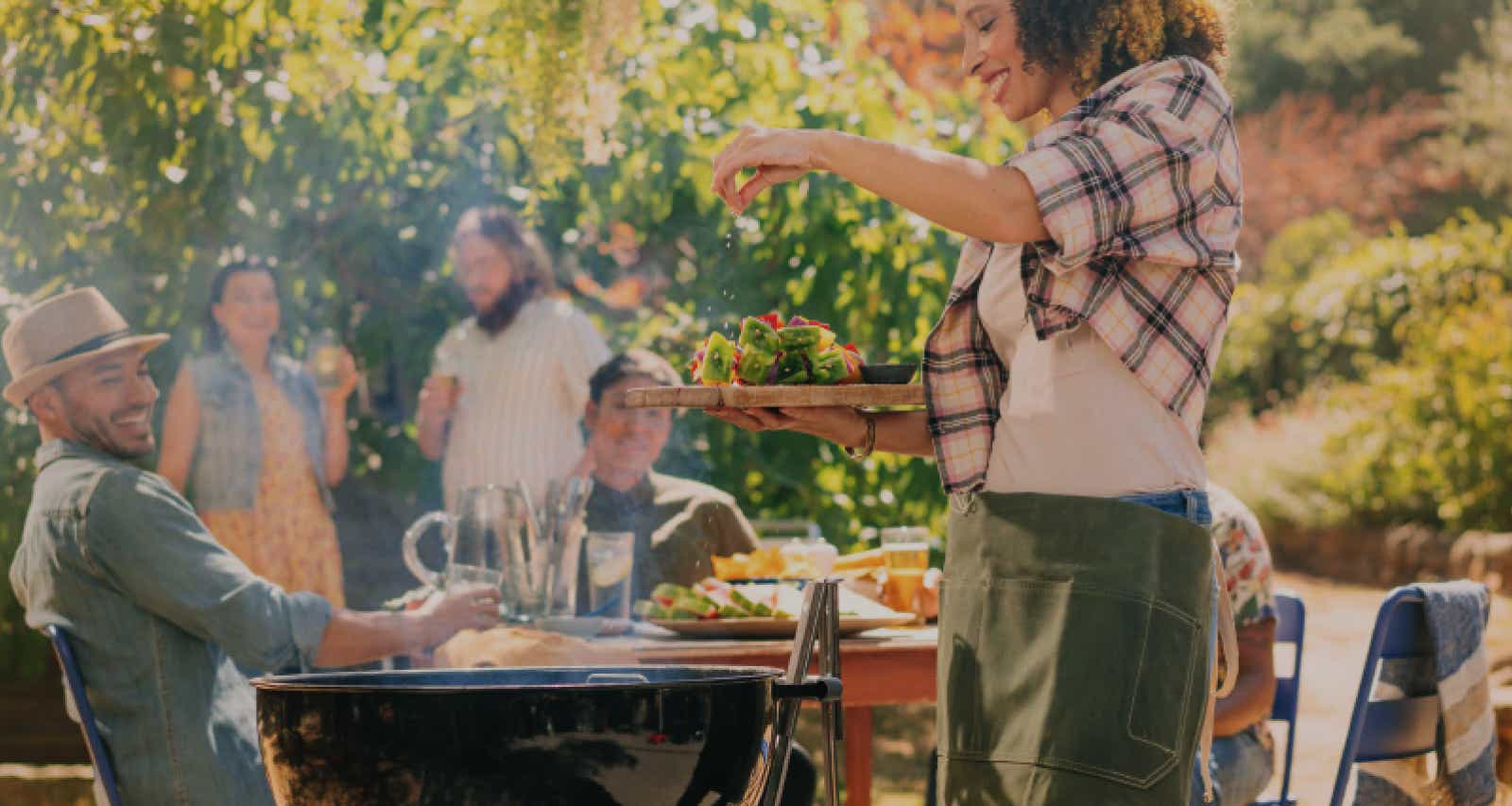 Light your fire with all new Kingsford® products.
Explore our full range of charcoal, pellets and flavor boosters to take your grilling to the next level.