Rosemary, Fennel & Chili Flake Rubbed Bone in Pork Chop with Grilled Apples and Potatoes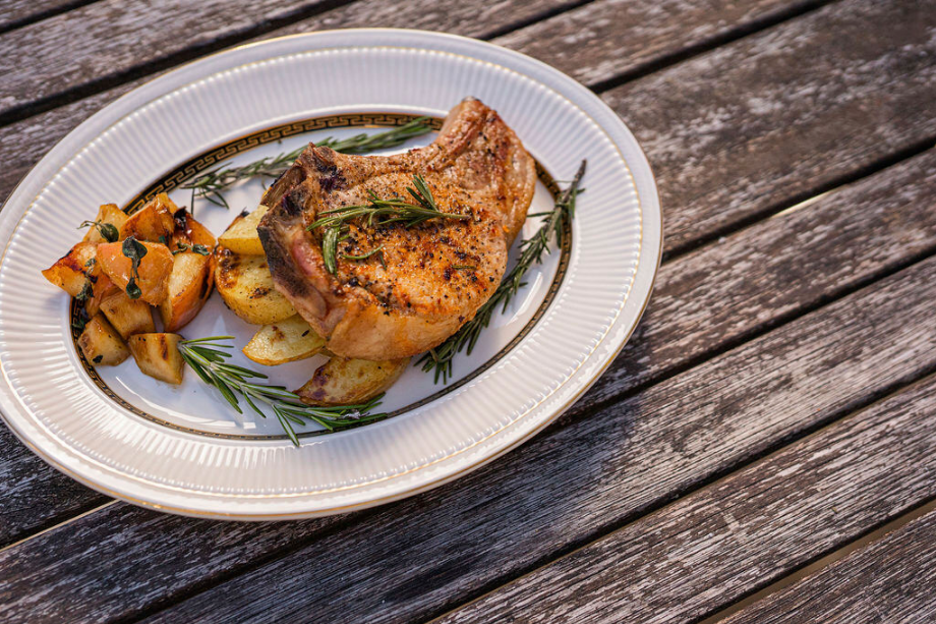 Yields:

2 Servings

Cook time:

20 minutes

Prep time:

10 minutes
Ingredients
2 12 ounce bone-in pork chops
2 apples cut into thick slices (Gala apples are suggested, but personal preference)
2 Yukon Gold potatoes cut into steak fries (large wedges)
olive oil
5 tablespoons salted butter
sprig of sage
bundle of fresh rosemary
1 teaspoons red chili flakes
1/2 teaspoon garlic powder
1/2 teaspoon Spanish paprika (regular paprika works)
1/2 teaspoon sugar
kosher salt
fresh ground pepper
Instructions
Prep
Light the Masterbuilt Gravity Series™ 1050 Digital Charcoal Grill + Smoker and set it to 650 degrees F.
Pork Chops – Generously season both sides with salt and pepper, your spices (Chili flakes, Garlic Powder, Spanish Paprika) and chopped fresh rosemary (1 Tbsp). Drizzle with olive oil.
Apples – Toss with pinch of salt, sugar, and olive oil (1 tsp). Pro Tip – Salt helps with the sweetness and sugar helps with the caramelization.
Potatoes – Season with salt and pepper, pinch of garlic powder, olive oil (1 tbsp).
Cooking
Seasoned potatoes go on the grill first. Then seasoned apples and lastly seasoned pork chops. Cook each chop for about 6 minutes on each side and continually turn the potatoes and apples so they are charred consistently on all sides.
In a cast iron skillet, melt 3 Tbsp of butter. Cut grilled apples into chunks and put in the melted butter along with a sprig of rosemary or sage. Slowly spoon the butter over the apples to infuse with flavor. Cook for 2-3 minutes.
Take apples out of the iron skillet and put them into a bowl of their own. Add 2 tbsp of butter to the same skillet and add your grilled potatoes with a sprig of rosemary. Cook for 3-4 minutes.
Assembly
Lay a bed of potatoes on the plate and put the pork chop on top. Put a nice scoop of apples on the side and garnish with a sprig of rosemary. Enjoy!
Credit: Recipe created by Meherwan Irani on behalf of Kingsford and Masterbuilt
For safe meat preparation, reference the USDA website.