Herb Infused Turkey Wings
Write a Review
Read Reviews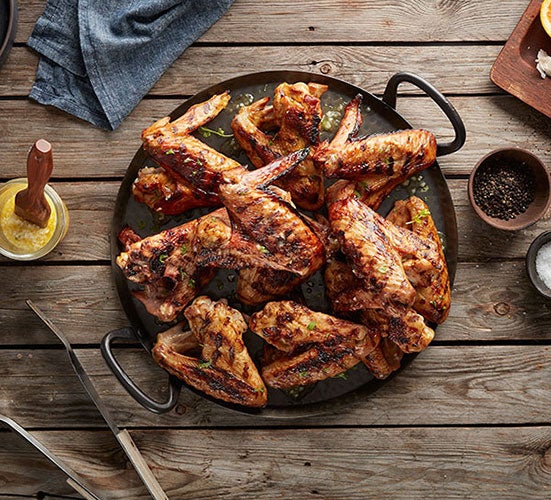 Yields:

6–8 Servings

Cook time:

35 minutes

Prep time:

45 minutes
Ingredients
8 pounds turkey wings
3 oranges
8 leaves culantro (generally found at international food stores; if unavailable, substitute for equal parts cilantro) finely chopped
8 leaves cilantro finely chopped
1 inch ginger peeled and grated
6 cloves garlic peeled and grated
1 small onion finely chopped
½ teaspoon salt
½ teaspoon pepper
Instructions
To prepare the turkey wings, rinse them under cool water and pat dry. Cut three slits across the outer edge of each wing, scoring the skin so the seasonings can reach the meat. Place the wings in a large mixing bowl.
Squeeze the juice from the oranges directly over the turkey wings in the bowl, allowing them to sit in the juice. Sprinkle the culantro, cilantro, garlic, ginger, salt and pepper over the turkey wings, and toss the wings in the marinade until evenly coated. Allow the mixture to sit in the refrigerator for at least 30 minute.
Build a charcoal fire for indirect cooking using Kingsford® Charcoal with Hickory, situating the coals on only one side of the grill, leaving the other side void. Preheat the grill to 400°F.
Cook the wings over indirect heat by placing on the void side of the grill, until the internal temperature reaches at least 165°F. Before removing from the grill, place the wings over direct heat (directly over the coals) for three to five minutes to allow the skin to get crispy.
Serve warm.
Credit: Recipe created by Dr. Howard Conyers on behalf of Kingsford® charcoal.
For safe meat preparation, reference the USDA website.