Dem 2 Brothers Hot & Fast Grilled Pork Shoulder
Write a Review
Read Reviews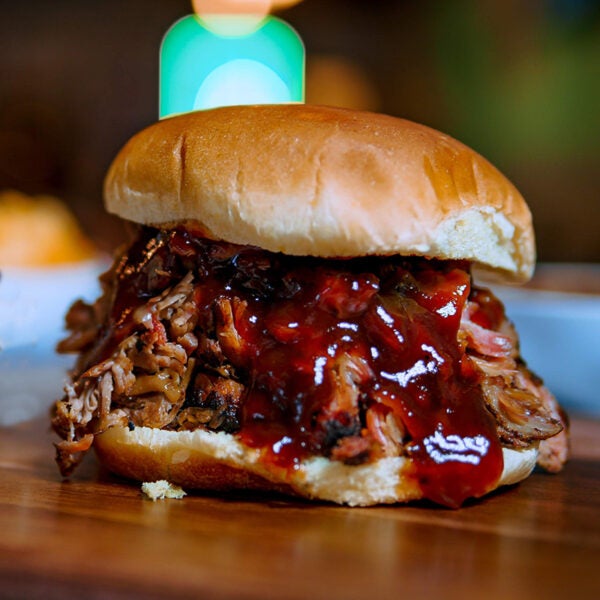 Yields:

8–10 Servings

Cook time:

4 h

Prep time:

30 minutes
Ingredients
7–10 pounds bone-in pork shoulder
2 tablespoons paprika
2 tablespoons season salt
2 tablespoons ground pepper
2 tablespoons garlic
1 bag Kingsford® Charcoal
Instructions
Build a charcoal fire for direct grilling using Kingsford® Charcoal and preheat the grill to 350–400°F.
Starting with your pork shoulder, trim off the excess fat cap but make sure to leave some fat to keep the meat moist during the long cooking process.
Cut the pork into 3–4 even pieces. You will have one bone-in piece and 2–3 boneless pieces. In a small bowl, combine 1 tablespoon each of paprika, season salt, ground pepper and garlic and taste your rub. Add up to 1 more tablespoon of each spice, tasting along the way until the rub suits your preferences. When you've created a rub you like, coat each piece of pork evenly.
Place pork pieces evenly across the rack. Grill each piece until there's an even bark on the outside.
Individually wrap each piece in aluminum foil. Place back on the grill to finish cooking, approximately 2 hours.
Flip every 20–30 minutes checking for tenderness as you rotate and check your fire to make sure you're maintaining the proper temperature throughout the grilling process.
Unwrap the pork shoulder and let it rest to cool. After that, it's ready to chop or pull. Serve on a bun with some tasty BBQ sauce and a dab of creamy coleslaw.
Dem 2 Brothers Tip:
Rotating is the key to a nice, even cook. Grilling takes a little more attention than smoking, due to cooking at higher temperatures. It's best to rotate every 20–30 minutes to get an even bark on all sides of your meat.
Credit: Recipe created by Adrian Wright of Dem 2 Brothers on behalf of Kingsford Charcoal
For safe meat preparation, reference the USDA website.