Learn
How to Grill Shrimp
Once you know how to cook shrimp on a grill, you won't want you to cook it any other way. With these grilling techniques and a few simple ingredients, you'll be enjoying full-flavored, char-grilled shrimp anytime you like. Let's get started!
What You'll Need
Fuel and Tools
Wooden Skewers or Flat, Metal Skewers
Small pan or microsafe bowl
Paper Towels
Digital Meat Thermometer
Ingredients
Shrimp (Shell On)
Olive Oil
Kosher Salt
Ground Black Pepper
Fresh Lemon Juice or Melted Butter
Cooking Oil
How to Prep
If you're using wooden skewers, soak them in water for at least 1 hour.
To prevent the shrimp from spinning, use flat metal skewers or 2 wooden skewers side by side. Place 4 to 6 shrimp per skewer or double skewer.
Brush the shrimp with olive oil, and season with kosher salt and ground black pepper.
For finishing, squeeze a fresh lemon for juice, and melt some butter in a small pan or microwave-safe bowl.

How Do I Know What Type of Shrimp to Choose? Let's Find Out!

Choose large shrimp, often labeled 16/20 (roughly 16 to 20 shrimp per pound). Smaller shrimp tend to dry out quickly. Shell-on shrimp work better than peeled, as the shell will help protect the meat and retain moisture while cooking.
How to Prep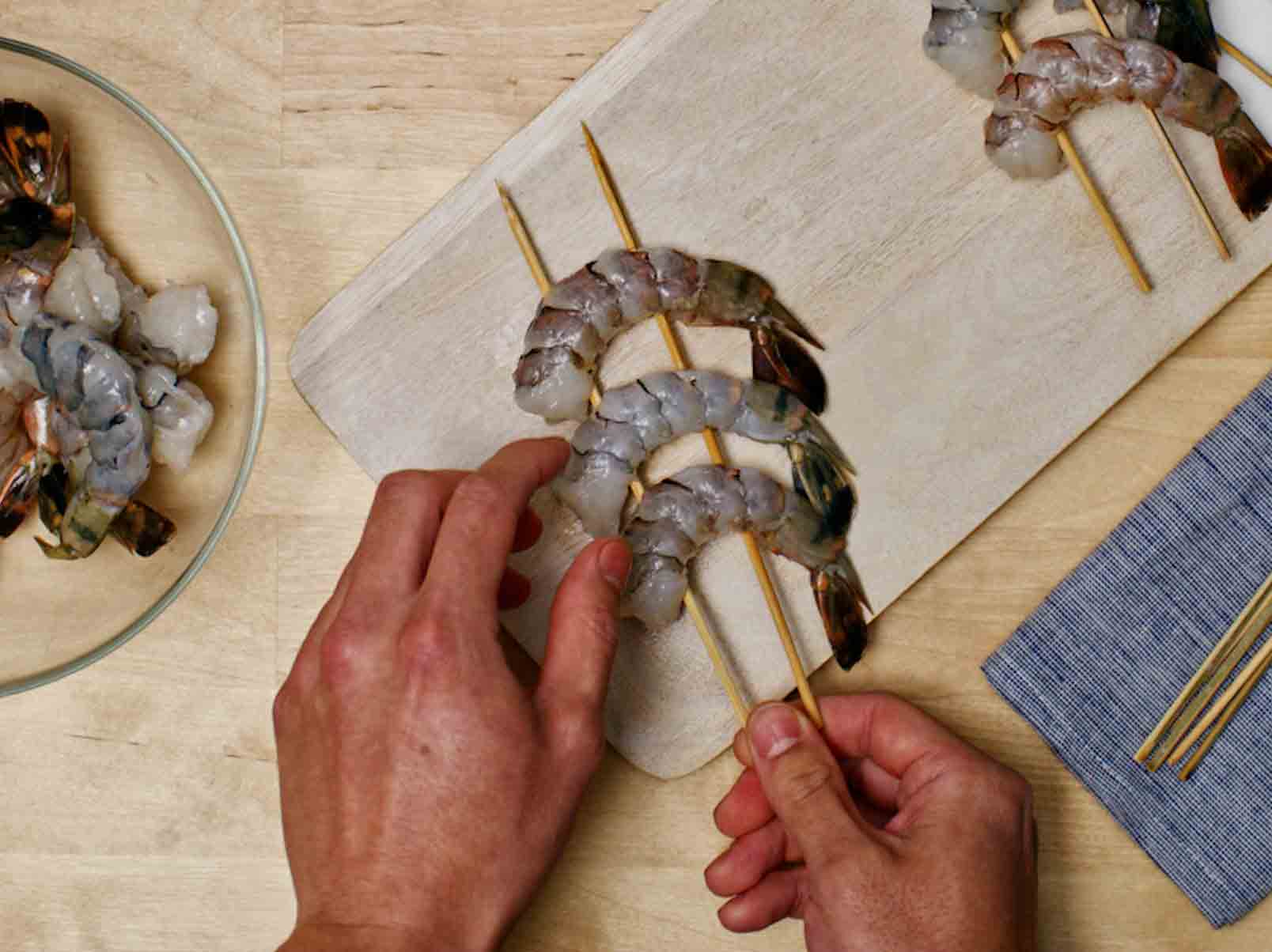 How to Build Your Fire
Give your top grill grate a good brushing and set aside. Pour Kingsford® Original Charcoal Briquets into a chimney — or pour them in a mound and light.Wait for coals to light fully.
Once the charcoal turns gray with ash, arrange coals in a Two-Zone Method:coals on one side of the grill and a void on the other.
Coals should be at Medium Heat — around 375°F to 425°F. How to control the heat when grilling with charcoal.
Now, add some Kingsford™ BBQ Smoking Chips or Chunks — a handful of wood chips or 3 chunks of wood.
Add the grate and let it heat up.

How to Gauge Grill Heat Without a Thermometer

Carefully hold your hand about 5" to 6" above the grate, and refer to the temperature settings below:




• High Heat (450° to 550°F):
2 to 4 seconds
• Medium Heat (350° to 450°F):
5 to 6 seconds
• Low Heat (250° to 350°F):
8 to 10 seconds




Make sure your clothing doesn't touch the grate, and always move your hand away from the heat before you feel discomfort.




When you're at temp, put cooking oil on a folded paper towel. Grab the oiled paper towel with long-handled tongs and oil the grate thoroughly.
How to Build Your Fire
Grilling Time & Temp
Place the skewers on the hot side of the grill.
Grill the shrimp for 2 to 3 minutes per side, until they're slightly pink with opaque flesh.
When they reach an internal temperature of 145°F, your shrimp are done. To check the temperature, stick the tip of your digital meat thermometer into the thickest part of the shrimp.
Grilling Time & Temp