Learn
How to Grill a Whole Chicken
Chicken dinner is always a winner when you prepare your chicken on a charcoal grill. Once you see how easy and flavorful it is — you won't want to cook it any other way. Let's get started!
What You'll Need
Ingredients
4 to 5 lb. Chicken
Dry Rub to Taste
Olive Oil
Cooking Oil
What Serving Portion Should I Plan Per Person?
Prime Rib: ¾ to 1 lb. per person, or a bone-in rib roast will feed about 2 people per bone
Ham: ⅓ to ½ lb. per person
Turkey: 1 to 1 ½ lb. per person
Chicken: 1 to 2 pieces per person or ½ lb.
Rack of Lamb: 2 to 3 lamb chops per person. There are 8 lamb chops per rack of lamb
How to Prep
Remove the neck and gizzards on your chicken, then trim any excess fat. Pat dry with a paper towel. Now your chicken is ready for seasoning.
An alternative method for preparing grilled chicken is to butterfly/spatchock your chicken. The advantages are more even cooking, a faster cook, and more crispy skin.

How Do I Butterfly My Chicken? Let's Find Out!

· First, lay the chicken breast-side down on a cutting board, with the backbone facing up.
· Using sharp, durable kitchen shears, cut along each side (the length) of the backbone. Begin on one side at the bottom cavity and cut along the side of the backbone, straight to the top cavity. Repeat on the other side of the backbone. Remember, the closer your cut is to the backbone, the more meat you'll have.
· Now, you should be able to lift the backbone out of the carcass, using your fingers, without any additional cutting.
· Flip the chicken so it is breast-side up, with the opened back against the cutting board.
· Finally, using the bottom of your hands, press down on the leg and wing joints to flatten the bird, applying heavy pressure.

Using a basting brush, apply the olive oil to the outside of your chicken, then season with your favorite dry rub.
If time allows, cover your chicken and refrigerate for 1–2 hours to allow the rub to penetrate the meat.
How to Prep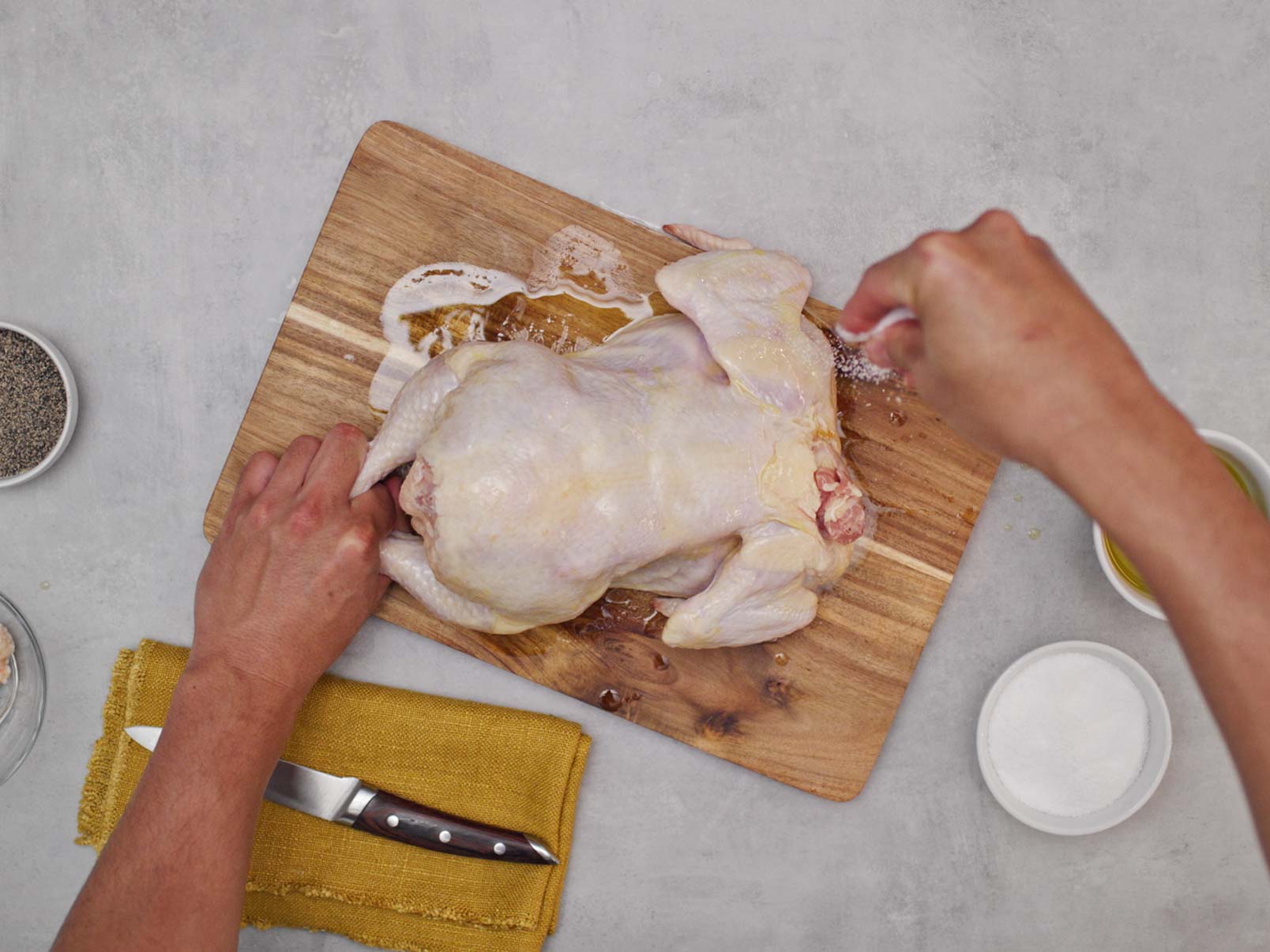 How to Build Your Fire
Give your top grill grate a good brushing and set it aside. Pour Kingsford® Original Charcoal Briquets into a chimney — or pour them in a mound and light. Wait for coals to light fully.
Once the charcoal turns gray with ash, arrange coals in a Two-Zone Fire: Parallel Configuration with coals along each side of the grill, and a void in the middle to place an aluminum pan with water. On top of the coals, add 2 cups Kingsford® BBQ Smoking Chips or Chunks (Hickory or Mesquite) that have been soaked in water for 30 minutes.
Coals should be at High Heat — about 450°F. How to control the heat when grilling with charcoal.
Add the grate and let it heat up.

How to Gauge Grill Heat Without a Thermometer

Carefully hold your hand about 5" to 6" above the grate, and refer to the temperature settings below:




• High Heat (450° to 550°F):
2 to 4 seconds
• Medium Heat (350° to 450°F):
5 to 6 seconds
• Low Heat (250° to 350°F):
8 to 10 seconds




Make sure your clothing doesn't touch the grate, and always move your hand away from the heat before you feel discomfort.




When you're at temp, put cooking oil on a folded paper towel. Grab the oiled paper towel with long-handled tongs and oil the grate thoroughly.

There are many types of charcoal grills that work well, such as a Kettle Grill or an Offset Smoker. You may also consider the convenience of a Pellet Grill where most models ignite with the press of a button. For more details, see How to Prep a Charcoal Grill.
When you're at temp, put cooking oil on a folded paper towel. Grab the oiled paper towel with long-handled tongs and oil the grate thoroughly.
How to Build Your Fire
Get Grilling
Place your chicken in the center of the grate (right over the water pan, with coals on either side), breast side up. Close the lid and let the chicken cook for 60 minutes without removing the lid.
After 60 minutes, remove the lid every 10–15 minutes to check for doneness using an instant-read meat thermometer. Insert the tip into the thickest part of the thigh without touching the bone. When the internal temperature reaches 165°F, remove your chicken from the grill using tongs. An average 4 lb. chicken will take about 90 minutes to grill-roast. Remember: never use a barbecue fork to remove a whole chicken from the grill. Always use tongs to avoid piercing the meat and letting the juices drip into the fire.

Checking Whole Chicken Doneness

There are two common methods for testing a whole chicken for doneness.




1. As mentioned, you can insert the tip of a digital meat thermometer into the thickest part of the thigh without touching the bone. When the internal temperature reaches 165°F, your chicken is ready to be removed from the grill using tongs.




2. You can insert a small knife or skewer into the thickest part of your chicken thigh. If the juices come out clear and not pink, your chicken is done and can be removed from the grill using tongs.

What Should I Do if I Have More Than 1 Chicken to Grill?

If you need to grill-roast more than one chicken use vertical chicken roasters to maximize space. Or, this may be the perfect time to try Beer Can Chicken, where a can with some beer acts as a vertical roaster, and adds flavor to your chicken.





Recipes containing alcohol are intended for those 21 years of age and older only. Please drink responsibly.
Get Grilling
The Finish
Let your chicken rest for 15 minutes under a loose sheet of foil, then carve, serve and savor the goodness!

For safe meat and other food preparation, reference the USDA website.
The Finish