Popular Charcoal Grills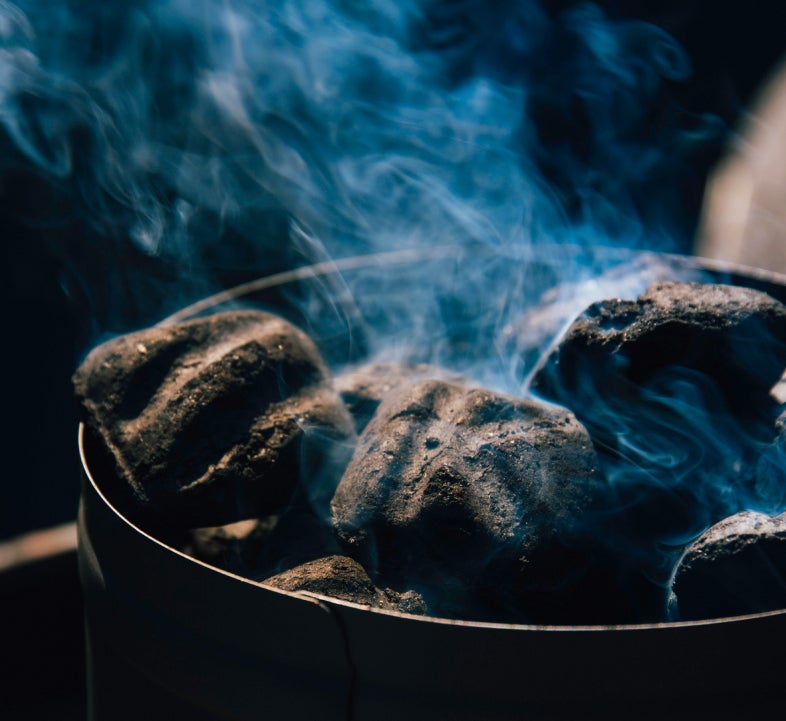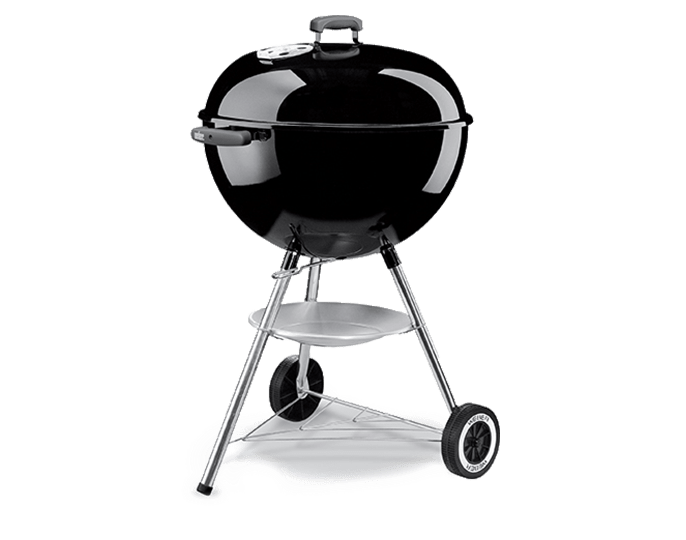 The Kettle
The most versatile grill around. It grills, it smokes, it's the go-to grill for cooks of all skill levels.
The quintessential American grill, this is the cooker you find most commonly in backyards across the country, and with good reason. It may not look fancy, but the kettle can do it all, and quite well.
It features a large cooking area that's well suited to both high-heat grilling over direct heat as well as grill roasting over indirect heat. They also typically have a dome-shaped lid with vents, which means they can be used for smoking BBQ specialties like brisket.
When buying a kettle, look for sturdy construction, a convenient mechanism for capturing ash and easy-to-use vents on the lid as well as the bottom of the kettle.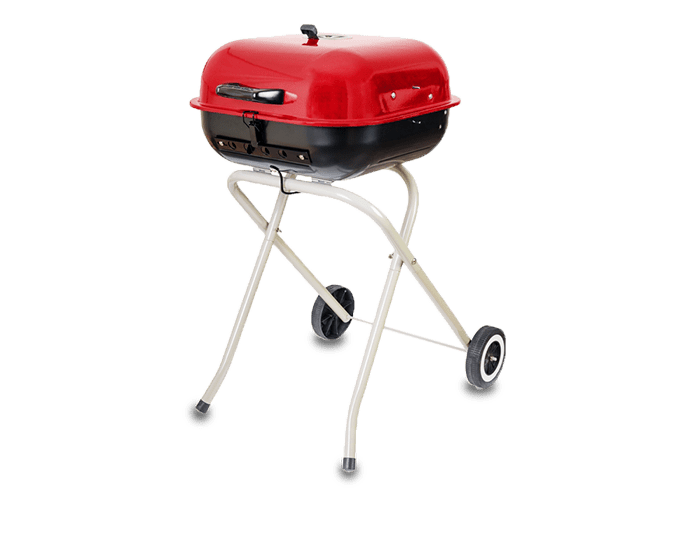 The Brazier
Small, simple and specializing in high-heat grilling. Perfect for flipping a few burgers or brats.
The brazier is grilling in its simplest, most basic form. Consisting of a charcoal pan, a grill grate and little else, the brazier grill is best suited to high-heat cooking over direct heat. Many braziers have no ventilation system whatsoever, while others feature vents that are not adjustable at all, making heat control difficult.
The advantage of a brazier is portability. They are small and light and allow you to grill virtually anywhere. For some quick burgers, sausages or wings in the great outdoors, it's hard to beat the simplicity of a brazier.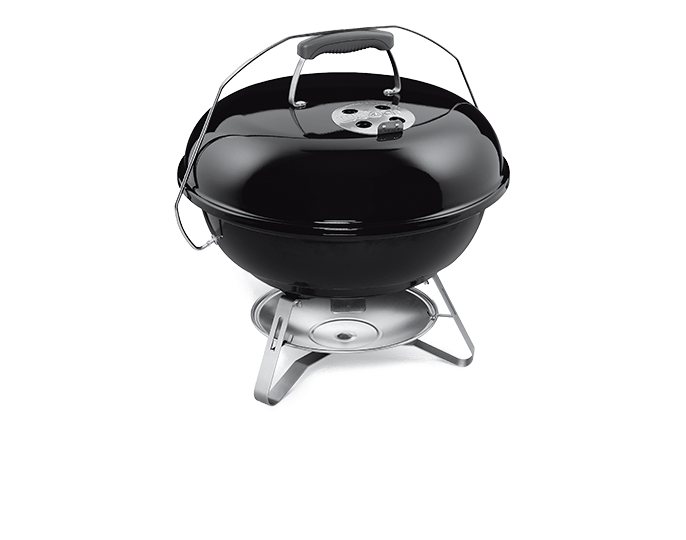 The Portable
The mini version of a kettle, it features a round domed lid and small cooking surface. Popular for tailgating and camping.
Scan any stadium parking lot on game day and you'll find more than a few of these. The portable grill is the mini-me of kettle grills, with the classic round shape, domed lid and vents on the top and bottom.
Because of its small cooking surface, it's best suited to high-heat grilling over direct heat. Ideal for flipping a few burgers, dogs and sausages, or for cooking a continuous supply of chicken wings for hungry campers and tailgaters.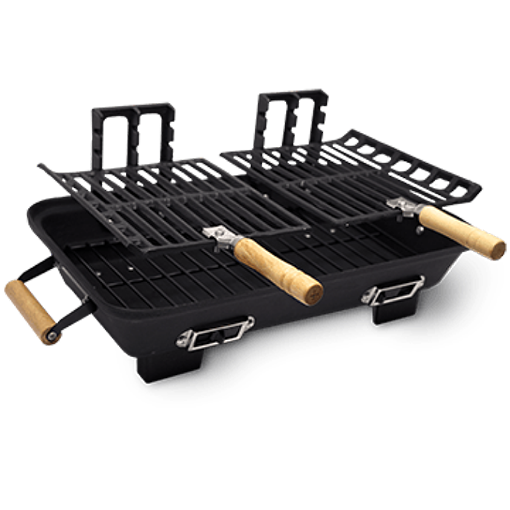 The Hibachi
A small, portable Japanese-inspired grill that's great for high-heat cooking of smaller quantities of food.
A hibachi is the common name given to small portable grills inspired by a traditional Japanese cooker called a shichirin. They are typically small and have no lid, so they're best suited to high-heat cooking over direct heat.
Higher-quality hibachis are made of thick metal or cast iron, which means they hold and maintain heat efficiently. When looking for a hibachi, look for adjustable cooking grates for additional heat control, and cast-iron construction.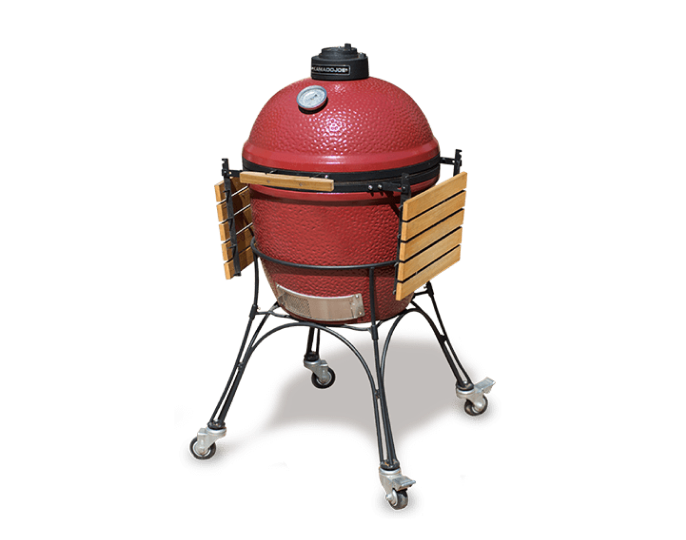 The Ceramic Grill
Also known as the kamado grill, this mother of all grills is made of thick ceramic walls that concentrate and hold heat. Excellent for both grilling and smoking.
Nothing is more impressive in a backyard than a big ceramic grill. It's the kind of grill that shows you know the best that BBQ and grilling has to offer and that you have mad grill skills.
For high-heat grilling, the thick ceramic walls help focus the heat so you can get a restaurant-quality sear on steak and chops. Those thick walls also retain heat for hours, so you can smoke briskets and pork shoulders with little effort in terms of temperature control.
For the very best in grilling and smoking, nothing beats a ceramic grill.
Important note
Many ceramic grill manufacturers recommend against using ordinary briquets. However, Kingsford makes two varieties of briquets that are ideal for ceramic cookers: Kingsford® Professional Briquets and Kingsford® 100% Natural Hardwood Briquets.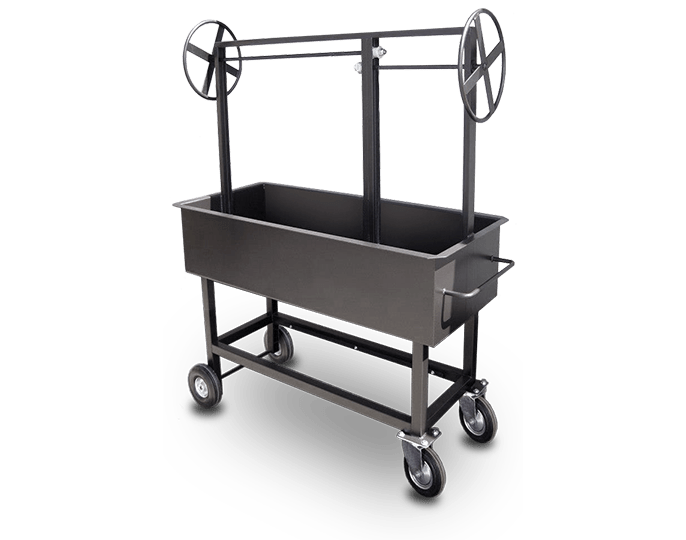 The Santa Maria
A large grill with a grate you can easily raise and lower. Provides plenty of cooking real estate for feeding a crowd.
When you're cooking for your family, and your extended family, and the neighbors, and everyone within smelling distance, you need a grill with a lot of space. A Santa Maria grill is perfect for the job. It features a large, uncovered platform-style coal bed for cooking large amounts of food.
But what makes it unique is a grill grate that can be easily raised or lowered by a hand crank to provide heat control. When the coals are hot, you raise the grate to avoid burning. As the coals burn down, you lower the grate to maintain the perfect cooking temperature.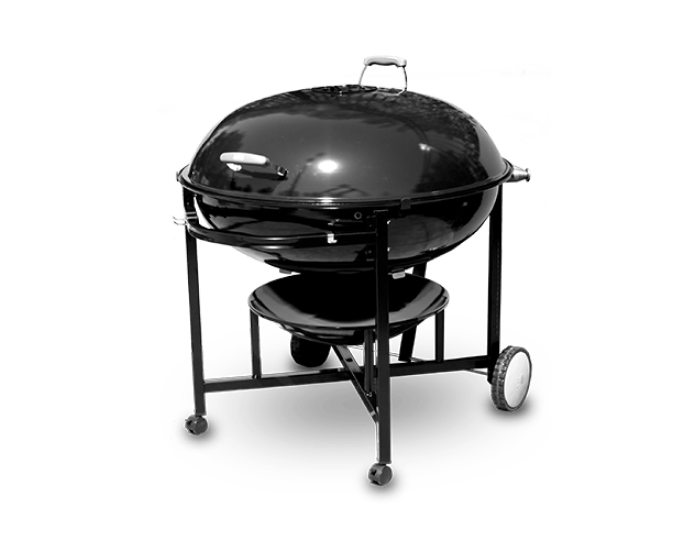 The Ranch Kettle
Want the versatility of a classic kettle grill, but need extra capacity to feed the masses? The Ranch Kettle is the grill for you.
The Ranch Kettle gives you the features you love like a dome-shaped lid and venting systems for heat control, but with two to three times the capacity of a regular kettle. It grills and smokes the same way you're used to, just on a much larger scale.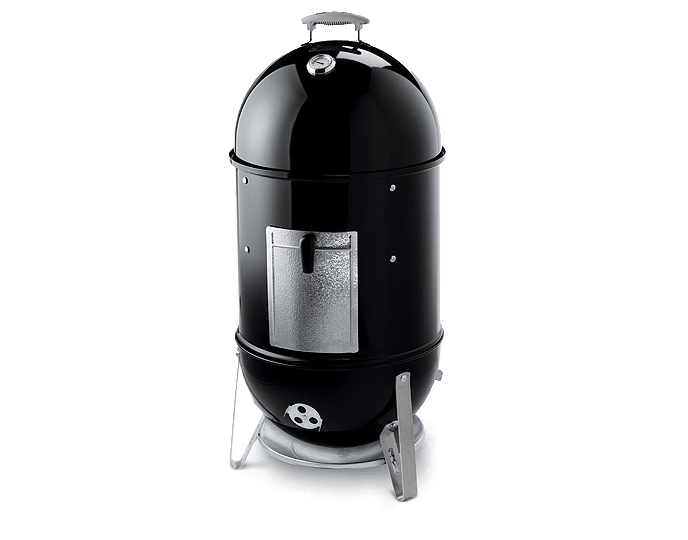 The Bullet Smoker
A small vertical smoker with a dome-shaped lid that provides steady heat at a constant temperature for long periods of time.
Called bullet smokers for their cylindrical shape and dome lid, these smokers are a popular and easy way to learn slow and low cooking. The internal cooking chamber consists of a charcoal pan on the bottom, with a water pan suspended directly above the coals to hold heat, stabilize temperatures and create a moist smoking environment.
When the vents and cooking temperatures are properly adjusted, a bullet smoker can hold a steady 225ºF–250ºF for hours on end.
When considering a bullet smoker, look for adjustable vents to control heat, an access door to add coals and smoke wood, and large-capacity water pan to help stabilize temperatures.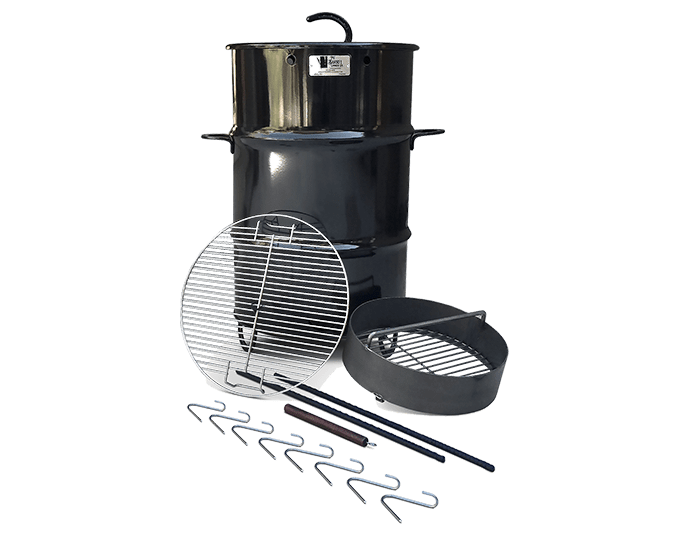 The Barrel Smoker
An ingenious smoker made from a steel drum which uses a rack and hooks to hold meat for smoking.
They've been around for a while in various forms, and since they were generally hand made, no two designs were exactly alike. Now they're available commercially, consisting of a charcoal basket, cooking racks and meat hooks for suspending the meat vertically for increased capacity. They hold a steady temperature very well and are well suited for long cooking times.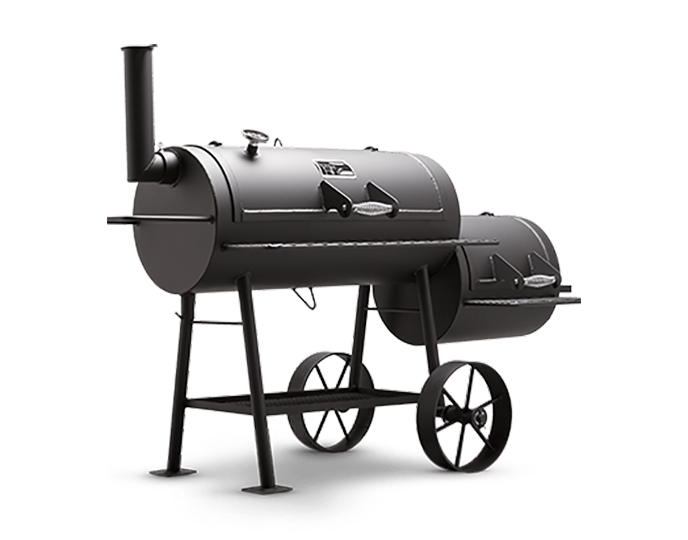 The Offset Smoker
A classic smoker design and one of the most popular out there.
Food smokes in a long horizontal chamber while charcoal and smoke wood burn in a firebox attached to one side. Offset smokers feature shelves in the cooking chamber to handle multiple briskets, pork shoulders and racks of ribs.
For maximum heat control and stable temperatures, look for offset cookers made of thick steel, which helps retain heat. They can also be heavy, so look for models with wheels or casters to move them more easily.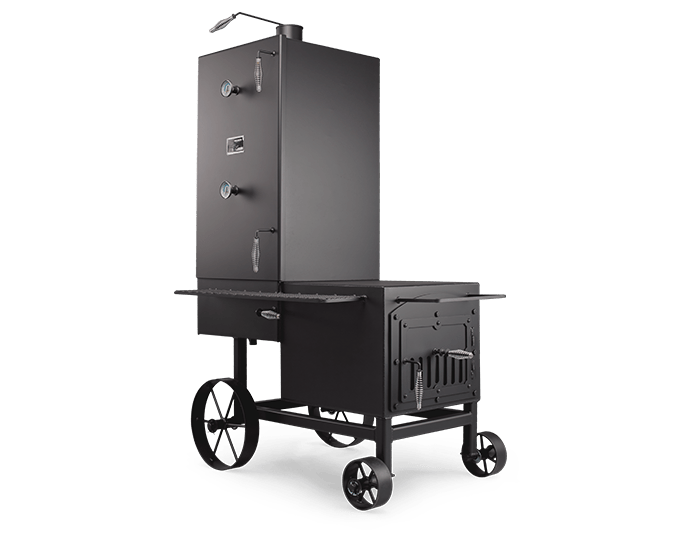 The Vertical Smoker
If you want smoked meat and lots of it, a vertical or cabinet smoker is ideal for you.
Featuring a large smoking chamber with multiple shelves, a vertical smoker can hold multiple racks of ribs and numerous briskets, pork shoulders and chicken pieces. The firebox that holds coals and smoke wood is generally attached like an offset smoker, but sometimes located directly below the racks.
When considering a vertical smoker, look for models made from heavy steel for maximum heat retention, as well as wheels for easy movement in the backyard.