Honey Ginger Pork Chops with Caramelized Peaches, Green Beans and Basil
Let's get grilling
Preparation:
1
Preheat grill to 450°F.
2
Place sweet chili sauce, honey, soy sauce, ginger, garlic, and sesame seeds into a food processor. Process for 30 seconds until smooth.
3
Transfer glaze into a small stainless-steel pot. Transfer the pot to the grill and allow to heat up for 5–10 minutes while stirring occasionally.
4
Prepare your green beans and half your peaches on a cutting board, and remove the pit. Quarter the peaches with a knife.
5
Place the trimmed green beans and the peaches onto the baking pan and drizzle with oil. Lightly toss the peaches and green beans in the oil making sure to evenly coat.
6
Place the pork chops onto a small pan, season with a pinch of salt and pepper, and lightly drizzle oil on each side of pork chop.
7
Place pork chops onto grill, and cook 5–7 minutes on each side until an internal temperature of 145°F is achieved.
8
Grill peaches and green beans on each side for 3–5 minutes until slightly charred. Remove from grill with tongs, and place into a small bowl. Pour in a little bit of the honey ginger glaze and sesame seeds.
9
Brush pork chops generously with honey ginger glaze, and allow to slightly caramelize.
10
Remove pork chops from grill, and transfer to a cutting board. Allow pork chops to rest for 3–5 minutes.
To Assemble:
1
Place grilled green beans and peaches onto a plate.
2
Slice pork chops, and shingle over the green beans and peaches.
3
Drizzle honey ginger glaze over the pork.
4
Top with torn basil.

Grill Tips:

Always glaze proteins towards the end of the grilling process. This minimizes sugar in the sauce from caramelizing onto the grill grates, and transferring a bitter burnt taste to your food. You also won't find yourself in a sticky situation with your grill grates, and clean-up will be a breeze!
---
Ingredients
---
sweet chili sauce

honey

soy sauce

chopped ginger

chopped garlic

sesame seeds

thick-cut pork chops

peaches, quartered and pits removed

green beans, trimmed

chopped basil

kosher salt and black pepper as needed
Credit: Recipe created by Brandon Frohne on behalf of Kingsford and Masterbuilt
For safe meat preparation, reference the USDA website.
---
Adventurous Eats
---
Take your taste buds outside their comfort zone with these unexpected twists on grilling favorites.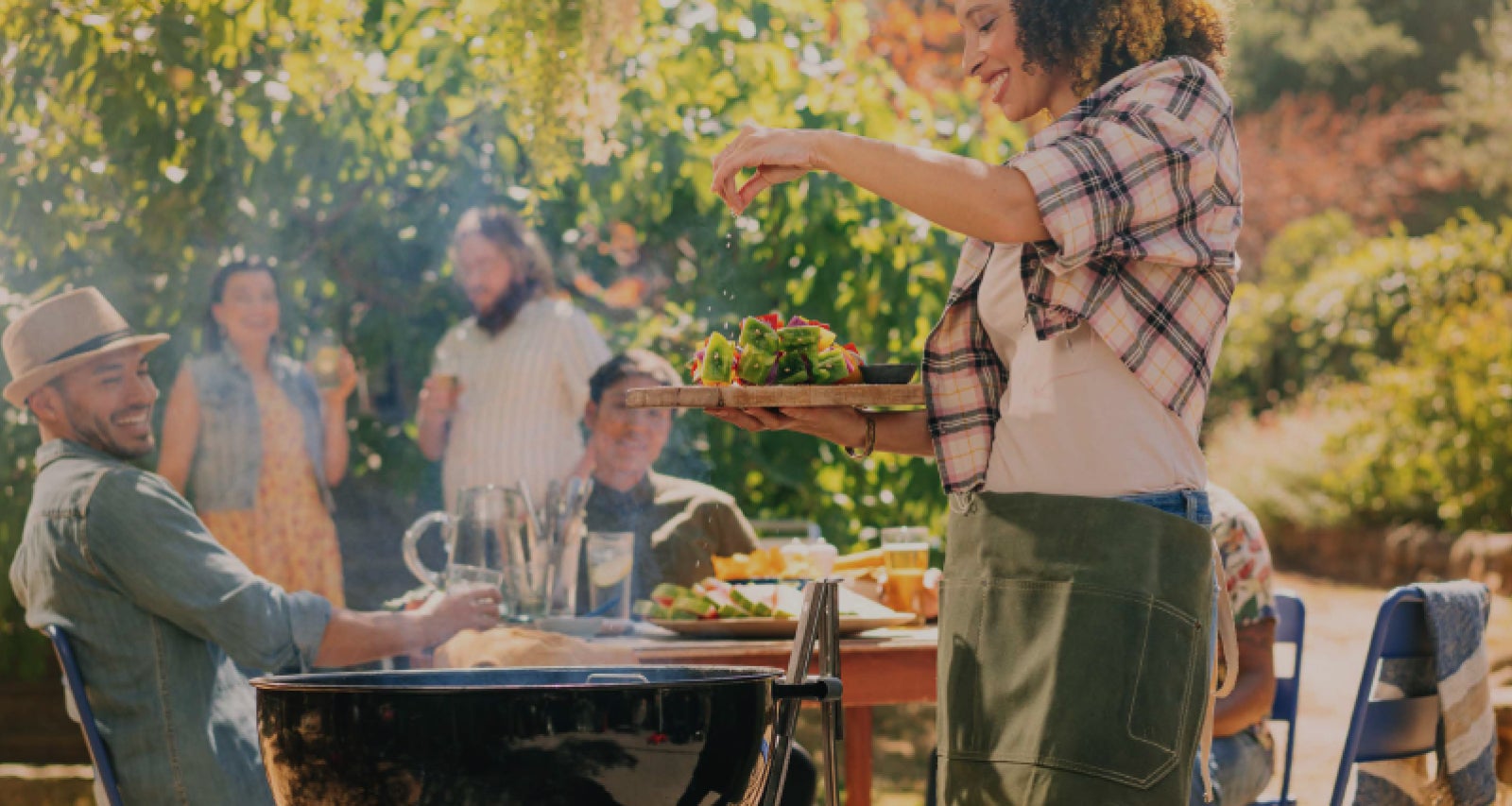 Light your fire with all new Kingsford® products.
Explore our full range of charcoal, pellets and flavor boosters to take your grilling to the next level.