Kingsford®
Charcoal with Applewood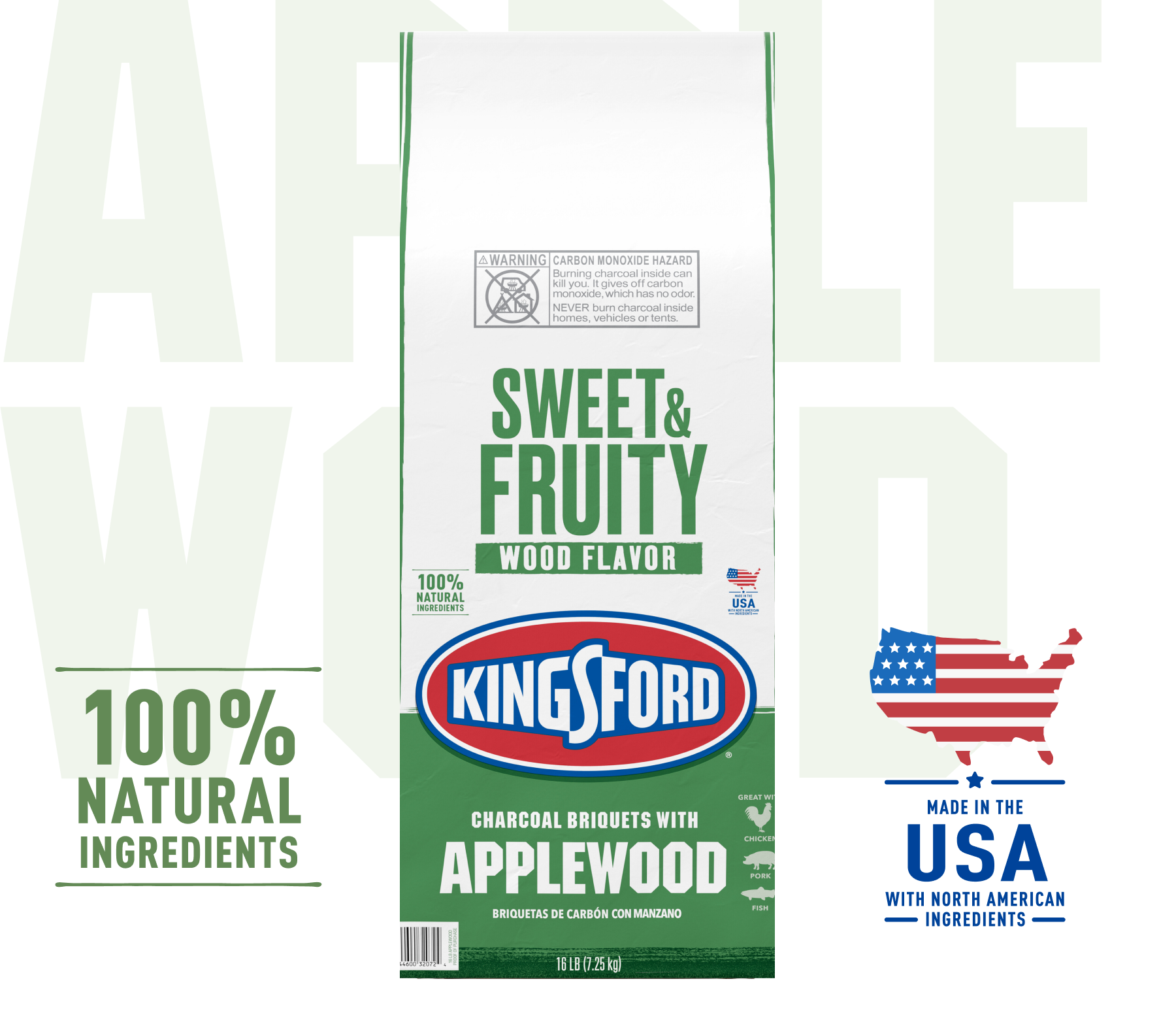 100% natural ingredients

Ready to cook on in 15 minutes

Long burn time*
Looking to step up your BBQ's flavor? Kingsford® Charcoal with Applewood adds a sweet and fruity wood flavor to all of your favorite foods. Made with 100% natural ingredients and North American wood, Kingsford® Charcoal with Applewood is perfect for elevating the natural flavors of poultry and pork. And, it lights fast, is ready to cook on in about 15 minutes and burns long. Available in 8-lb. and 16-lb. bags.
*Compared to other charcoal brands.
Rated

5

out of

5
by
bobbiep61
from
My favorite.
Kingsford is a trusted brand. The charcoal doesn't burn up too quickly. I love the Applewood. It keeps me from having to purchase the wood chips in adjacent to the charcoal. Everything from beef, to vegetables, to fish..this charcoal adds such a depth of flavor.
Date published: 2023-11-26
Rated

5

out of

5
by
melissal492
from
Tasty
I have used this kinda product to cook on my charcoal grill love the flavoring of it! I always let the charcoal burn for 35 minutes before putting anything on the charcoal grill!
Date published: 2023-11-03
Rated

4

out of

5
by
stacies67
from
Good for they grill
We buy this product when we are grilling.with chicken or pork. Its gives them a great taste when cooking. Lights very easily. Good brand. Worth the money
Date published: 2023-10-17
Rated

3

out of

5
by
brittanyb425
from
Okay
This wasn't my favorite charcoal. I liked it but it was different for me. It gave some of the food I used this to cook a kinda fruity like taste. It's definitely better for pork in my opinion
Date published: 2023-06-18
Rated

5

out of

5
by
theresan43
from
Great for smoking!
I recently purchased a smoker and decided to pick up this charcoal along with some chips to smoke some meats and they turned out great! Still practicing and learning but it does a good job.
Date published: 2023-05-14
Rated

5

out of

5
by
sarahoryan94
from
Best charcoal
We absolutely love this charcoal!! It doesn't burn too quickly and gives an amazing flavor with the applewood. We use it on everything but I think it pairs best with chicken and pineapples.
Date published: 2022-07-30
Rated

1

out of

5
by
Cgdib
from
Worst charcoal product to date knock offs better
Bought this product in High Hopes since I love the Applewood flavor in a smoker… Did not light very well and could not get them to stay activated long enough to even ash over. Tried restarting it multiple times and with lighter fluid with no success. Complete waste of money
Date published: 2022-07-13
Rated

5

out of

5
by
jopython
from
The best!
The best taste only with KINGSFORD!!! Applewood gives an amazingly delicious taste and aroma to any meat or vegetable! I only recommend this!
Date published: 2022-05-25
Rated

5

out of

5
by
Crazy Train
from
Long lasting and burns completely
My whole adult life I have used Kingsford Charcoal to grill. It has never failed me. lights fasts, last long, burns clean and completely. This makes clean-up a breeze. Someone gave me another brand to try, I gave it away! I love your product!
Date published: 2021-07-03
Rated

5

out of

5
by
Brakus
from
Incredible Burn Time
This past weekend, I did a 12 hour smoke for pork shoulder on my original PK Grill. I was amazed that I never had to refill with charcoal, particularly since I only started with 8lbs -- half of a 16lb bag. That is astonishing performance by any measure. The flavor was great, and the temp consistency (I ran it at about 240 degrees) was also very good. Can't wait to use the other half of the bag!
Date published: 2021-06-15
Rated

5

out of

5
by
lianac11
from
I have been using
I have been using this for years. It works very well and is super reliable. I highly recommend this product to anyone!
Date published: 2021-06-08
Rated

5

out of

5
by
member7a05f1
from
No one can cook
No one can cook better BBQ than with a charcoal grill. I like the Kingsford Charcoal with Applewood because the aroma and the extra flavor it gives all of the meat is out of this world.
Date published: 2021-06-05
Rated

5

out of

5
by
JWMAlabama
from
Great Heat! Superb flavor!
We grill on a BGE almost daily and have used this product for everything from high heat steaks to slow smoking. The product is great for fish, chicken,pork and beef. Provides great flavor when smoking thick steaks and chops and the temp increases quickly for the reverse sear.
Date published: 2021-06-03
Rated

1

out of

5
by
C E E
from
Horrible
I have never been more disappointed in Kingford as I'm now. The apple briquettes crumble and won't get hot. With the lid open on the grill on a windy day the still won't get hot. It's been 45 minutes grilling hamburgers and hasn't even been able to flip the meat once. Had to drive back to the store and buy a different brand. Now problems Now with crumbling and getting these hot SUPER DISAPPOINTED
Date published: 2021-05-31
Rated

3

out of

5
by
Briguy0419
from
Possibly a bad batch? Didn't work for me
I bought a couple bags of this charcoal and they just didn't seem like good quality charcoal. They took forever to light, once lit they took way longer than 15 minutes to be ready for cooking, they didn't burn very hot and didn't last long at all. I'm not sure if I just got a bad batch or something? I have always used kingsford without issue but this is my first time trying the applewood variety. I was disappointed this time.
Date published: 2021-05-27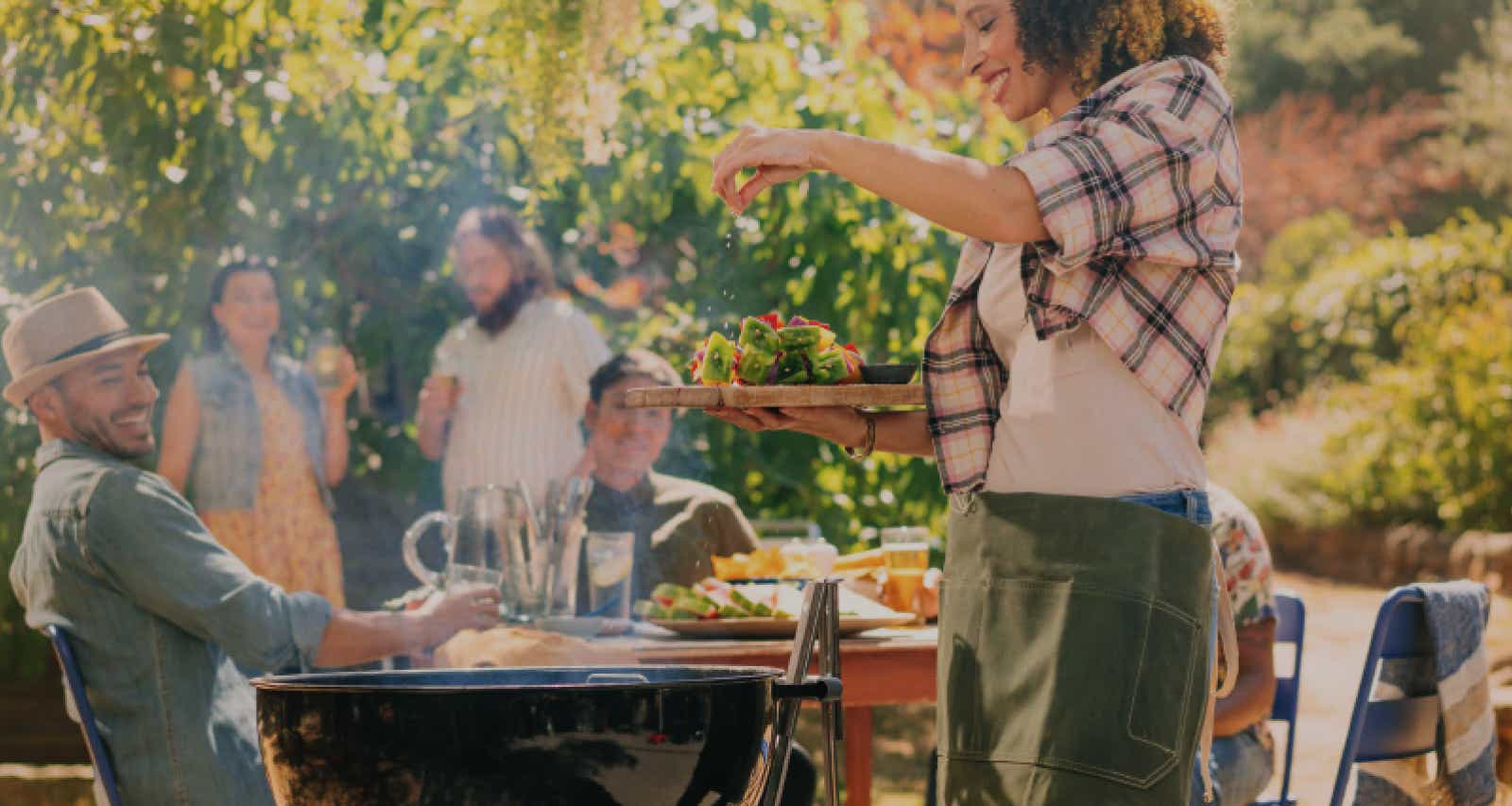 Light your fire with all new Kingsford® products.
Explore our full range of charcoal, pellets and flavor boosters to take your grilling to the next level.