Ingredients
2

lb.

boneless, skinless chicken breast
---
1
Food Prep
First, soak bamboo skewers in water for at least 1 hour prior to grilling.


Next, using white chicken breast or dark meat from the thigh, cut your chicken into chunks. Larger chunks of about 1" to 1½" are ideal. If the chunks are too small, the chicken will dry out on the grill. Then, add the chicken chunks to a dish and pour on your favorite marinade.

Now, cut your vegetables into 1" to 1 ½" chunks to match the size of your chicken.

If you want to marinate your vegetables, use a separate container. Don't marinate them in the same dish as the chicken.

Finally, it's time to thread your chicken chunks and vegetables on the bamboo skewers.
How Can I Prevent My Bamboo Skewers from Catching Fire During Grilling?
Bamboo skewers are inexpensive and readily available. But because they're made of thin pieces of bamboo, they're flammable and can catch fire during grilling. To prevent this, soak your skewers in warm water for at least 1 hour prior to assembling your kabobs.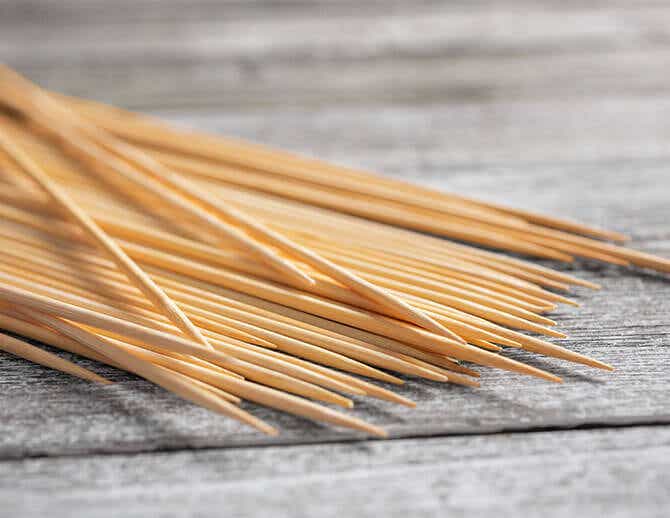 Why Is It Important to Marinate My Chicken Chunks Before Grilling?
A marinade with a high oil content will flavor your chicken, and also help keep it from drying out on the grill.
What Types of Vegetables Should I Use for My Kabobs?
Try classic vegetables like onions, bell peppers, and cherry tomatoes or add fruit like pineapple or peaches.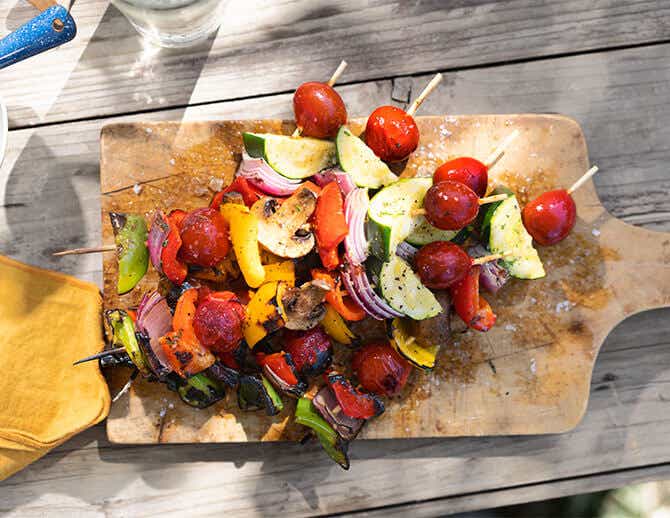 2
Grill Prep
How to Gauge Grill Heat Without a Thermometer
Carefully hold your hand about 5" to 6" above the grate, and refer to the temperature settings below:
• High Heat (450° to 550°F):
2 to 4 seconds
• Medium Heat (350° to 450°F):
5 to 6 seconds
• Low Heat (250° to 350°F):
8 to 10 seconds
Make sure your clothing doesn't touch the grate, and always move your hand away from the heat before you feel discomfort.
When you're at temp, put cooking oil on a folded paper towel. Grab the oiled paper towel with long-handled tongs and oil the grate thoroughly.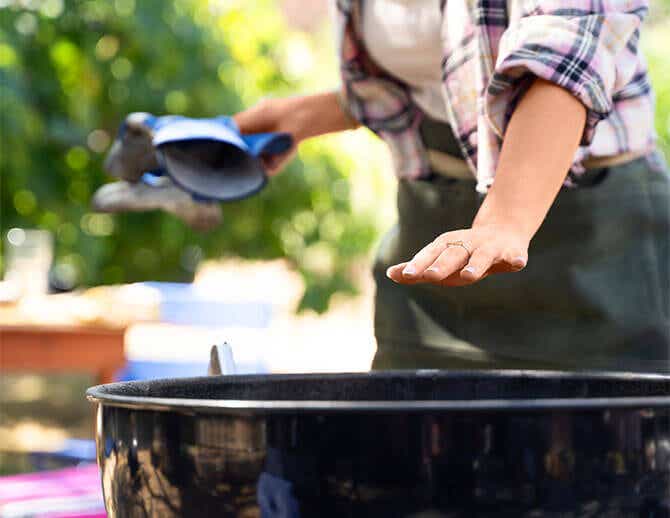 3
The Cook
When you're at temp, put cooking oil on a folded paper towel. Grab the oiled paper towel with long-handled tongs and oil the grate thoroughly.

Place a few of your chicken kabobs directly over the coals. 
Let the chicken and vegetables sear and get some color. 
Rotate the skewers to brown all of the sides. You'll find this requires some attention and time, so don't try to cook too many at once — work in batches.

When the chicken and vegetables have browned on all sides, move to the cooler side to finish cooking through. It will take about 8 minutes total if you're using white meat, about 9 minutes if using dark meat. 

Chicken is done when it reaches an internal temperature of 165°F.

Serve your chicken kabobs hot off the grill, no need to rest before serving.
Here's How to Handle a Flare-Up
Flare-ups happen to even the most skilled grill masters. Flare-ups are just fat rendering and dripping onto the coals. With a long-handled, metal spatula, simply move your food to the other side of the grate until the flames subside.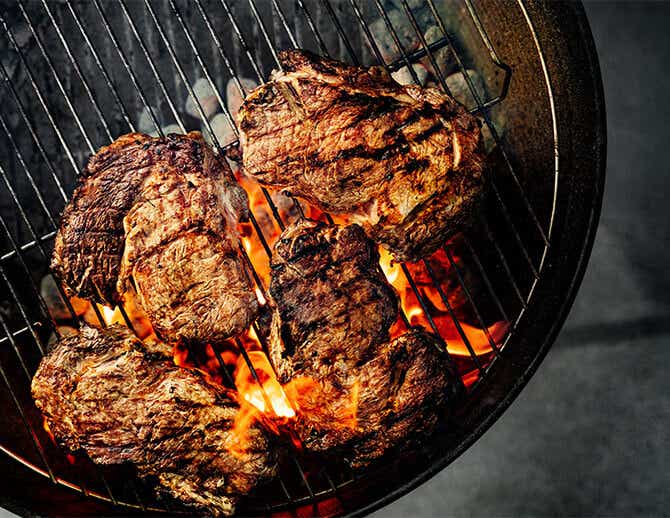 For safe meat preparation, reference the USDA website.
Rated

5

out of

5
by
kittykat347
from
Easy and Delicious
I tried this about three weeks ago. It was easy by reading the instructions first. Then I could have skewers soaked and ready.
Date published: 2023-05-27
Rated

4

out of

5
by
Spider
from
Grilled chicken kabobs
Easy recipe I love to cook with charcoal, but haven't since I moved and someone took my kettle grill. I have a gas grill and will look into purchasing a new charcoal grill
Date published: 2023-05-26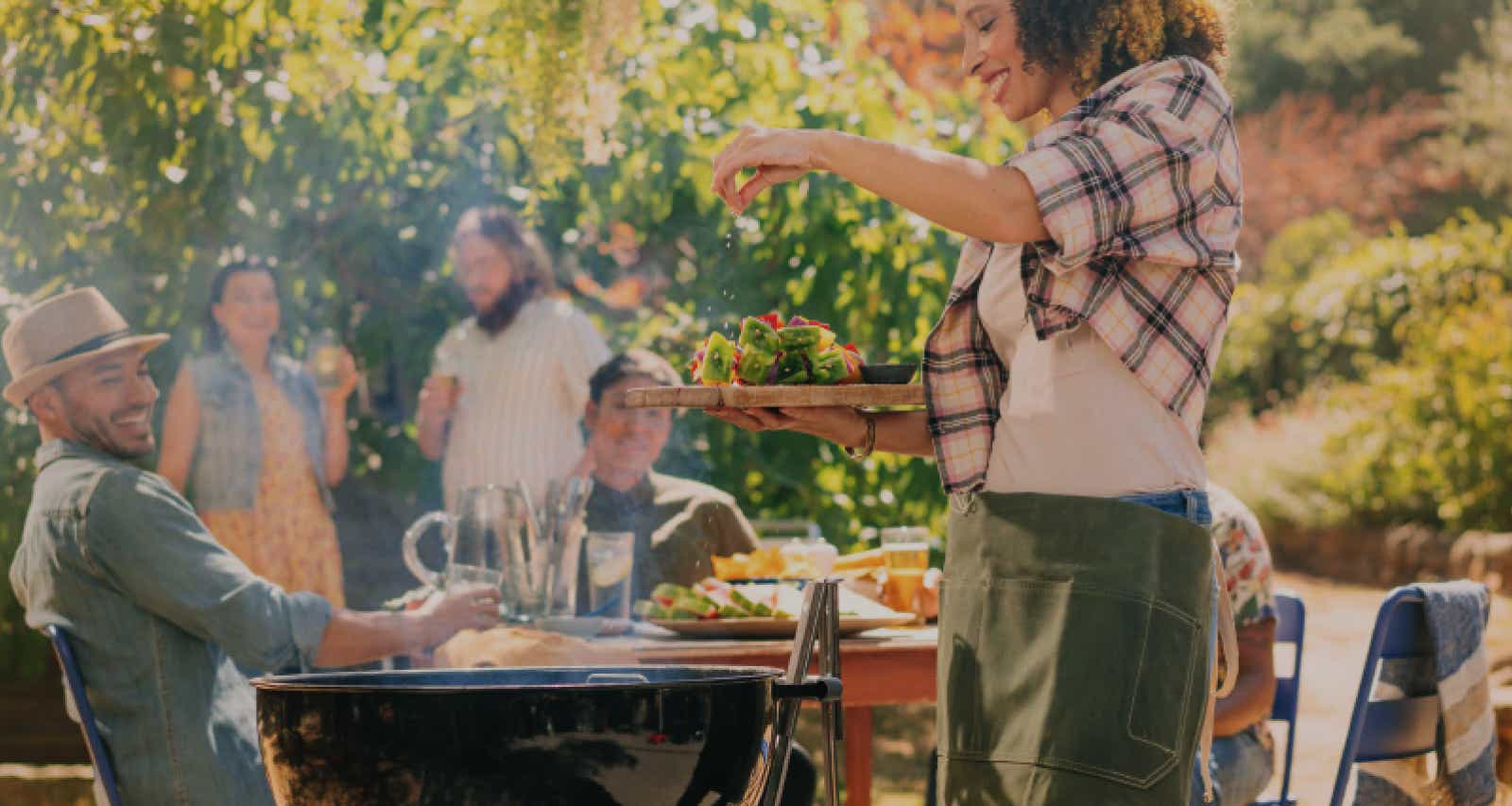 Light your fire with all new Kingsford® products.
Explore our full range of charcoal, pellets and flavor boosters to take your grilling to the next level.