Ingredients
30

large shrimp with tail shells on (21-25 count per pound)
---
1
Food Prep
Start by getting your skewers ready. Both metal or bamboo skewers can be used for your shrimp kabobs, but if you're using bamboo skewers, be sure to soak them in water for 1 hour prior to grilling. 


Cut your vegetables to match the size of your shrimp. Since shrimp cook quickly, choose vegetables that also cook quickly, like cherry tomatoes and scallions. If you like sweeter flavors, fruits like pineapple or peaches also pair well. 

Gently thread your ingredients onto your skewers, alternating between shrimp and veggies. Fill your skewers so your shrimp and veggies are touching but don't pack them too tightly.

To season your kabobs, we recommend tossing a little olive oil, salt and pepper onto your assembled kabobs and letting the flavors of your fresh ingredients shine. 

If you want to marinate your vegetables or fruits, do so in a container separate from your shrimp. If you're marinating your shrimp, avoid high acid ingredients like lemon juice or vinegar, as they can alter its delicate texture. 
How Do I Know What Type of Shrimp to Choose? Let's Find Out!
Choose large shrimp, often labeled 16/20 (roughly 16 to 20 shrimp per pound). Smaller shrimp tend to dry out quickly. Shell-on shrimp work better than peeled, as the shell will help protect the meat and retain moisture while cooking.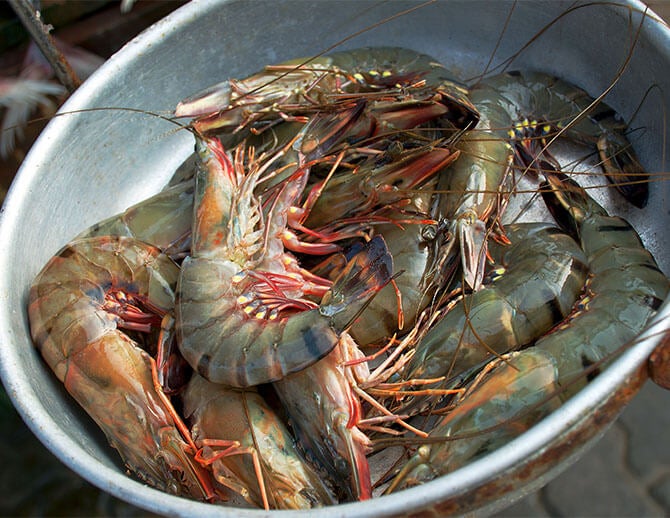 How Can I Prevent My Bamboo Skewers from Catching Fire During Grilling?
Bamboo skewers are inexpensive and readily available. But because they're made of thin pieces of bamboo, they're flammable and can catch fire during grilling. To prevent this, soak your skewers in warm water for at least 1 hour prior to assembling your kabobs.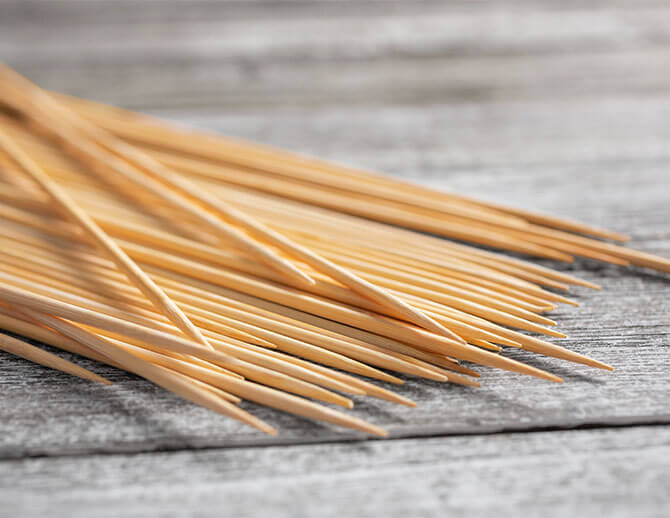 What's the Best Way to Assemble My Kabobs?
It's important not to pack the skewers too tight or too loose. If the protein and vegetables are too snug, the skewer will take too long to cook. If too loose, the protein and vegetables may overcook. Ideally, the protein and vegetables will touch each other but not be too crowded.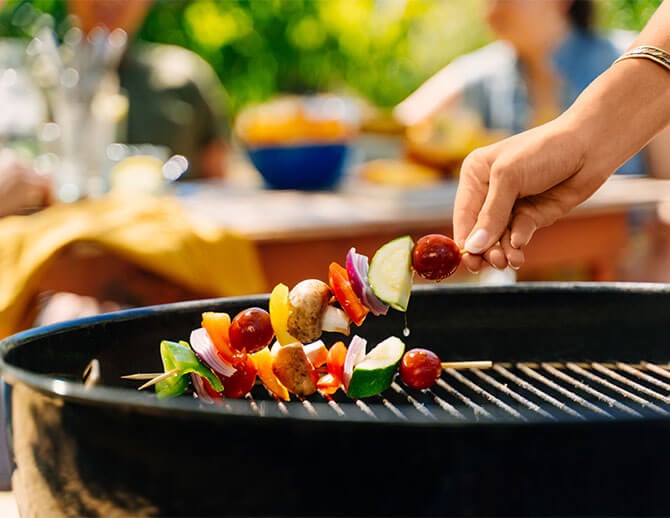 2
Grill Prep
How to Gauge Grill Heat Without a Thermometer
Carefully hold your hand about 5" to 6" above the grate, and refer to the temperature settings below:
• High Heat (450° to 550°F):
2 to 4 seconds
• Medium Heat (350° to 450°F):
5 to 6 seconds
• Low Heat (250° to 350°F):
8 to 10 seconds
Make sure your clothing doesn't touch the grate, and always move your hand away from the heat before you feel discomfort.
When you're at temp, put cooking oil on a folded paper towel. Grab the oiled paper towel with long-handled tongs and oil the grate thoroughly.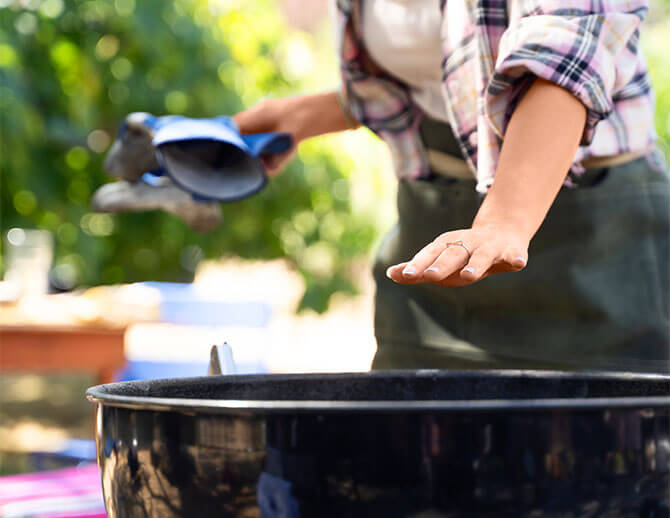 3
The Cook
When you're at temp, put cooking oil on a folded paper towel. Grab the oiled paper towel with long-handled tongs and oil the grate thoroughly.
Grill your shrimp skewers directly over the coals on the hot side of the grill. Shrimp doesn't take long to cook — only 2 to 3 minutes per side — so don't load up the grill with too many skewers at once.Cook them in batches so you can flip them and move them aside in case of flare-ups.
If you're using particularly large, meaty shrimp, you may need to let them finish cooking through on the cool side of the grill to avoid charring them.
When your shrimp kabobs reach an internal temperature of 145ºF, remove them from the grill and serve. Shrimp kabobs go great with leafy green salads for a lighter meal or paired with hearty pasta dishes on the side.
For safe meat preparation, reference the USDA website.
Rated

4

out of

5
by
Geomans
from
Good simple and fast to make
I like this recipe because how easy it is and simple to make in a snap.
Date published: 2023-05-27
Rated

5

out of

5
by
rameyer
from
Can't wait to try
The recipe sounded easy and delicious. I can't wait to try
Date published: 2023-05-26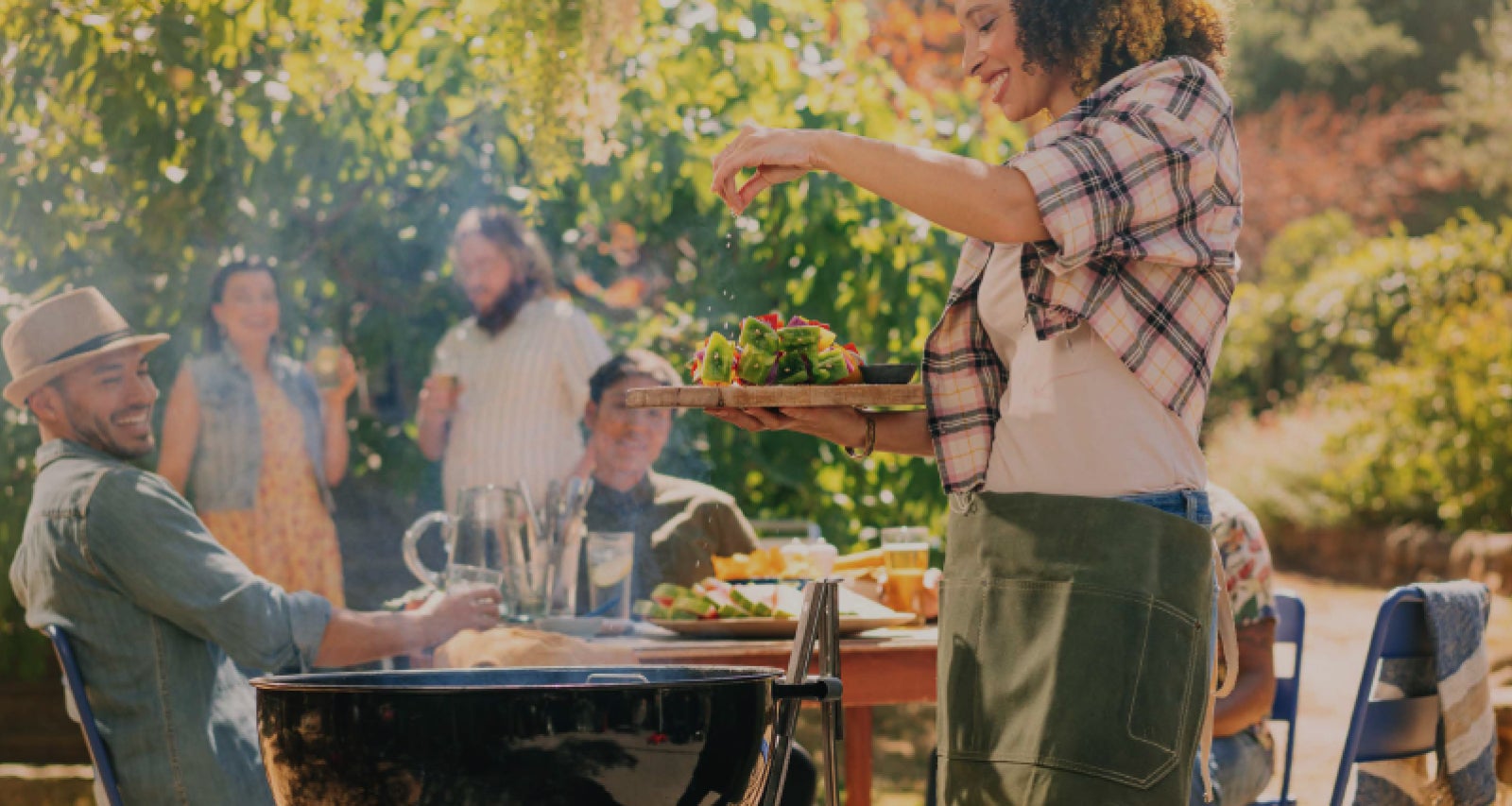 Light your fire with all new Kingsford® products.
Explore our full range of charcoal, pellets and flavor boosters to take your grilling to the next level.