Kerlin BBQ Perfect Pork Ribs
Write a Review
Read Reviews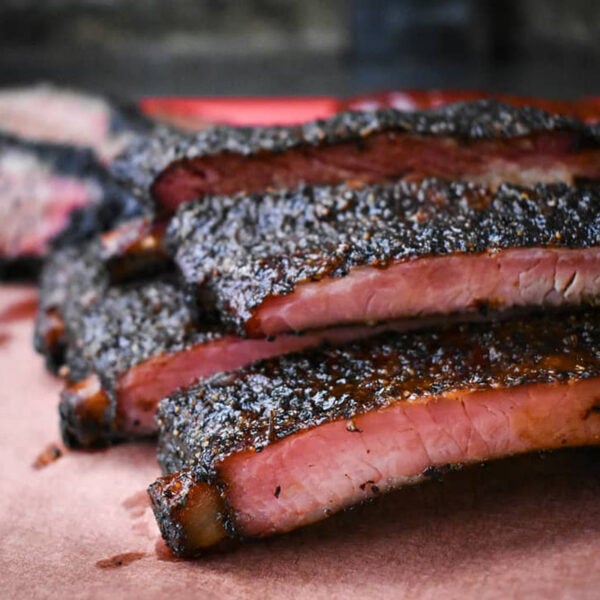 Yields:

4 Servings

Cook time:

5 h

Prep time:

5 h
Ingredients
1 slab St. Louis cut spare ribs, yields about 2 pounds cooked
3 tablespoons coarse ground black pepper
1 tablespoon salt
Instructions
Look for the meatiest ribs you can find, avoiding any racks with "shiners" — spots where the bone is visible from the top of the rack.
Trim any excessive fat from the rack of ribs. If there is a flap of meat on the bottom of the ribs, remove that as well.
Season ribs liberally with a dry rub of 1 part table salt to 3 parts coarse ground black pepper. Put ribs into a covered container in the refrigerator overnight or at least 5 hours.
Build a two-zone charcoal fire for both direct and indirect cooking using Kingsford® Charcoal by situating the coals on only one side of the grill, leaving the other side void and preheat to 250°F. Cook the ribs for about 3 hours. Remove ribs from the grill and wrap tightly in aluminum foil.
Put ribs back on the grill, with the meaty side down. Cooking them upside down in the foil allows the meat to cook in its own fat and juices and greatly increases both moisture and flavor.
Cook ribs for an additional 45 minutes or until they bend and lightly crack, but do not break or fall apart when picked up in the center.
Remove ribs from foil and put back on the grill with the meaty side facing up. Brush ribs lightly with barbecue sauce.
Cook ribs until the sauce has cooked down into a hard glaze, about 25 minutes.
Allow ribs to rest for 5 minutes then slice and serve with pickles and sliced onion.
Bill Kerlin Tip:
Don't throw away the flap meat! Season it and smoke it, as it makes for a great pitmaster snack.
Credit: Recipe created by Bill Kerlin of Kerlin BBQ on behalf of Kingsford Charcoal
For safe meat preparation, reference the USDA website.