Daddy Duncan's BBQ Smoked Oxtails
Write a Review
Read Reviews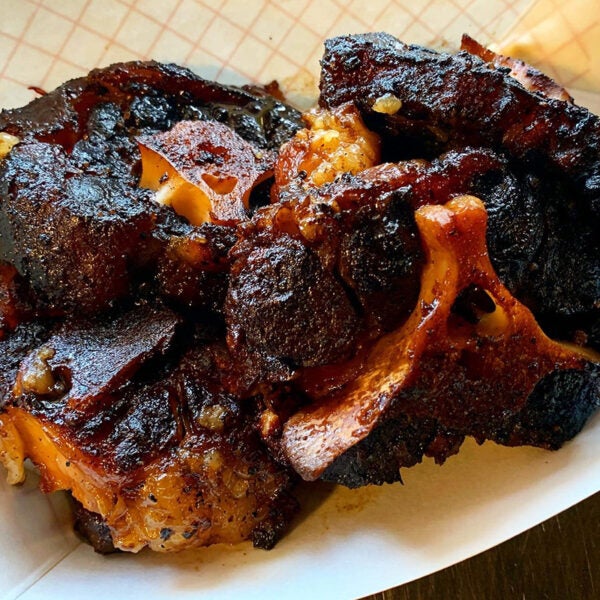 Yields:

20–30 Servings

Cook time:

5 h

Prep time:

30 minutes
Ingredients
20 pounds fresh-cut beef oxtails
2 cups Worcestershire sauce
32 ounces beef stock
½ cup kosher salt
½ cup black pepper
½ cup paprika
½ cup granulated garlic
2 liters Dr Pepper
1 bag Kingsford® Charcoal
heavy-duty foil & large foil pans
3 post oak sticks
2 pecan wood sticks
Instructions
Prepare the beef oxtails by slightly trimming the heavier fat with a sharp knife and discard. Combine dry ingredients to make the rub blend. Place trimmed beef oxtails into a large container, adding Worcestershire sauce and mixing well with the rub blend.
Prepare your smoker with Kingsford® Charcoal in a smoker, adding oak wood and pecan wood sticks on top. Once the smoker is set at a temperature of 350–375°F, lay the oxtails evenly on grates inside.
Let beef oxtails smoke for 1–2 hours, turning carefully every 30–40 minutes to ensure proper cooking on all sides.
When the beef oxtails become crispy, colorful, and cooked through, pull them off the smoker and place evenly in a doubled up large foil pan. This will hold the weight of the oxtails for the braising method.
Pour the beef stock and Dr Pepper over the oxtails in the foil pan. Cover tightly with heavy-duty foil. Place back on the smoker at a lower temperature of 300–325°F for 3 hours.
Use the juices in the pan to glaze the beef oxtails or lightly stir in the juices. Serve oxtails whole.
Randy Duncan Tip:
Do not overcook the beef oxtails where they fall off the bone. It's important that they stay intact for serving. Beef oxtails should have an almost tender pot roast texture that's sweet and savory and easy to pull or bite off the bone.
Credit: Recipe created by Randy Duncan of Daddy Duncan's BBQ on behalf of Kingsford Charcoal
For safe meat preparation, reference the USDA website.