Cider-Brined Pork Chops with Brown Sugar Applewood BBQ Sauce
Write a Review
Read Reviews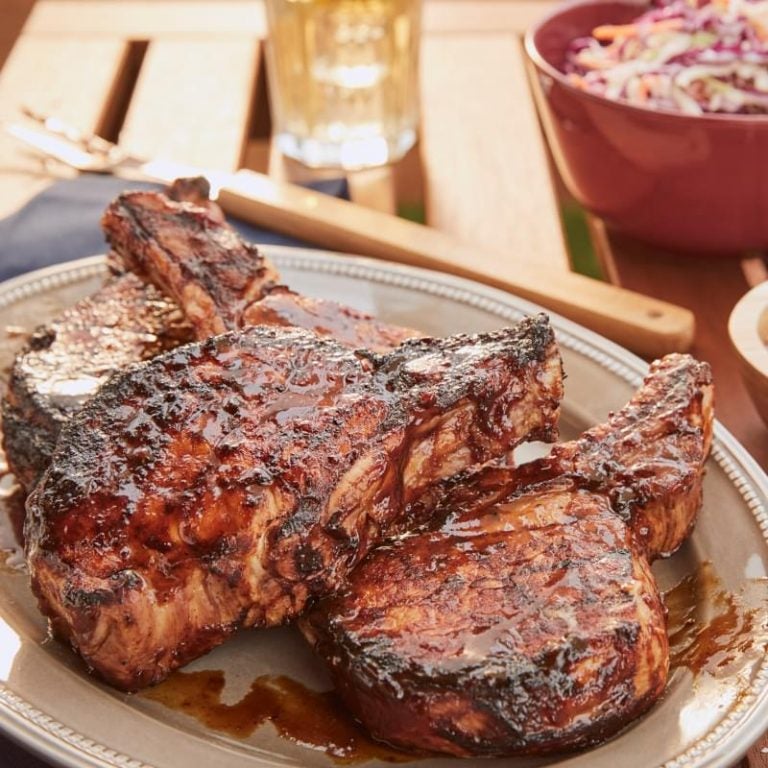 Ingredients
4 cups apple cider
¼ cup Kosher salt
¼ cup brown sugar
¼ cup apple cider vinegar
4 pork chops approximately 1 inch thick
1 cup your favorite BBQ sauce for basting; additional sauce for serving
Instructions
In a large saucepan, combine apple cider, Kosher salt, brown sugar, and apple cider vinegar and bring to a boil over medium-high heat. Cook for 3-4 minutes, stirring frequently until salt and brown sugar are completely dissolved.
Remove the brine mixture from the heat and add 2 cups of ice. Allow the mixture to cool completely then place in a large re-sealable bag along with the pork chops.
Seal the bag while removing as much air as possible then refrigerate for 4-6 hours.
Using Kingsford® Charcoal with Cherrywood, build a fire for direct grilling and preheat to medium-high (approximately 400°F).
While the grill preheats, remove pork chops from the brine and pat dry with paper towels.
Grill pork chops for approximately 5 minutes per side until they reach an internal temperature of 145°F. During the last minute of grilling, baste each side of the pork chops with your favorite BBQ sauce.
Remove the pork chops from the grill and allow to rest for 5 minutes before serving with additional BBQ sauce.
*Tip: Always add sauce at the end of the cooking process as too much exposure to direct heat can cause it to burn. Basting with a few minutes left in the grilling process ensures that the sauce has time to caramelize without overcooking.
For safe meat preparation, reference the USDA website.