Kingsford® 100% Natural Hardwood Blend Pellets
Grillmaster's Choice, Hickory, Cherry and Oak, 25 lb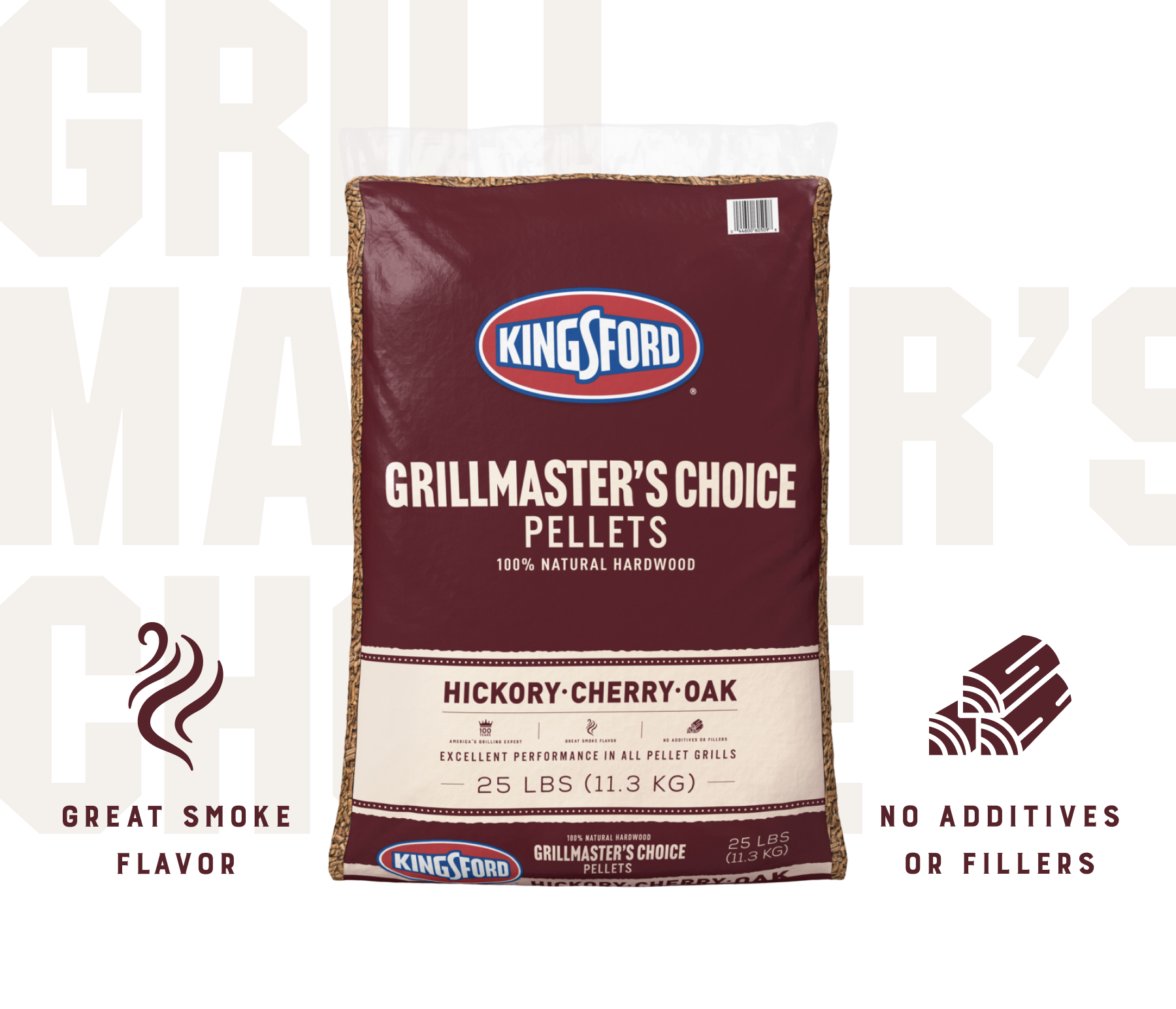 Made in the USA

Pure Flavor Hardwoods

Great for Any Pellet Grill
Big flavor is what it's all about. Grilling with Kingsford® 100% Natural Hardwood Blend Pellets brings you authentic wood-smoked flavor from all-natural American hardwood. Made from better wood for better flavor, our Kingsford® Grillmaster's Choice 100% Natural Hardwood Blend Pellets deliver excellent performance in all pellet grills, including Pit Boss® and Traeger®. Made in the USA, these Kingsford® 100% Natural Hardwood Blend Pellets for grilling contain no artificial flavors, fillers, binders, dyes, chemical additives or oils. Just pure hardwood for pure flavor. Grillmaster's Choice brings you the traditional, rich and savory flavor notes of hickory, cherry and oak hardwood that pair well with beef, chicken, ribs, pork, fish, lamb and turkey. Kingsford® grilling pellets come in a conveniently sized 25-pound bag. One pound of pellets lasts approximately one hour at low heat and 30 minutes at high heat depending on the grill manufacturer and outdoor conditions. Trust Kingsford for real wood flavor made easy.
Rated

1

out of

5
by
Sue L
from
Wont use again
We decided to try these. Bad idea .it started a fire in our traeger thru the auger and into the pellet bin. We were only smoking at 225 degrees. Im going to clean it out and go back to traeger pellets. i sure hope it didn't ruin our traeger.
Date published: 2021-06-02
Rated

5

out of

5
by
Kev Rog
from
I have used many pellets. I bought the hickory and the blend, they give off a better flavor I think they burn longer. Going to try the maple.
Date published: 2021-04-18
Rated

5

out of

5
by
CLRC
from
My new favorites!
Have always been in a dynamic "search" for the "best" wood pellets. Mostly had settled on "LJ" brand, as they are great quality and consistent. Having tried these Kingsford pellets, I may be "sold" on these. They are high quality, burn excellently and make great flavor. A massive percentage of folks don't understand "smoke science" and are misled in thinking that lots of white smoke is a good thing, when it's absolutely not (research clean vs dirty smoke). These make good smoke, which means flavor! Pellets are lower in moisture content vs natural wood pieces, but they can come close with a lot less "effort". Have tried the classics, signatures, hickory and cherry.
Date published: 2021-03-13
Rated

1

out of

5
by
Mad Lee
from
Classic Sawdust ???
I bought a bag from Lowe's on clearance for $5.99 from $19.99 and now i see why!! Jesus Christ... It smells and flavored my pork like a pile of wet sawdust wood. I will never try this sawdust ever again and that's a fact!!! I'm now using this with my wood in the wood burning stove for some heat BTU value. Never will i recommend this fire starter...
Date published: 2021-01-30
Rated

5

out of

5
by
Gene
from
Great flavors
I just got my first pellet grill from Recteq. I was using a stick smoker for years with pecan, oak, or citrus, depending on the meat. I smoked 2 pork shoulders, about 8lbs each, and shared one with our good friends and my family had the other. The flavors that I achieved was tremendous. We never had flavor like that with my stick smoker. Thanks for making a great product.
Date published: 2021-01-25
Rated

5

out of

5
by
Junior Stafford Jr
from
Thank you for being a great teacher
I'm loving this new king's Ford charcoal and I to grill out this is my favorite thing I could get from the start
Date published: 2021-01-21
Rated

5

out of

5
by
Kanbama
from
Used to smoke a 12lb bone-in prime rib. Was the best tasting prime rib we've ever had.
Date published: 2020-12-27
Rated

5

out of

5
by
Ms Polly
from
Great for Natural test
I got these a few weeks ago. Glad I did I love how it makes my ribs taste. Cant wait to try another flavor.
Date published: 2020-08-21
Rated

5

out of

5
by
Orville
from
Great flavor
Did chicken thighs with the classic and they turned out superior
Date published: 2020-07-20
Rated

5

out of

5
by
SubmanDan
from
Great blend!
Didn't know Kingsford made pellets and I ran across these in the store and I was going to do a 14 lb prime brisket in a couple days so I thought I would try them because I really liked the wood combo. Absolutely great flavor. The best smoke flavor yet for my brisket!
Date published: 2020-06-27
Rated

5

out of

5
by
msfreebie
from
Kingsford Barbeque Pellets Classic
Kingsford Hardwood Pellets in Classic is a flavor of hickory, oak, & cherry. The bag has easy instructions for pellets. The brand Kingsford is very inexpensive and is quality. The pellets are odorless and safe while preparing to cook. When lit they have an ordor of classic grilling barbeque. The light easy. The food is enhanced with flavor of classic hickory, oak, & cherry. It is a great supplement to have to grill food any way because the food consumed makes the pallet feel enriched with food that has seasoning. The food gets piquancy without consuming additional ingredients and calories.
Date published: 2020-06-16
Rated

5

out of

5
by
ambs4804
from
excellent taste
I bought these for my dad to use in his smoker. He said it was perfect for it and loved it. We all loved the way the food tasted and it smelled amazing while cooking. Will definitely recommend in the future and continue to buy.
Date published: 2020-06-15
Rated

5

out of

5
by
Tamb2005
from
Great product
Are used this product in a smoker tube. I must say I was very impressed. The pellets were easy to use and gave food a great Smoky flavor that was mild and not overbearing. Clean up of the smoker tube was easy as well. I will be trying additional flavors
Date published: 2020-06-13
Rated

4

out of

5
by
Bella125
from
Great product!
This was our first time using pellets and we were very pleasantly surprised. We have a charcoal grill, so we just followed the directions to wrap in foil. Very easy to use. Did not need to use much either. A little goes a long way! We made some ribs and they were so good!! Very flavorful and tender. Cant wait to see what we make next. I definitely will be buying these again!
Date published: 2020-06-12
Rated

5

out of

5
by
Elley3737
from
Great flavor!
I really like these wood pellets! I decided to try something new and these added a great smokey flavor while using my gas grill. They burn heat very evenly. They were packaged well, and the price and quality is excellent. Highly recommended if you want to add extra flavor!
Date published: 2020-06-12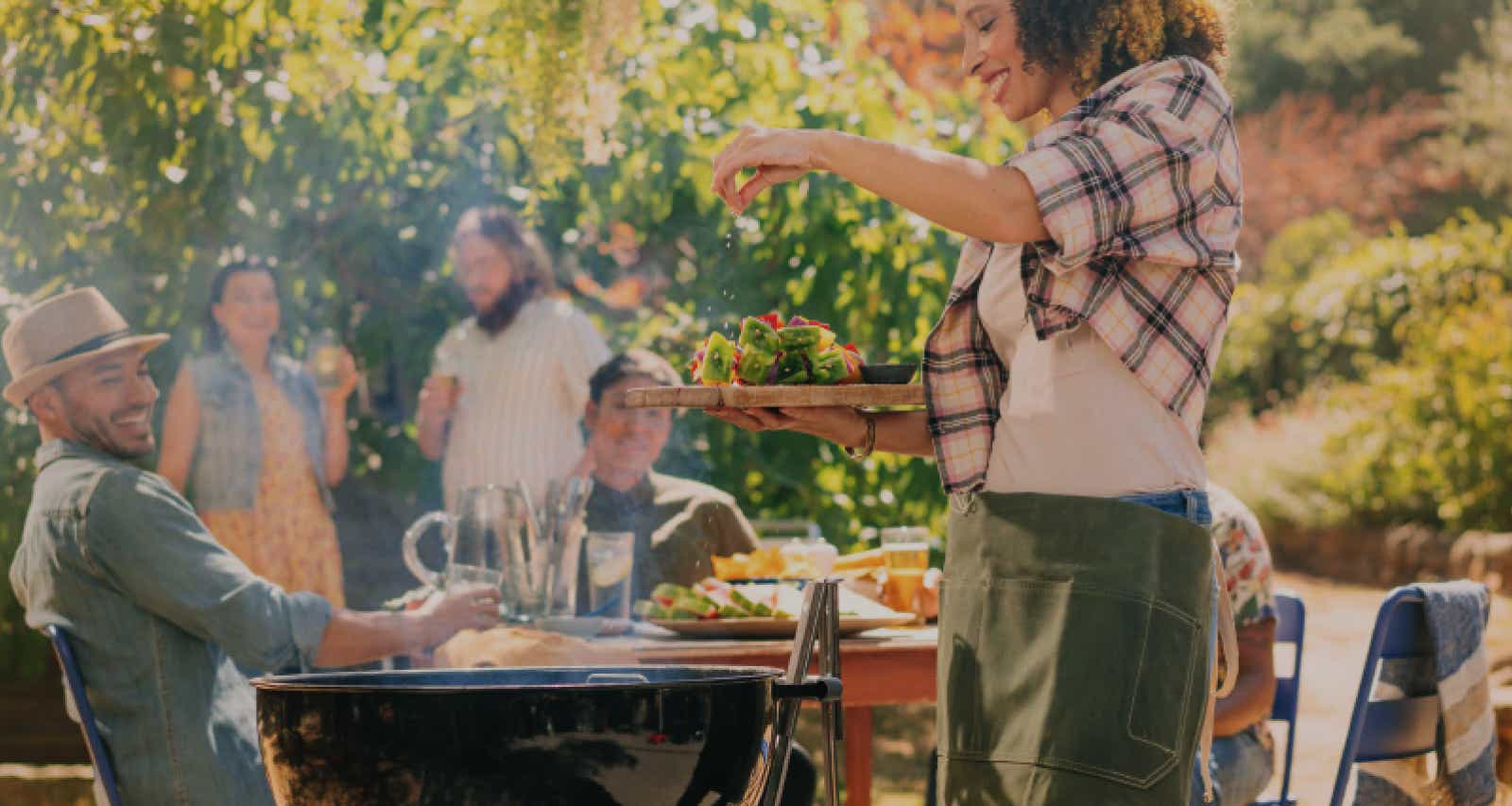 Light your fire with all new Kingsford® products.
Explore our full range of charcoal, pellets and flavor boosters to take your grilling to the next level.