Kingsford® Signature Flavors Briquets
Garlic Onion Paprika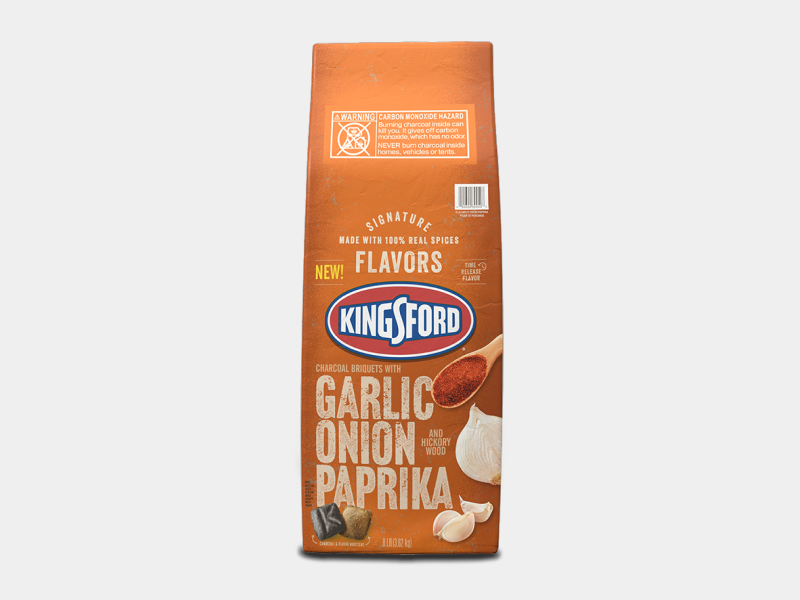 Get big, bold flavor, just the way you like it. Made with hickory wood, this grilling charcoal comes pre-mixed with flavor boosters that steadily release garlic, onion and paprika flavor you can see, smell and taste. Easy to add to any charcoal grill,* they're ready in about 15 minutes thanks to the Sure Fire Grooves® with edges for quick, easy lighting.
The 100% real spice flavor pairs well with chicken, beef, fish and vegetables.
* See back of pack for instructions.
---
---
Ready to cook on in 15 minutes
Long burn time*
*Compared to other charcoal brands.
---
Adventurous Eats
---
Take your taste buds outside their comfort zone with these unexpected twists on grilling favorites.
Rated

5

out of

5
by
ddiasgranados
from
Had a great time with this – new experience all ar
First time using Kingsford's flavor charcoal and I've never had such a unique experience grilling. The flavor profile is so different, especially for fish which is what we used. Great with chicken too!
Date published: 2022-05-15
Rated

1

out of

5
by
bvstough
from
Extremely Disappointed
Respectfully, this product is a huge disappointment. I purchased a 13 lb bag of the Garlic, Onion, and Paprika at Lowes last weekend. The bag indicates that it is a mixture of regular Kingsford and the flavored briquets. I have emptied the back and found a total of 15 flavored briquets within the 13lb bag. I have completed two cooks, chicken and steaks and can't even detect any flavor. I love the concept, but the ratio of flavored vs normal briquets needs adjusted to increase the amount of flavored briquets per bag.
Date published: 2022-05-12
Rated

5

out of

5
by
Carollwatler
from
So good!!
I used this flavor while bbqn and it really helped and gave the meat and veggies a nice flavor. Smells amazing while burning and the food taste even better. I had compliments on the taste of my food but I owe it to this charcoal. I definitely tasted the garlic and onion flavor. I would recommend.
Date published: 2022-05-06
Rated

5

out of

5
by
Kaykay_1985
from
Awesome
I received a bag of Kingsford® Signature Flavors Briquets in the flavor of Garlic-Onion-Paprika. These briquettes were easy to light and stayed light for the whole grilling process. They smelled amazing while and gave the meat a delicious flavor.
Date published: 2022-04-29
Rated

5

out of

5
by
Emanuela
from
Great for Chicken
Bring on summer grilling! We used these flavored briquettes for our chicken drumsticks that we were grilling. It gave the meat such an intense and delicious flavor. I already marinated the meat ahead of time, but when used in combination with the briquettes it made it ten times better!
Date published: 2022-04-24
Rated

1

out of

5
by
Garlic_lover
from
Used twice, not impressed
I've grilled twice with this And could tell no difference between this and regular charcoal. A waste of money in my opinion.
Date published: 2022-04-23
Rated

5

out of

5
by
Danyellef
from
Taste great
I used this on our first cook out of the season. The briquettes made my entire dinner taste amazing. They added amazing hints of garlic and paprika enhanced my chicken and vegetables. Well worth the purchase
Date published: 2022-04-16
Rated

5

out of

5
by
Lindaflight
from
Great flavor
I recently tried the garlic, onion and paprika charcoal. I can't say enough good things about it. I'm telling all my grilling friends about it.
Date published: 2022-04-07