Kingsford®
Easy Light Bag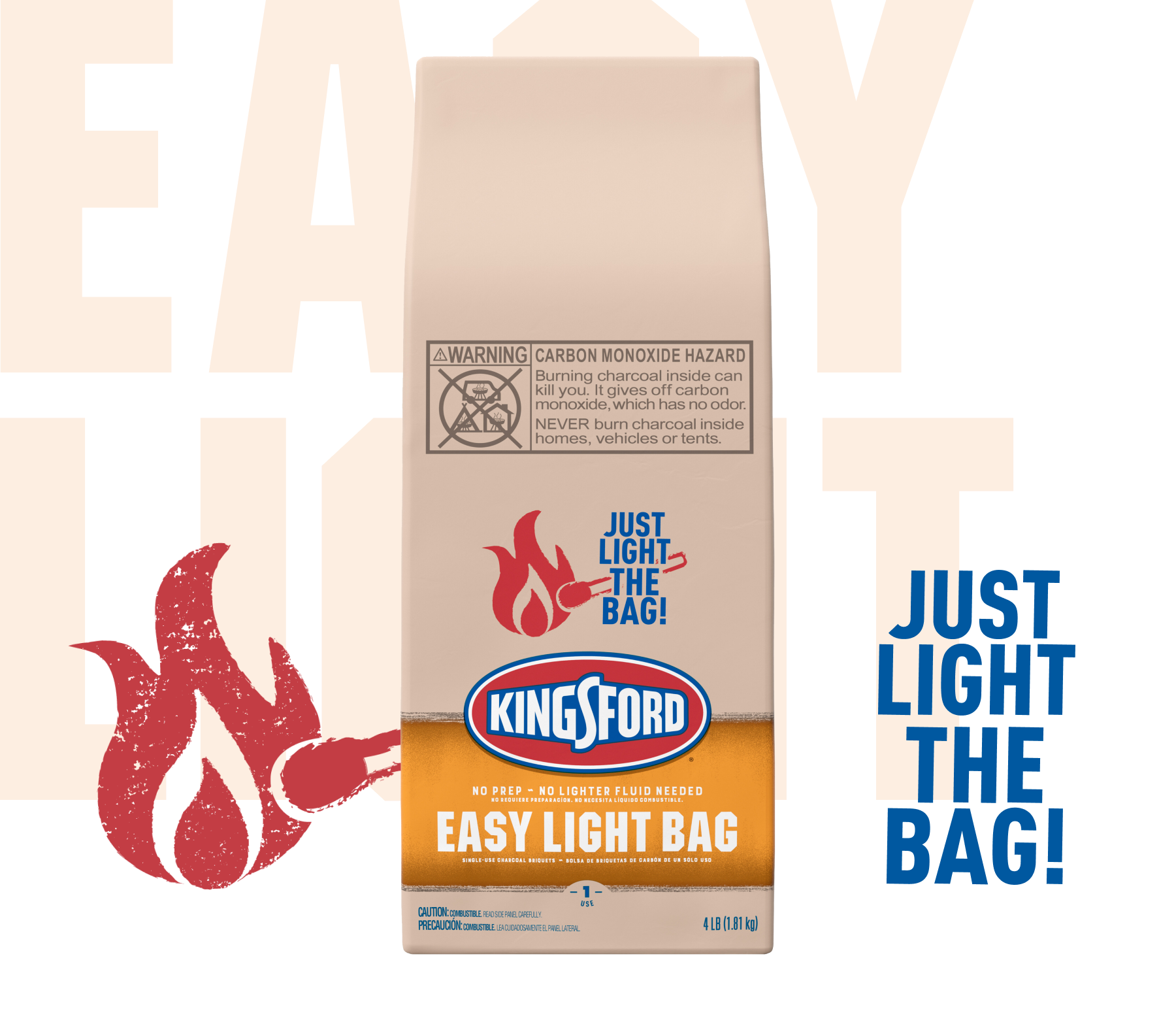 100% natural ingredients

Made in the USA

Portable
With the Kingsford® Easy Light Bag, charcoal grilling has never been simpler. Just light the bag and get grilling — no prep and no lighter fluid needed. Kingsford® Easy Light Bag is a single-use bag that lights instantly* with the strike of a match, allowing you to charcoal grill almost anywhere. And Easy Light is made with North American wood and the same quality ingredients as Kingsford® Original, delivering that authentic wood-fired BBQ flavor — instantly.* Available in a one-use, 4-lb. bag.
Learn
How to arrange charcoal before grilling
Discover the best ways to grill and smoke using Kingsford® Charcoal Briquets. We'll show you how much charcoal you should be using to achieve the right grilling temperature, and techniques to use for different types of food. It's easy — just follow along.
Rated

5

out of

5
by
Yeti
from
Ease
Kingsford I just want you too know what a wonderful product y'all have in your 4lb bag of ready to go charcoal (not the match light) this is my first time using this even though I have been a very long time user of your products and I was saying thank you for another wonderful product So easy to use no mess no fuss just light and go and no heavy starter fluid taste like I've had when I tried your match light Thank you again and keep up the great work and Ingenuity this is why I will not use anything else but Kingsford products.
Date published: 2022-05-08
Rated

5

out of

5
by
Krissy
from
Lights fast and burns hot for several hours!
Loved it! So easy! Please keep making this product!
Date published: 2021-06-27
Rated

5

out of

5
by
TVinMD
from
Great idea!
Used this when at a rental with a grill. Perfect for one night's grilling!
Date published: 2021-06-14
Rated

5

out of

5
by
sandrag141
from
My husband swears by
My husband swears by this brand. They take away the mess because you don't need lighter fluid. #outdoors
Date published: 2021-03-17
Rated

5

out of

5
by
blackfire2013
from
Tried and true. These ALWAYS work. I've tried other brands and there is no contest. Kingsford lights quick and easy. The coals are long lasting. They arent as smokey as other brands. They cook food evenly. All my requirements are met with this charcoal.
Date published: 2020-07-30
Rated

5

out of

5
by
Benjamin
from
Secure the bag!
Went to the store for a regular 'ol bag of Kingsford and could only find the Easy Light Bag. Super impressed at how frictionless our experience was! The bag lights easy and the coals stay hot while I enjoyed a cold one Pleasant surprise... do yourself a favor and try this one out folks!
Date published: 2020-04-22
Rated

4

out of

5
by
kirstyse6e6
from
I recommend them easy-to-use I find them at most stores it can also be bought online Ortho tri great brand
Date published: 2020-04-20
Rated

5

out of

5
by
dianaluna92
from
We use this to light up our bbq grill, this was actually really easy to light up, it light up super fast, we know cook more often since it's easiest to do so, no more hassle, I recommend this brand, the products are great!
Date published: 2020-04-18
Rated

5

out of

5
by
Mave
from
EASY!
So easy and efficient! Lit easily and no mess! Will buy again and love that's it's only $3!
Date published: 2019-11-05
Rated

5

out of

5
by
JJ232
from
The best charago ever made.
You guys are always best around the world. I don't use any other.
Date published: 2019-09-14
Rated

5

out of

5
by
Boudinbutcher
from
Excellent
Ive always been a kingsford fan, and this does not dissapoint. We were very pleased and will continue to purchase.
Date published: 2019-08-17
Rated

1

out of

5
by
MNADVENTURES
from
Very Dangerous Product
Bought a bag to cook some steaks at home to try out this product. Light the bag and had 5 ft flames shooting off of it for over 20 minutes. Glad it didn't light my fence or house on fire, also surprised the neighbors didnt call the fire department. Tried putting the cover on and waiting and take it off and flames shoot up again. Waited until it finally died down and coals turned white and food tasted light lighter fluid. Careful storing this product and beware when lighting it. Would be useful if camping during a raining weekend is all I can think for this.
Date published: 2019-08-08
Rated

2

out of

5
by
jtb19nh
from
Do NOT use this in a smoker
I just got a new smoker as a birthday gift along with a couple of bags of the easy light. The smoker directions said not to use anything with lighter fluid in it. I looked all over the internet and read the entire bag and couldn't find anything that said this product had light fluid in it. After using the the first time in the smoker all I could taste on the food was lighter fluid. I wish they would put warning on the bad somewhere.
Date published: 2019-04-26
Rated

3

out of

5
by
Bobby G
from
easy to use
Real easy to use..just light and i have a good fire in about 20 minutes..my question is like other people im experiencing a lighter fluid taste and odor ..are these briquettes treated at all with any kind of fuel like the EZ light bags,,need to know
Date published: 2019-03-02
Rated

3

out of

5
by
karlybbqueen
from
HELP!!!!!!!!!!!!!!
I bought this for a science project and i needed to know the chemicals in the charcoal products. It doesn't say them on the bag so i went to this site and it still doesn't say. The project is about which charcoals have a better qualities, with less chemicals.
Date published: 2018-02-21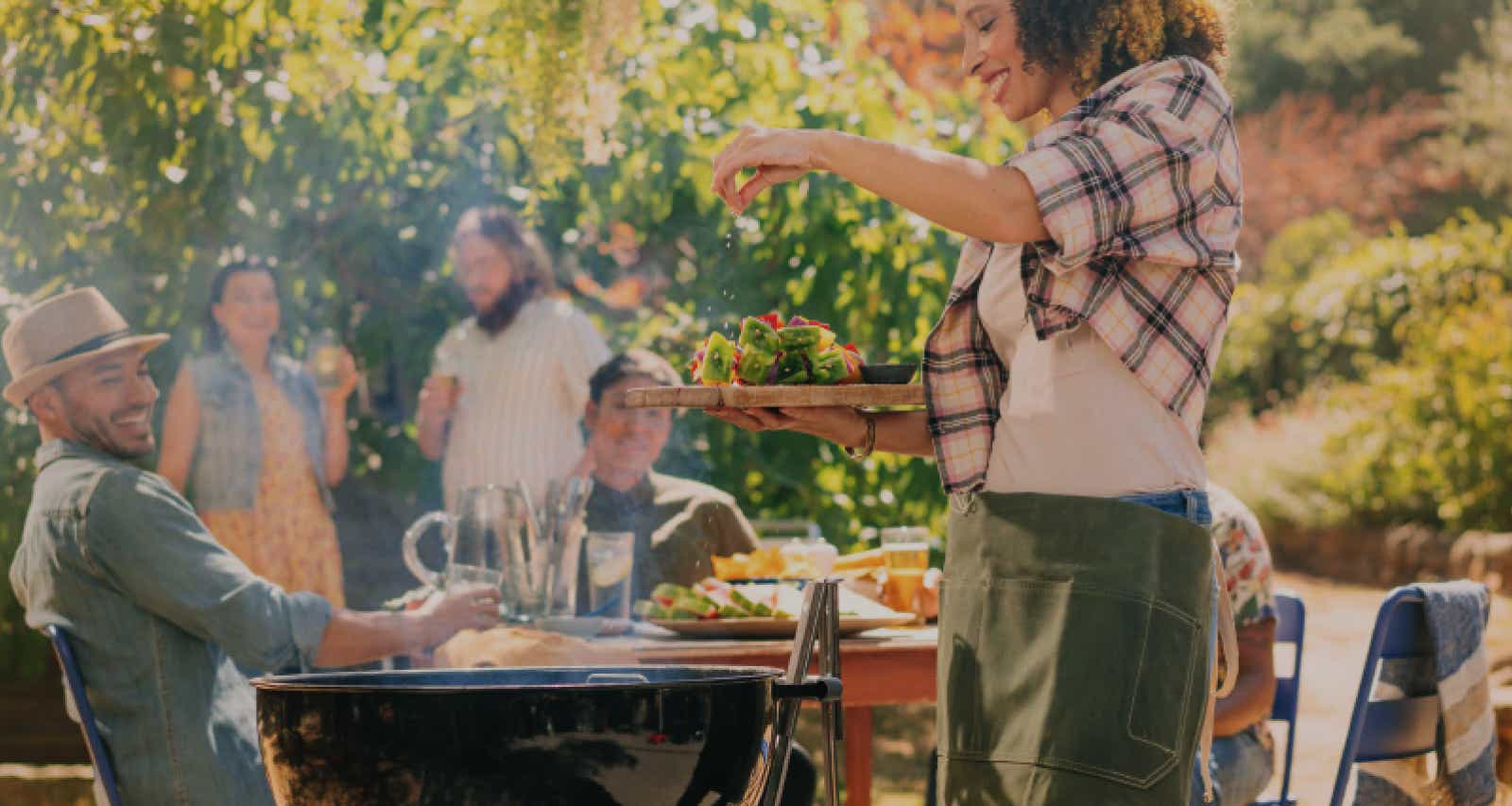 Light your fire with all new Kingsford® products.
Explore our full range of charcoal, pellets and flavor boosters to take your grilling to the next level.