Kingsford® Signature Flavors Briquets
Basil Sage Thyme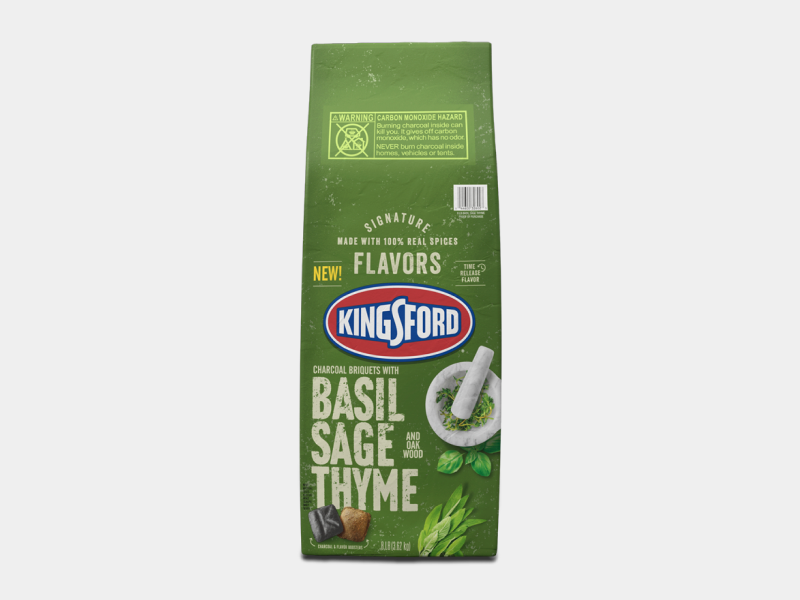 Get big, bold flavor, just the way you like it. Made with oak wood, this grilling charcoal comes pre-mixed with flavor boosters that steadily release basil, sage and thyme flavor you can see, smell and taste. Easy to add to any charcoal grill,* they're ready in about 15 minutes thanks to the Sure Fire Grooves® with edges for quick, easy lighting.
The 100% real spice flavor pairs well with chicken, turkey, fish, lamb, pork, shellfish and vegetables.
* See back of pack for instructions.
---
---
Ready to cook on in 15 minutes
Long burn time*
*Compared to other charcoal brands.
---
Adventurous Eats
---
Take your taste buds outside their comfort zone with these unexpected twists on grilling favorites.
Rated

3

out of

5
by
Rkfd Griller
from
Buy wisely
We tried a small bag of the Basil, Sage and Thyme. We added some to charcoal when grilling and was very pleased. Excellent flavor. I say buy wisely because we gladly purchased an 8 lb. bag. There were 9....yes, only 9....of the Basil, Sage and Thyme flavored charcoals in the bag. The remaining was just basic Kingsford charcoal. So if buying be sure to buy a bag of just the flavored charcoal and not the mixture as I would figure that what we got was standard, normal mixture. Hopefully we will be able to find bags of just the flavored charcoals in the future. So just a 3 star review due to our disappointment with the 8 lb. bag.
Date published: 2022-07-21
Rated

4

out of

5
by
Molana88
from
Has a good flavor!
I tried Kingsford® Signature Flavors Briquets — Basil Sage Thyme to help season up my BBQ! Usually when BBQing the food can taste like nothing but lighter fluid and thats just nasty. So why not try flavored infused charcoal, anything beats lighter fluid flavor! I have to say this product was surprisingly good! It really had a good punch of the 3 seasonings, it definitely did NOT taste like lighter fluid, at all! And that's a huge win for me and my family! I definitely will be buying more this summer and trying all the flavors!
Date published: 2022-05-17
Rated

5

out of

5
by
AngieBaker
from
Love it!!
My husband grills frequently and he loves it! My picky sons even said that it was the best chicken that he's ever grilled! I hope that Kingsford keeps making this Signature flavor because it really is awesome and we can't wait to try it with other meats and seafood!
Date published: 2022-05-11
Rated

5

out of

5
by
Bolenshoes
from
Smells great!
Smells amazing and makes my steaks taste amazing. I was a bit skeptical at first of these leaving any flavor in my grilled food. Boy was I amazed at the amount of flavor these leave. Would recommend if you love to grill out.
Date published: 2022-04-07
Rated

5

out of

5
by
Bettiekay07
from
Great flavor!
We tried the basil sage thyme Kingsford signature briquettes this lady weekend for our first grilling if the season and wow! What a change. These dd d a lovely flavor to the steak, chicken and veggies we made. Easy to use and gives your food a great new dimension!
Date published: 2022-03-15
Rated

5

out of

5
by
MichaelL73
from
Kingsford - Kingsford® Signature Flavors Briquets
I received the package of Kingsford - Kingsford® Signature Flavors Briquets — Basil Sage Thyme, and our family was very happy and excited by the flavors imparted during cooking. The three main flavors of Basil, Sage, and Thyme are noticeable but overwhelming. It was a nice change to not have to manually Season food, but to have the flavors cooked in, so easily, by using the innovation of flavored briquets. We look forward to trying other Kingsford products this spring and summer!!
Date published: 2022-03-15
Rated

5

out of

5
by
Vicky R
from
Yum
Okay I thought this was going to have a overwhelming smell but it doesn't the flavor it brings to the food is honestly shocking . I enjoyed using these and can't wait to get more .I grill a lot so this was perfect.
Date published: 2022-03-15
Rated

4

out of

5
by
mrspooley7916
from
Smelled great burning
This product smells good while burning but didn't notice a huge difference in flavor from original briquets. Seemed to break up in small pieces more with the aditional pieces of herbs added in to them. I would use it again.
Date published: 2022-03-14