Kingsford® Signature Flavors Briquets
Cumin Chili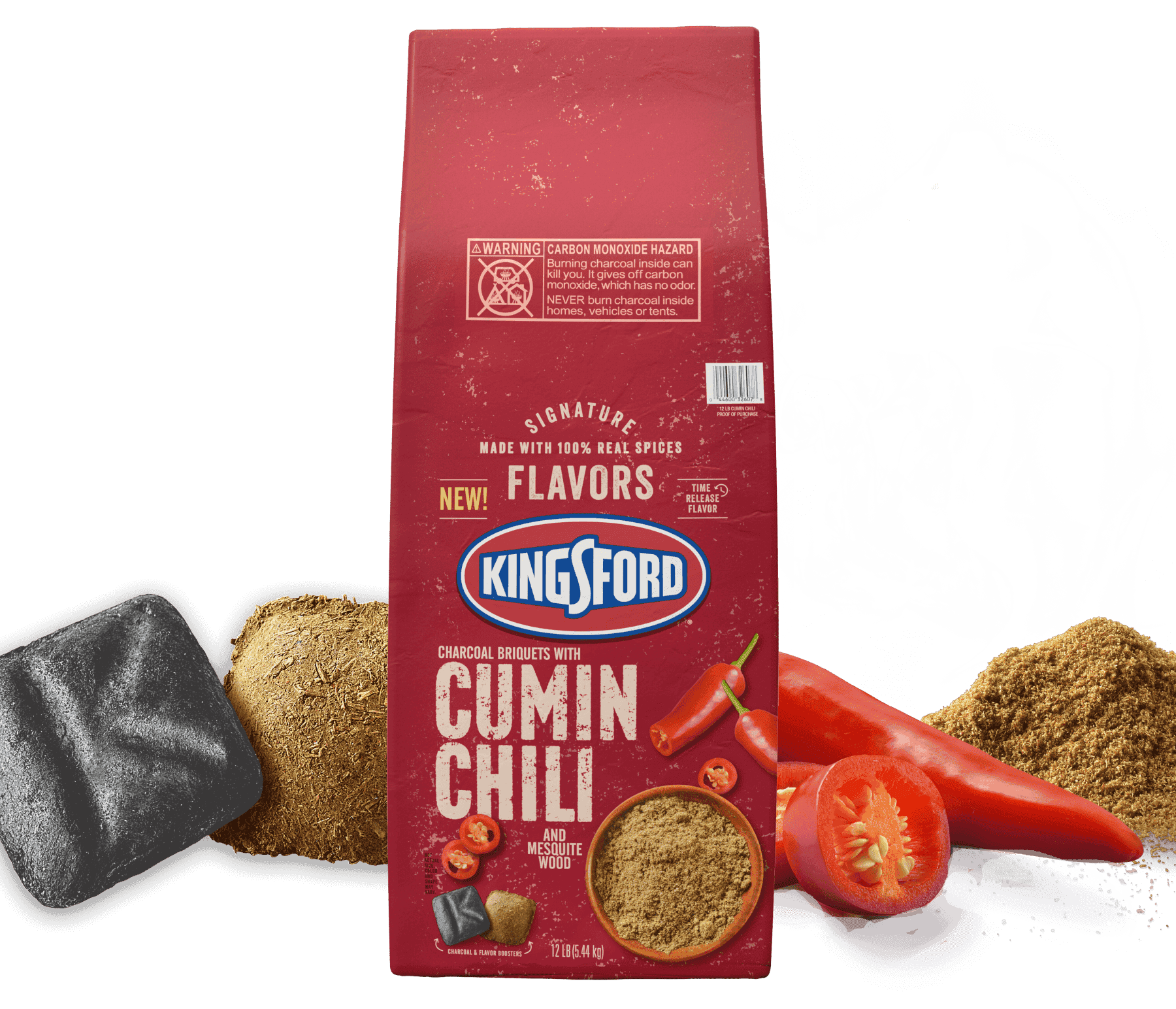 Ready to cook on in 15 minutes

Long burn time*
Get big, bold flavor, just the way you like it. Made with mesquite wood, this grilling charcoal comes pre-mixed with flavor boosters that steadily release cumin and chili flavor you can see, smell and taste. Easy to add to any charcoal grill,† they're ready in about 15 minutes thanks to the Sure Fire Grooves® with edges for quick, easy lighting.
The 100% real spice flavor pairs well with chicken, beef, pork and ribs.
† See back of pack for instructions.
*Compared to other charcoal brands.
Rated

5

out of

5
by
Mmpc
from
Great charcoal
Great charcoal. It burns great easy to use. Smells wonderful. The Cumin Chili was wonderful flavor to our food. Gave a Cumin Chili hint to the food. Work great burns great food turned out great would buy again
Date published: 2023-01-24
Rated

5

out of

5
by
Brokaw2
from
Oh my ! So good
I bought this at home depot Friday tried it today my neighbor text me ask me what I'm cooking with it was at the front door with a plate. I can taste it all the way thro my chicken¼'s. My son friend was here his mom is a cook he took so home. I have tried 2 of the 3 flavor Charcoal Next is the basil. I heard if you cook it with kings Ford's cherry wood charcoal. It will make your pork irresistible.
Date published: 2022-08-21
Rated

5

out of

5
by
NMSMITH18
from
The smell!
These briquettes smell absolutely amazing! I never would have even imagined a product like this, but it is awesome! It left a great flavor to the food we were barbecuing, I would use again and again!!
Date published: 2022-07-01
Rated

5

out of

5
by
Trtaylor28
from
Great concept
We used these briquettes to slow cook a tritip and ho my goodness did they give a great Smokey flavor! They burn slower and hotter, creating an aromatic and flavorful smoke. Can't wait to use them for other meats!
Date published: 2022-05-24
Rated

1

out of

5
by
Patty
from
Not worth it
It had purchased a bag of the chili flavor. Open the bag up and out of the whole bags their was only 15 chili bricks. And they looked moldy. Didn't know it was mixed with original Kingsford .charcoal. Definitely will not buy again!!
Date published: 2022-05-16
Rated

3

out of

5
by
Renee2022
from
Not bad
I had the chance to sample the Kingsford Signature flavored charcoal briquettes cumin chili flavored. It had an amazing smell, burned well, and stayed hot. The flavor was very light not what I was expecting. I put chicken, pork chops, and hamburgers on the grill, just to have a variety. It didn't add as much flavor as I was expecting, but it did have a light flavor.
Date published: 2022-03-22
Rated

4

out of

5
by
jeffg27
from
Smells Great
They really smelled great wlhile cooking some whole chickens and vegtables. They lit easy and burned nicely. It added smoke and chili flavor to the meat that the family loved. The amount of flavor that came from those briquets was suprising.
Date published: 2022-03-20
Rated

4

out of

5
by
MOMumentalReviews
from
Nice subtle added Flavor
We cook outdoors a lot and we're always trying new things to improve our grilling. The Kingsford Signature Flavors Chili & Cumin really did add a nice little hint of flavor. What I was impressed with is that you can actually smell the cumin before cooking with them. And cumin is one of my favorite spices. It adds a little hint but isn't overpowering. A nice little touch.
Date published: 2022-03-17
Rated

5

out of

5
by
Bb9900
from
Great flavor
Gives off a great flavor on your food. Decent size bag for the money. This works great with chicken and veggies on the grill. I was a little skeptical of these just because of the flavoring in the charcoals but they work so well
Date published: 2022-03-17
Rated

5

out of

5
by
Pschristina
from
Love em!
Loved these! They were great with beef and pork. I can imagine they would be fabulous with chicken and fish as well. Like other Kingsford products, they were easy to light and got nice and hot fairly quickly. The light scent of the cumin and chili was so amazing. Almost better than the light added flavor from grilling.
Date published: 2022-03-14
Rated

5

out of

5
by
Natalie123
from
Love the Flavor
I didn't think that this was going to be so good but This gives the meat such smoky flavor. My husband used it to grill last weekend, and it gave the chicken the best flavor. Definitely recommend using this product.
Date published: 2022-03-14
Rated

4

out of

5
by
Homeschoolingdadof2
from
Just Kingsford
I got this out of curiosity. Didn't have high expectations on the flavor scale. It is a very clean burning charcoal, just as all Kingsford charcoal has been for me. I did not detect any difference from the use of original Kingsford.
Date published: 2022-03-14
Rated

5

out of

5
by
talkingdolly
from
Flavorful
I love to barbecue and Texas has some amazing weather to start with, these Charcoal Briquettes add flavor to the meat love the cumin and chili perfect for the tandoori chicken that I make occasionally and now I get all the brownie points love it
Date published: 2022-03-12
Rated

4

out of

5
by
mikejr
from
Flavor added, but depends on meat.
I gave these a try on both a chicken and some venison steaks. I found that they definitely do add some flavor to the meat, but it is dependent upon the meat. I thought the venison picked up significantly more of the flavor than the chicken. I would suggest adding this for a little extra touch, but don't think it is going to replace your normal grilling seasoning protocol.
Date published: 2022-03-09
Rated

5

out of

5
by
Dani991
from
Amazing!
This is the most unique thing ever! Our hot dogs tasted amazing. The smell of the wood burning with the spices even attracted our neighbor. The smell was mouth watering between the meat cooking, and the spices. The meat had a flavor packed taste, where I honestly expected a weird burnt taste. The hot dogs came off the grill beautifully. They had an awesome spicey but balanced smoked flavor.
Date published: 2022-03-09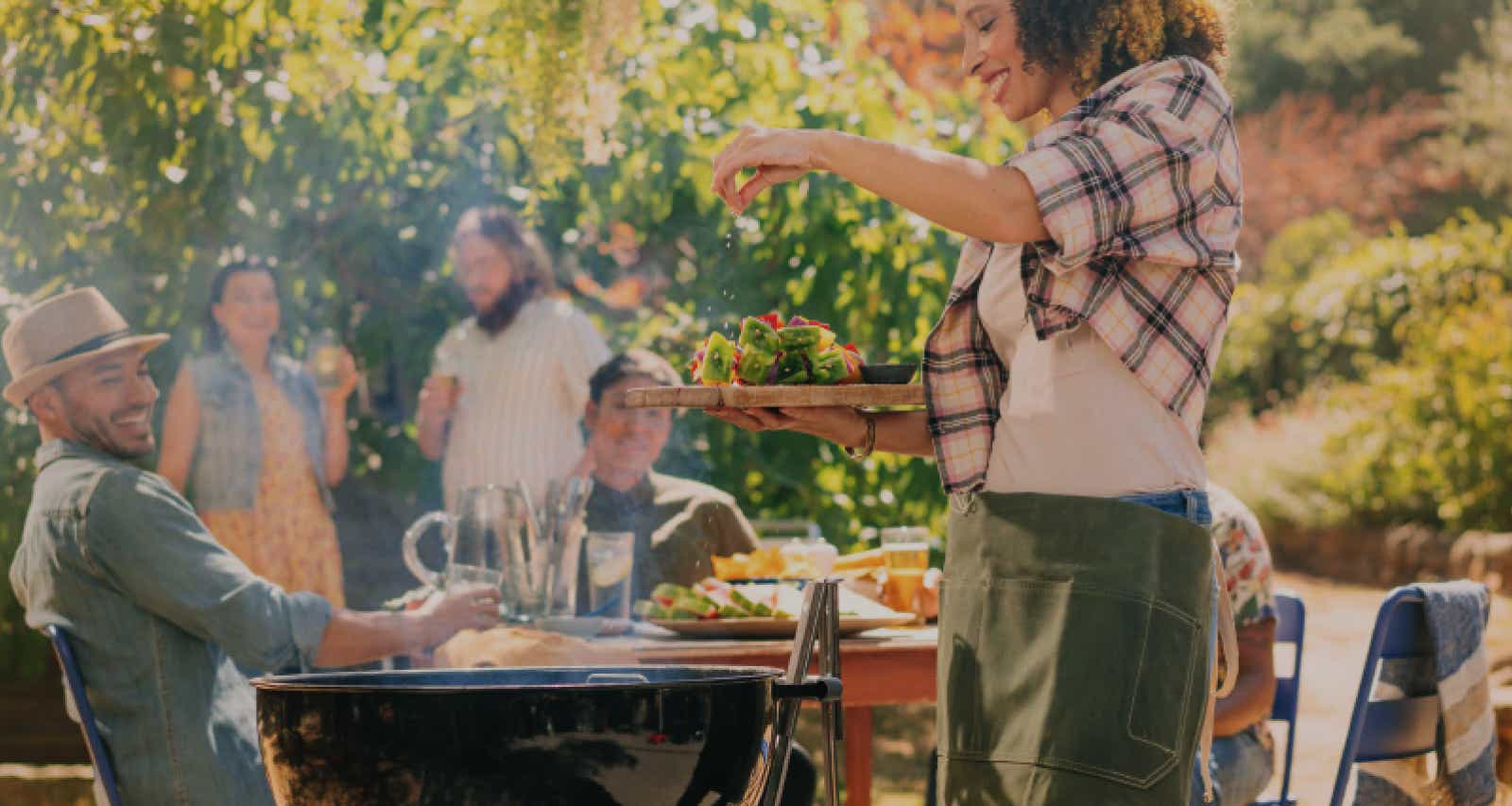 Light your fire with all new Kingsford® products.
Explore our full range of charcoal, pellets and flavor boosters to take your grilling to the next level.