Learn
How to Grill a Whole Turkey
When it's time to talk turkey, it's time to talk grilling. It takes a little time, but it's really very simple when you follow these easy steps. Ready, set — let's get started!
What You'll Need
Fuel and Tools
Kingsford® Chimney Starter (Optional)
Preferred Ignition Aid (Fire Starters, Kindling or Lighter Fluid)
Large Container for Brining or Brining Bag (Depending on the size of your turkey, you may want to purchase a food-grade, 5-gallon bucket from your local hardware or restaurant supply store.)
Digital Meat Thermometer
Aluminum Pan
Tongs
Paper Towels
Ingredients
1 Turkey
Kosher Salt
Table Salt
Ground Black Pepper
Butter
Olive OIl
Cooking Oil
Fresh or Dried Herbs (Sage and Thyme Work Well) or BBQ Rub
Your Choice of Aromatics: Onions, Garlic, Apple or Lemon Slices
What Serving Portion Should I Plan Per Person?
Prime Rib: ¾ to 1 lb. per person, or a bone-in rib roast will feed about 2 people per bone
Ham: ⅓ to ½ lb. per person
Turkey: 1 to 1 ½ lb. per person
Chicken: 1 to 2 pieces per person or ½ lb.
Rack of Lamb: 2 to 3 lamb chops per person. There are 8 lamb chops per rack of lamb
How to Prep
Brining your turkey will prevent it from drying out. It's easy to do and makes a world of difference in keeping the turkey meat moist. Before brining your turkey, you should remove the neck and giblets, and store them in the refrigerator if you want to use them later to make gravy.

How Do I Brine My Turkey? Let's Find Out!

1. Prepare the brining solution using 1½ cups kosher salt or ¾ cup of table salt per 5 quarts of water. This ratio should make enough brine for a 12 lb. turkey. You can increase or decrease the amount of brining solution, depending on the size of your turkey.
2. Simmer the brining solution until the salt has dissolved.
3. Cool the brining solution to a temperature less than 40°F.
4. Place the turkey breast-down in a large container made of food-grade plastic, stainless steel or glass, or a brining bag.
5. Add the brining solution, making sure to cover the entire turkey. Then, cover the container and refrigerate below 40°F.
6. You should brine your turkey for 45 to 60 minutes per pound.
7. When it's time to remove the turkey from the brine, hold the turkey up, and let the brining solution drain from the turkey.
8. Rinse the turkey with cold water, inside and outside, and pat it dry with paper towels. Be sure to discard the brine and the paper towels.

Once your turkey has been brined, rinsed in cold water and patted dry with paper towels, it's time to season it inside and out. Place your choice of chopped aromatics inside the cavity of your turkey.
A great option is to put softened butter with herbs beneath the skin of your turkey for extra moisture and great flavor.
Next, put a light coat of olive oil or butter on the outside of your turkey to bring out the flavor and help to form that crispy mahogany skin.
Finally, season the outside of your turkey with salt and pepper, fresh or dried herbs, or even a BBQ rub. Go easy on the salt since the turkey's been brined.

Why You Should Not Stuff a Grilled Turkey

Stuffing in the center cavity area of the turkey will take the longest amount of time to cook. The turkey and stuffing should both reach a minimum temperature of 165°F on a digital meat thermometer. The turkey meat will reach the target temp before the stuffing, so your turkey will be overcooked before the stuffing reaches a safe temperature.

For this reason we recommend cooking your stuffing in a separate container.

The USDA states: Do not stuff turkeys to be grilled, smoked, fried or microwaved.
How to Prep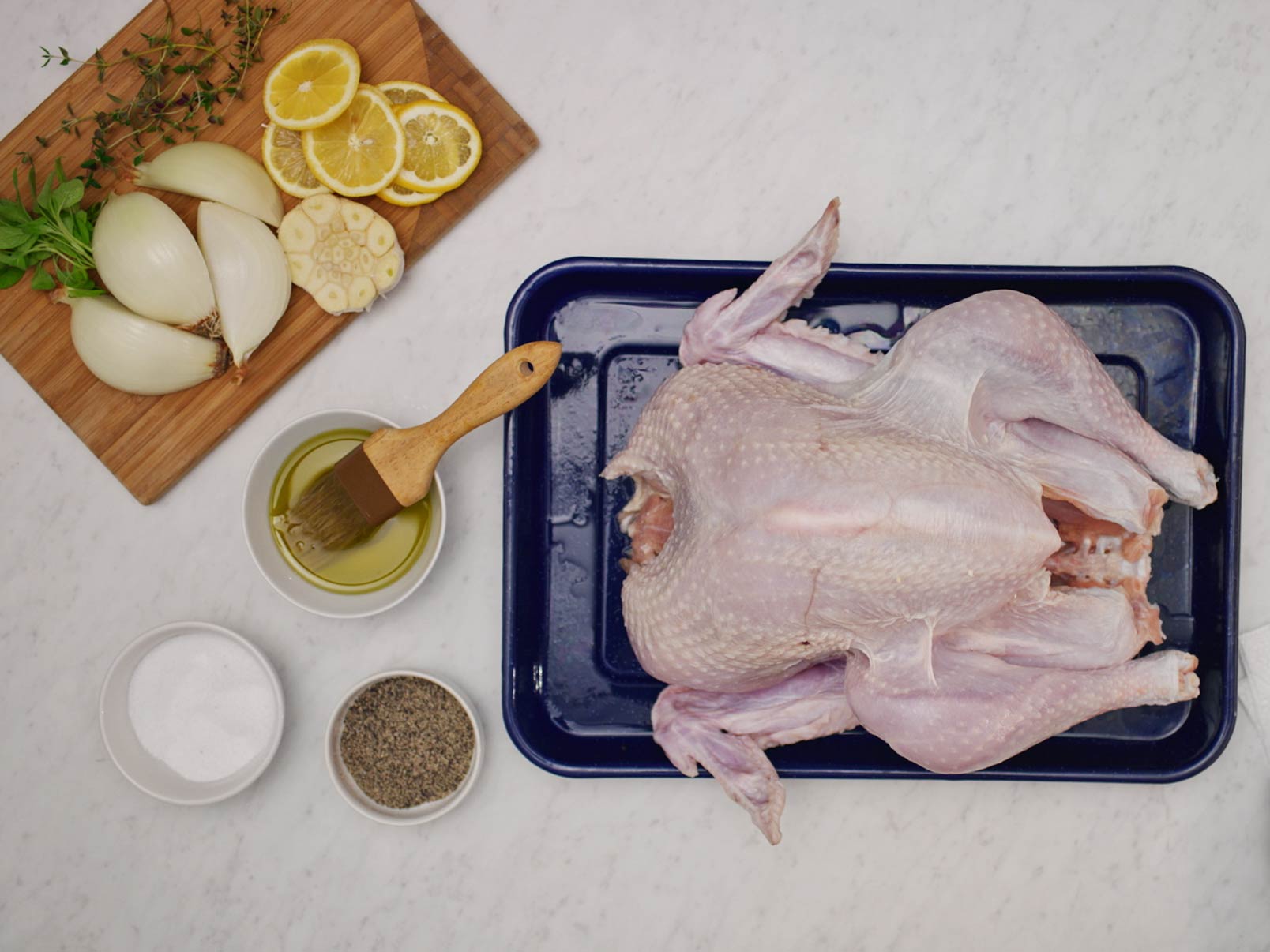 How to Build Your Fire
Give your top grill grate a good brushing and set it aside. Pour Kingsford® Original Charcoal Briquets into a chimney — or pour them in a mound and light. Wait for coals to light fully.
Once the charcoal turns gray with ash, arrange coals in a Two-Zone Fire: Parallel Configuration with coals along each side of the grill, and a void in the middle to place an aluminum pan with water. On top of the coals, add 2 cups Kingsford® BBQ Smoking Chips or Chunks (Hickory) that have been soaked in water for 30 minutes.
Coals should be at Medium Heat — about 350°F. How to control the heat when grilling with charcoal.
Add the grate and let it heat up.

How to Gauge Grill Heat Without a Thermometer

Carefully hold your hand about 5" to 6" above the grate, and refer to the temperature settings below:




• High Heat (450° to 550°F):
2 to 4 seconds
• Medium Heat (350° to 450°F):
5 to 6 seconds
• Low Heat (250° to 350°F):
8 to 10 seconds




Make sure your clothing doesn't touch the grate, and always move your hand away from the heat before you feel discomfort.




When you're at temp, put cooking oil on a folded paper towel. Grab the oiled paper towel with long-handled tongs and oil the grate thoroughly.

There are many types of charcoal grills that work well, such as a Kettle Grill or an Offset Smoker. You may also consider the convenience of a Pellet Grill where most models ignite with the press of a button. For more details, see How to Prep a Charcoal Grill.
When you're at temp, put cooking oil on a folded paper towel. Grab the oiled paper towel with long-handled tongs and oil the grate thoroughly.
How to Build Your Fire
Get Grilling
Grill your turkey with the lid on at about 350°F, using the vents to regulate temperature.
If you baste your turkey, try not to leave the grill lid open for very long so you don't lose too much heat. Baste with pan drippings or melted butter.

Should I Cover My Turkey with Aluminum Foil When Grilling?

It's recommended not to leave your turkey covered for the entire cook time. Here are 3 choices to keep the breast meat from overcooking:

1. Once the skin is crisp, add the foil to tent the turkey.
2. Or, add the foil when you first begin grilling the turkey, and remove it when the turkey gets closer to the target temperature.
3. Another method is to cover the breasts with a small tent of foil, once the turkey is about ⅔ done.

Should I Spritz During a Long Cook?

Some say spritzing allows too much heat to escape during a long cook. And others think it's an important benefit. See what you think!

Smoking is a drying process and spritzing helps keep the meat moist, and helps it cook more evenly. It also helps your meat better absorb the smoke.

Here are some basic spritzes, but there are many more for you to explore:

• Prime Rib: Spritz with a light coat of apple juice every 30 minutes.
• Turkey: Spritzing helps the dark and light meat finish cooking at the same time. Spritz every 45 minutes with a half apple juice and half apple cider vinegar mixture.
• Pork Butt: After 2 hours of smoking, lightly spritz every 30 minutes with apple juice, vinegar and water.
• Brisket: After 3 to 4 hours, spritz every 30 minutes with apple cider vinegar.
• Ham: Spritz with apple juice or apple cider vinegar every 30 to 45 minutes.

Smoke your turkey until your digital meat thermometer reads 165°F inside the thickest part of the breast, and about 175°F in the thigh. It'll take roughly three hours for your turkey to reach this temperature, depending on its size.
Get Grilling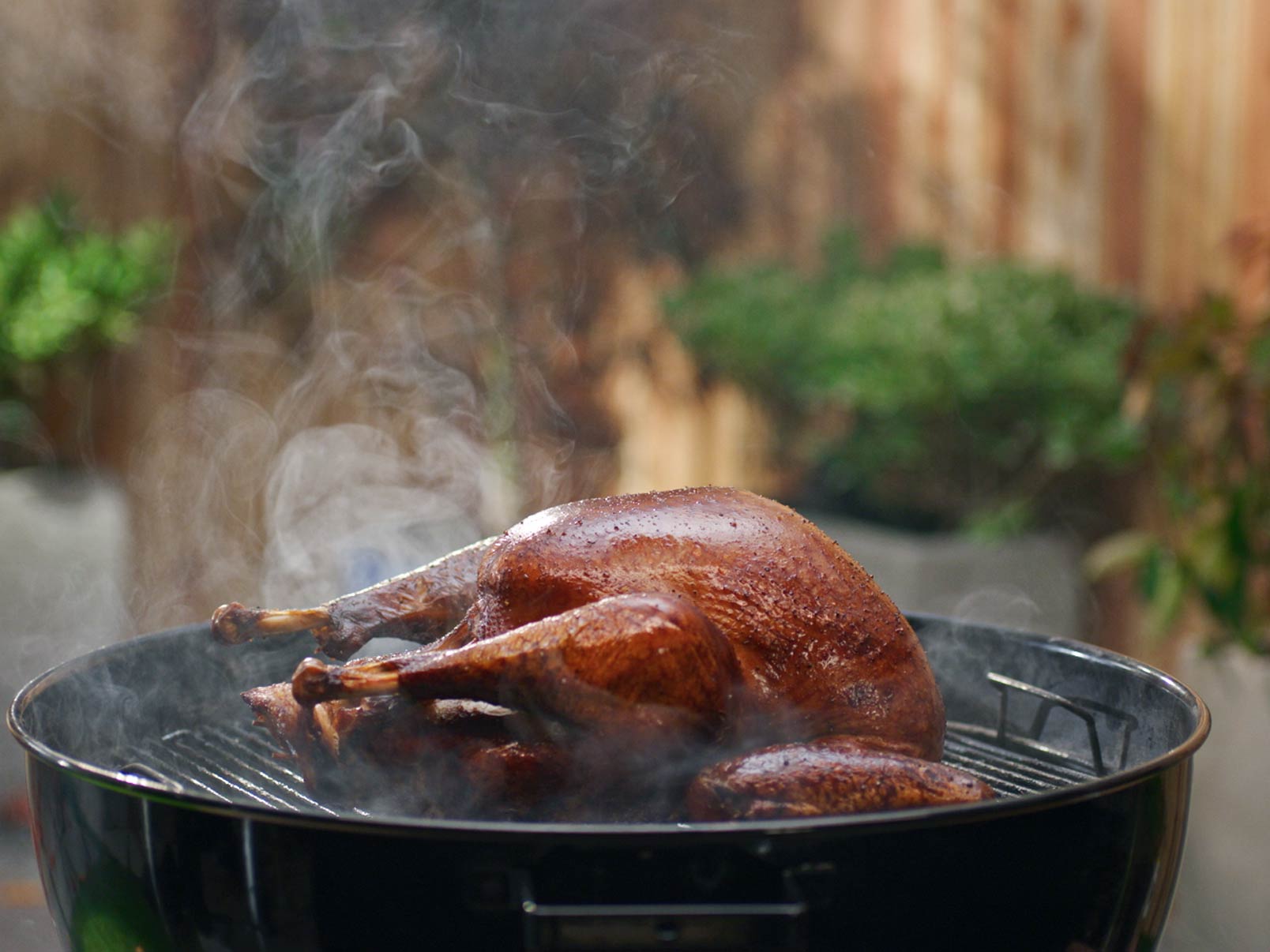 Get Grilling
Once your turkey reaches the target temperature, take it off of the grill and let it rest for 20 to 30 minutes to allow juices to redistribute throughout the turkey.
For easy carving, remove each side of the breast in one piece, then slice across the grain.
Now, watch your family and friends gobble up this juicy turkey!

For safe meat and other food preparation, reference the USDA website.
Get Grilling