Learn
How to Grill Prime Rib Steak
A grilled prime rib roast makes every occasion special. Whether it's a holiday celebration or a special treat for your family — a few simple ingredients, a couple easy steps, and you've got a prime rib grilled to perfection. Let's get started!
What You'll Need
Fuel and Tools
Kingsford® Chimney Starter (Optional)
Preferred Ignition Aid (Fire Starters, Kindling or Lighter Fluid)
Digital Meat Thermometer
Tongs
Paper Towels
Ingredients
Bone-In Prime Rib Roast
Kosher Salt
Ground Black Pepper
Cooking Oil
What Serving Portion Should I Plan Per Person?
Prime Rib: ¾ to 1 lb. per person, or a bone-in rib roast will feed about 2 people per bone
Ham: ⅓ to ½ lb. per person
Turkey: 1 to 1 ½ lb. per person
Chicken: 1 to 2 pieces per person or ½ lb.
Rack of Lamb: 2 to 3 lamb chops per person. There are 8 lamb chops per rack of lamb
How to Prep
Once you've selected the perfect prime rib, it's time to season. There are countless beef rubs available, but a simple combination of kosher salt and ground black pepper will bring out the flavor of the meat.
You can add salt to your prime rib up to 24 hours in advance to allow it time to travel all the way through the meat, or just season right before putting it on the grill.
How to Prep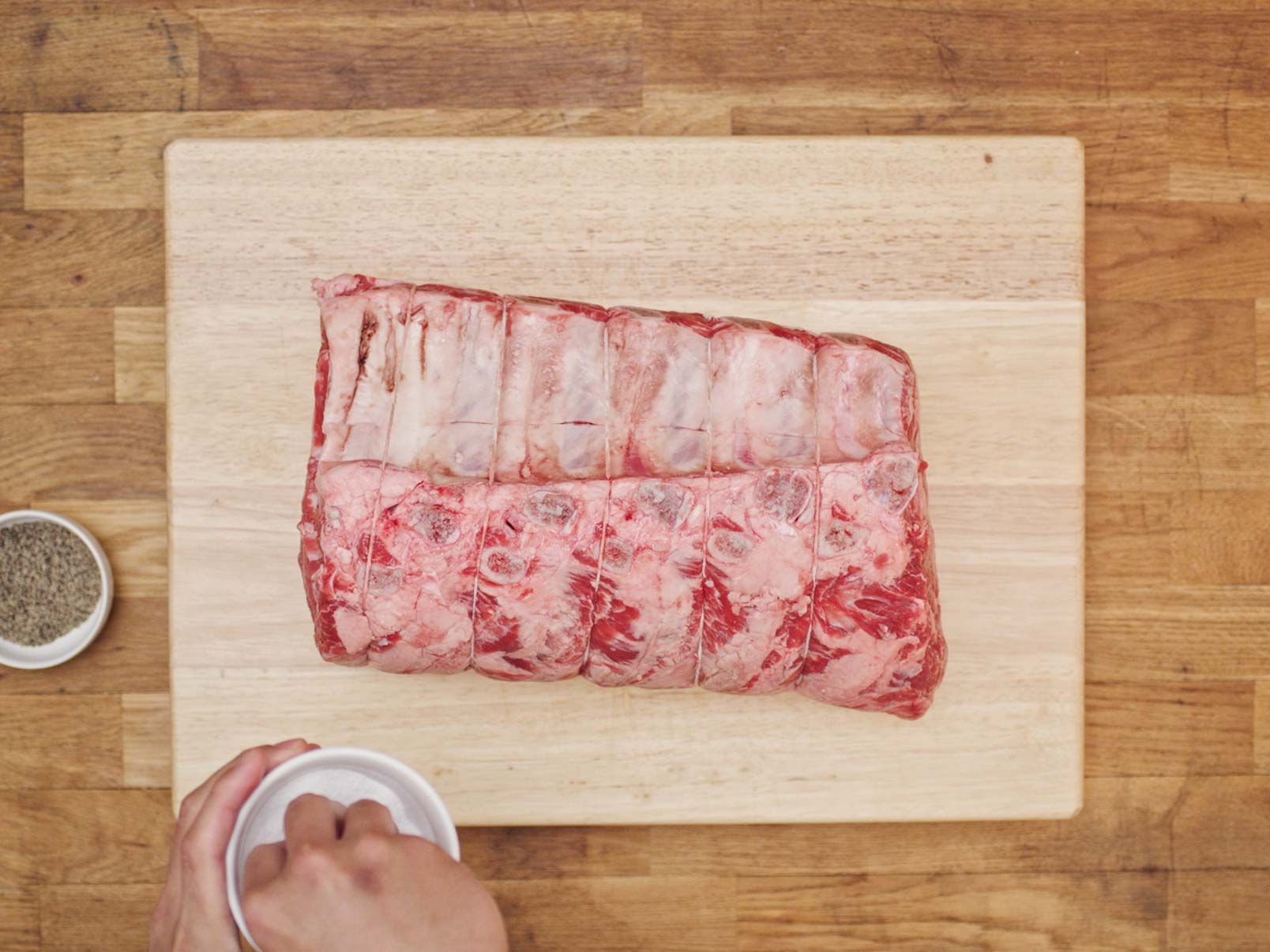 How to Build Your Fire
Give your top grill grate a good brushing and set it aside. Pour Kingsford® Original Charcoal Briquets into a chimney — or pour them in a mound and light. Wait for coals to light fully.
Once the charcoal turns gray with ash, arrange coals in a Two-Zone Fire: Parallel Configuration with coals along each side of the grill, and a void in the middle to place an aluminum pan with water. On top of the coals, add 3 or 4 Kingsford® BBQ Smoking Chunks with Cherry that have been soaked in water for 30 minutes.
Coals should be at High Heat — about 450°F. How to control the heat when grilling with charcoal.
Add the grate and let it heat up.

How to Gauge Grill Heat Without a Thermometer

Carefully hold your hand about 5" to 6" above the grate, and refer to the temperature settings below:




• High Heat (450° to 550°F):
2 to 4 seconds
• Medium Heat (350° to 450°F):
5 to 6 seconds
• Low Heat (250° to 350°F):
8 to 10 seconds




Make sure your clothing doesn't touch the grate, and always move your hand away from the heat before you feel discomfort.




When you're at temp, put cooking oil on a folded paper towel. Grab the oiled paper towel with long-handled tongs and oil the grate thoroughly.

There are many types of charcoal grills that work well, such as a Kettle Grill or an Offset Smoker. You may also consider the convenience of a Pellet Grill where most models ignite with the press of a button. For more details, see How to Prep a Charcoal Grill.
When you're at temp, put cooking oil on a folded paper towel. Grab the oiled paper towel with long-handled tongs and oil the grate thoroughly.
How to Build Your Fire
Get Grilling
Having your grill vents fully open and your temperature to 450°F, place your roast on the grate, directly over the coals, rotating until browned on all sides.
Now that your prime rib is seared, place it bone-side down directly above the water pan. Cover with the lid and bring the temperature to 250°F, using the vents to regulate the temperature.

Should I Spritz During a Long Cook?

Some say spritzing allows too much heat to escape during a long cook. And others think it's an important benefit. See what you think!

Smoking is a drying process and spritzing helps keep the meat moist, and helps it cook more evenly. It also helps your meat better absorb the smoke.

Here are some basic spritzes, but there are many more for you to explore:

• Prime Rib: Spritz with a light coat of apple juice every 30 minutes.
• Turkey: Spritzing helps the dark and light meat finish cooking at the same time. Spritz every 45 minutes with a half apple juice and half apple cider vinegar mixture.
• Pork Butt: After 2 hours of smoking, lightly spritz every 30 minutes with apple juice, vinegar and water.
• Brisket: After 3 to 4 hours, spritz every 30 minutes with apple cider vinegar.
• Ham: Spritz with apple juice or apple cider vinegar every 30 to 45 minutes.

Allow your prime rib to smoke for about 3.5 hours (depending on the size of your roast) until it reaches an internal temperature of 145°F.

How Done is My Prime Rib Roast? Let's Find Out!

Internal Temp*
Rare: 125°F
Medium-rare: 135°F
Medium: 145°F
Medium-well: 150°F
Well done: 160°F * USDA Safety Guidelines recommend cooking prime rib to the medium temp of 145°F to make sure any harmful bacteria are destroyed.
Get Grilling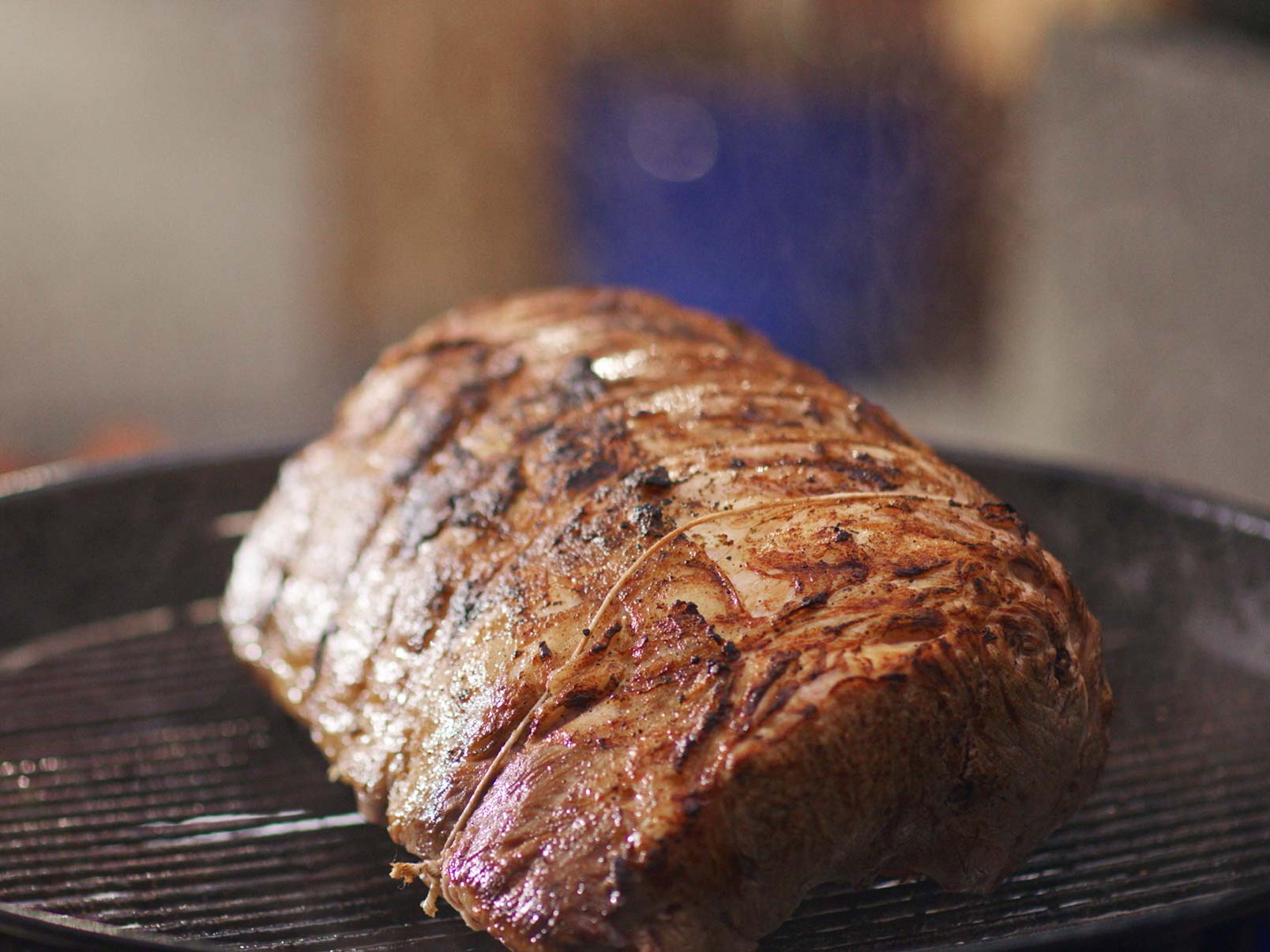 The Finish
Remove your prime rib and loosely tent it with foil. Allow your roast to rest for 10–15 minutes before removing the rib bones and slicing the roast for serving.

For safe meat and other food preparation, reference the USDA website.
The Finish