Juicy Lucy Burgers
Write a Review
Read Reviews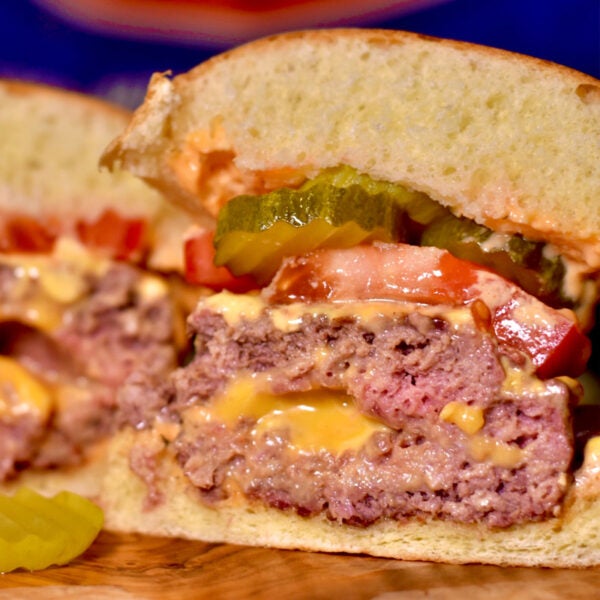 Yields:

8 Servings

Cook time:

25 h 20 m

Prep time:

20 minutes
Ingredients
2 pounds ground beef
2 teaspoons garlic powder
2 tablespoons butter
1 teaspoon salt
1 teaspoon smoked paprika
1 dash Worcestershire sauce
1 large pack sliced American cheese
Secret Sauce
½ cup mayonnaise
2 tablespoons ketchup
1 tablespoon mustard
1 tablespoon pickle relish (sweet or dill is okay)
1 dash hot sauce
dash onion powder
dash smoked paprika
Instructions
Combine the ground beef, garlic powder, butter, salt, smoked paprika, and Worcestershire sauce in a large mixing bowl. Divide the ground beef into 16 meatballs, which will form one small patty each. From each meatball, flatten each to form 8 patties, making an indentation in the middle to place the cheese. Continue with the next 8 meatballs to make a flat patty, which will go on top of the first 8 patties. Take each slice of American cheese and fold it in half two times, creating a stack of small cheese squares. Place this stacked piece of cheese in the middle of the burger. Repeat for all 8 burgers. Take the remaining 8 patties and place them on top of the patties with cheese and seal them around the edges, combining the two patties on the outside to make one burger.
Combine the sauce ingredients and place in the refrigerator until ready to put on the burgers.
Prepare a grill for medium direct heat — about 350°F. If using a griddle or a cast iron skillet, place the skillet on the grill. Place the patties on the skillet or grill and let them cook until they have started to brown on one side. Flip the patties over and then add another slice of cheese. The USDA recommends ground beef and burgers to be cooked to a minimum internal temperature of 160°F, which means you can pull the burgers off at 155°F since they will continue to cook when you pull them off the grill.
Remove from heat and tent under foil to stay warm. Serve on a toasted bun with lettuce, tomato, pickles and secret sauce. Serve immediately to experience the beauty of the melting cheese inside the patty, making for an epic cheesy bite with cheese oozing out of your burger.
For safe meat preparation, reference the USDA website.