Grilled Boston Lobster Rolls
You might think of Maine when you hear "lobster roll," but proud Bostonians swear their version of this New England delicacy it tough to top. Be careful not to overcook that sweet, tender meat, or overwhelm it with salt and spices. Lobster should always be the star of the show.
Grilled Boston Lobster Rolls
Write a Review
Read Reviews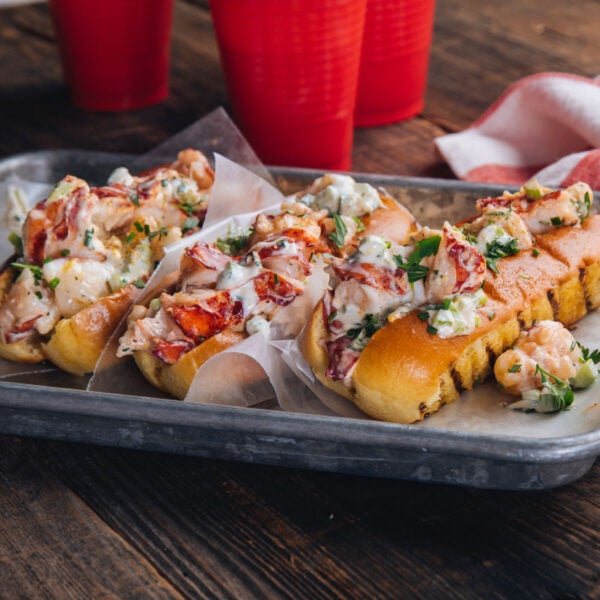 Yields:

4 Servings

Cook time:

10 minutes

Prep time:

30 minutes
Ingredients
6 tablespoons unsalted butter, melted and divided
2 tablespoons minced fresh herbs; parsley, tarragon, chives
1 teaspoon Old Bay or similar spice blend
2 teaspoons lemon zest
3 teaspoons fresh lemon juice
kosher salt, to taste
freshly ground black pepper, to taste
2 stalks celery, finely chopped
½ cup mayonnaise
pinch of cayenne or a few dashes of your favorite hot sauce
4 top-loading hot dog rolls
2 lobster tails, approximately 8 oz. each
Instructions
Build a two-zone fire, placing preheated Kingsford® Original Charcoal briquets on one half of the bottom grill grate and leaving the other side void. Replace the top grill grate and adjust the bottom vents to bring the grill temperature to approximately 400°F.
In a small bowl, combine 4 tablespoons butter, half of the herbs, Old Bay or similar seasoning, 1 teaspoon zest and 2 teaspoons lemon juice, and mix well. Set aside while you prepare the mayonnaise and lobster tails.
In a medium bowl, combine the celery, mayonnaise, remaining lemon juice and zest and herbs and cayenne pepper. Stir well and taste for seasoning. Set aside.
With a pair of heavy-duty kitchen shears, cut lengthwise down the center of the lobster tails' top shell to split the lobster meat in half. You can choose to split them completely or leave the bottom shell intact. Season with salt and pepper.
Place split lobster tails meat side down on the hot half of the grill. Grill the tails for approximately 2 minutes until the meat is lightly charred.
Flip tails over and grill for another 4–5 minutes while periodically basting with the seasoned butter. When done, the shell will have a bright red hue and the meat will be white.
If the lobster meat is still partially translucent, move to the cool side of the grill and cover until fully cooked.
When done, remove the lobster tails from the grill and let cool. For your safety, please reference the USDA safe cooking temperatures.
Brush the rolls all over with the remaining butter. Place rolls onto the grill, cut side down, for 2 minutes or until golden brown. Turn and brown the other sides.
Coarsely chop the lobster meat and gently combine in the bowl with the mayonnaise mixture. Fill the toasted rolls with the lobster salad and serve immediately.

Major League Baseball trademarks and copyrights are used with permission of Major League Baseball. Visit MLB.com.
For safe meat preparation, reference the USDA website.