Cerveza Beef Fajita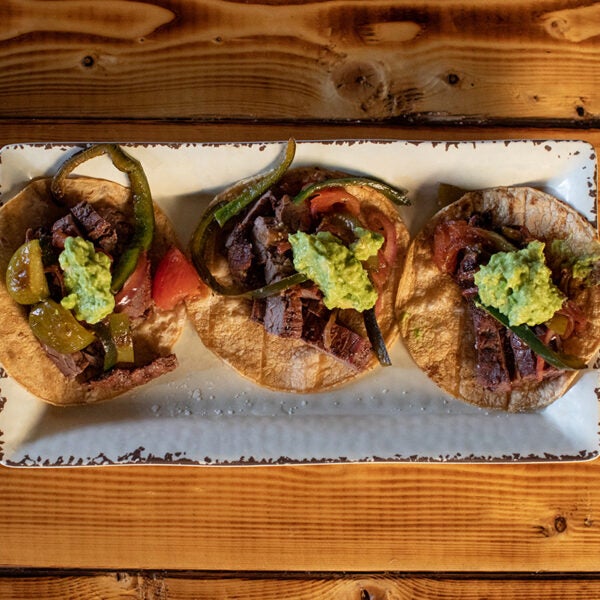 Yields:

4-6 Servings

Cook time:

15 minutes

Prep time:

24 h
Ingredients
Marinade
3 pounds inside skirt steak trimmed
1 ounce lime juice
1 cup onions sliced
1/4 cup of Worcestershire sauce
6 ounces of beer
2 tablespoons olive oil
3 cloves garlic smashed
Seasoning for meat
2 tablespoons kosher salt
2 teaspoons granulated garlic
1 teaspoon black pepper
Garnish
2 whole tomatoes
1 whole red onion sliced
1 Serrano pepper
1 Poblano pepper
3 Tomatillos
5 avocados
5-6 limes
Instructions
First, trim all silver skin and excess fat off the skirt steak.
Place the steak in storage bag and add in all ingredients for marinade. Let it sit overnight in the refrigerator 12-24 hours.
Fire up the charcoal grill using Kingsford Mesquite charcoal and heat to 400°F.Let the coals turn grey but not to ash.
Next, cook each side of the steak for approximately 3 minutes. Remove from high heat,off the side away from coals to rest and slow cook for about 10-15 minutes.
Pre-heat the cast iron skillet while grilling steak with 2 tablespoons of olive oil. Char the veggies over the fire for 2-3 minutes. Then, remove from fire rough chop and place in the cast iron skillet and sear veggies for 2-3 more minutes, and remove cast iron skillet from grill.
Slice the avocados in half and remove pit. With a spoon scoop the avocado out of the skin and place in med size bowl. Add 2 teaspoons of sea salt and squeeze one whole lime. Smash the avocado with a fork and mix up salt and lime juice.
Slice the skirt steak against the grain. Heat corn tortillas on the grill then make tacos – meat, roasted veggies, and guacamole.
Recipes containing alcohol are intended for those 21 years of age and older only. Please drink responsibly.
For safe meat preparation, reference the USDA website.