Bacon Wrapped Shrimp with Jalapeño Coleslaw
Write a Review
Read Reviews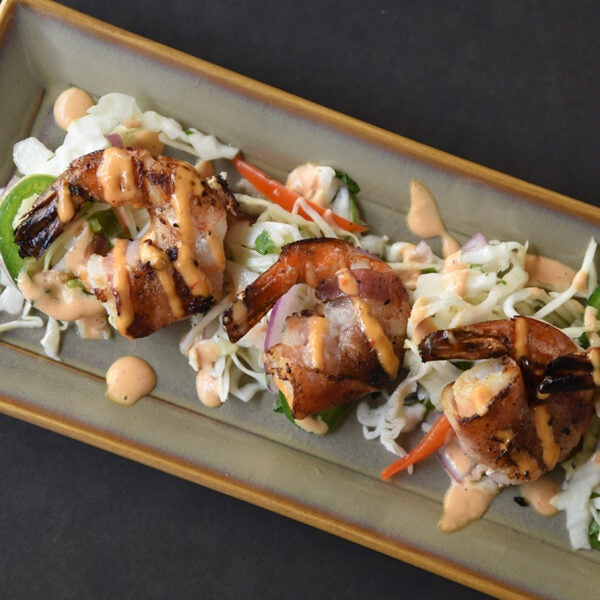 Yields:

1 Servings

Cook time:

5–7 minutes

Prep time:

30 minutes
Ingredients
For the Bacon Wrapped Shrimp
4 pieces shrimp
2 slices thin bacon
1 ounce Jalapeño Cilantro Slaw
½ ounce Chipotle Mayo
For the Jalapeño Cilantro Slaw
½ red onion, julienne sliced
1 jalapeño, sliced paper thin
4 cups sliced cabbage
¼ cup chopped cilantro
For the Lime Dressing
3 tablespoons lime
½–1 tablespoon salad oil
steak seasoning, to taste
For the Chipotle Mayo
1 cup mayonnaise
2 tablespoons minced red onions
1 tablespoon honey
1 fresh lime, squeezed
2 tablespoons Chipotle peppers without seeds
¼ teaspoon salt
Instructions
For the Cilantro Lime Slaw:
Mix cabbage mixture together.
For the Lime Dressing:
Mix together to make vinaigrette. Add lime dressing and season with steak seasoning.
For the Chipotle Mayo:
Purée all ingredients except for mayonnaise, then mix into the mayonnaise. Place puréed mixture in squeeze bottle and reserve for service.
For the Bacon Wrapped Shrimp:
Fire up Masterbuilt Gravity Series 560 grill and smoker to 600°F using Kingsford® Charcoal.
Cut bacon strips into 1/2 slices. Next, roll the 1/2 slices of bacon around shrimp, and place on skewer. Cook 2–3 minutes per side in the grill turning once.
Next, season the bacon wrapped shrimp with lime dressing/steak seasoning.
On rectangle plate, place cilantro slaw, followed by bacon wrapped shrimp. Drizzle chipotle mayo over shrimp and serve.
Credit: Recipe created by Chef Rob Magee on behalf of Kingsford® Charcoal
For safe meat preparation, reference the USDA website.