Kingsford® Match Light® Charcoal with Mesquite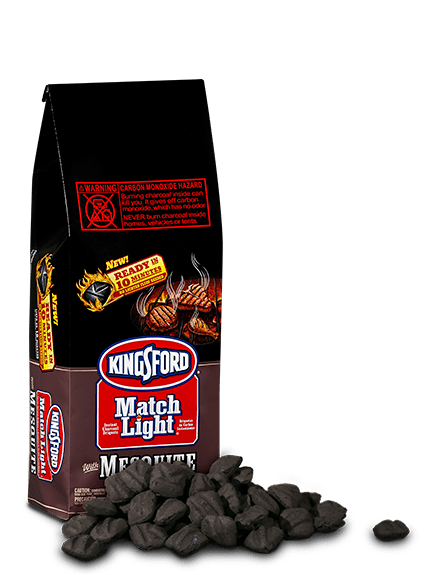 Combine the flavor of mesquite briquets and the ease of Kingsford® Match Light® Charcoal and you're on your way to a successful barbecue. Kingsford® Match Light® Charcoal with Mesquite means more of that smoky mesquite taste in your favorite barbecued foods. That's because it contains high quality mesquite wood that infuses your food with an unbeatable smoky taste. Each briquet features just the right amount of lighter fluid, so you can light your grill with just a match. Just light the briquets in one easy step and you'll be ready to cook in 10 minutes. Available in a 5.9-pound bag.
The fast way to smoky flavors — Kingsford® Match Light® Charcoal with Mesquite.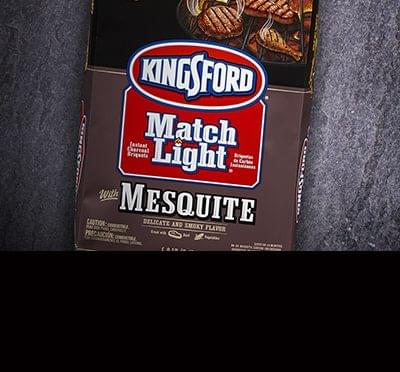 1
Ready to cook on in 10 minutes

More edges for faster lighting*
For Your Safety
• Never cover flaming briquets with a grill lid. Covering flaming briquets may result in a flare-up when lid is removed. Use water to control excessive flames.
• Do not light any part of the bag.
• Barbecue away from flammable items, overhangs and trees.
• Do not add Match Light® charcoal once fire has been lit. Add Kingsford® Original Charcoal Briquets if extra charcoal is needed.
• Make sure ashes are cold before discarding.
• Do not use in water-smoker grills.
• California Proposition 65 Warning: Combustion (burning) of this product, like other cooking methods, produces carbon monoxide and other substances known by the State of California to cause cancer, birth defects or reproductive harm.
*Compared to other charcoal brands