Kingsford® Hardwood Pellets — Classic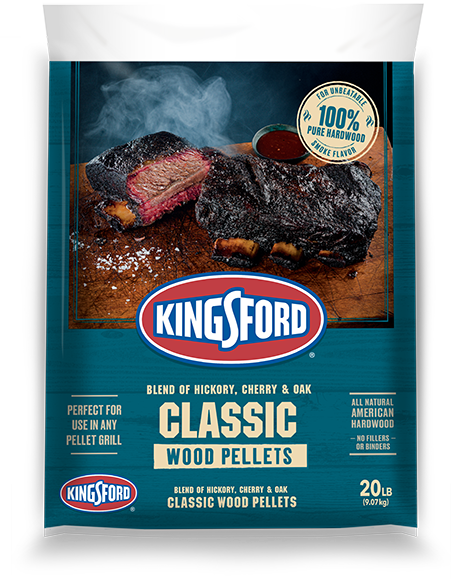 Big flavor is what pellets are all about, and now you can fire up all the real hardwood smoke you can handle with Kingsford® pellets. These all-natural pellets deliver a spicy blend of hickory, oak and cherrywood for big, bold no-holds-barred flavor. No fillers. No binders. No preservatives. No bull.
This spicy blend of hardwoods is perfect for most proteins, and a bold choice for taking grilled chicken to the next level.
Get more bold smoke flavor in your pellet grill.
Kingsford® Hardwood Pellets — Classic
3
Pure Flavor Hardwoods

Great for Any Pellet Grill

Made in the USA
For Your Safety
• Never barbecue indoors or in an enclosed area.
• Make sure ashes are cold before discarding.
• Keep away from children and pets.
• Barbecue away from flammable items, overhangs and trees.
• Store pellets in a cool, dry place.
• California Proposition 65 Warning: Combustion (burning) of this product, like other cooking methods, produces carbon monoxide and other substances known by the State of California to cause cancer, birth defects or reproductive harm.