Learn
HOW TO GRILL A STEAK
A great steak can be a quick, easy meal when you know what you're doing. All it takes is the right prep, setup and grilling techniques. Let's get started!
What You'll Need
Before starting, make sure you have everything on this list. We recommend Kingsford® Professional Charcoal Briquets for their high heat, low ash performance.* And don't skip the digital meat thermometer — it's the best way to get your steak done right. *Compared to Kingsford® Original Charcoal
Fuel and Tools
Digital Meat Thermometer
Tongs
Paper Towels
Ingredients
Steaks — With over a dozen different cuts to choose from, it's hard to pick a favorite type of steak. If you're looking for some inspiration we've laid out some of our top choices below.
Kosher Salt
Freshly Ground Pepper
Cooking Oil
Our Favorite Steaks
Ribeye
• Nicely marbled for flavor
• Easy to grill
• A bit more expensive but worth it

Porterhouse
• Rich, buttery flavor
• One of the biggest, meatiest cuts
• Unofficial King of the Steakhouse

Filet Mignon
• Tender & highly flavorful
• Smaller portion
• Expensive — Great for special occasions

New York Strip
• Nicely marbled for flavor
• Easy to grill
• More cost effective

T-Bone
• More fat means more flavor
• Quicker cook
• Leftover bone is great for making beef stock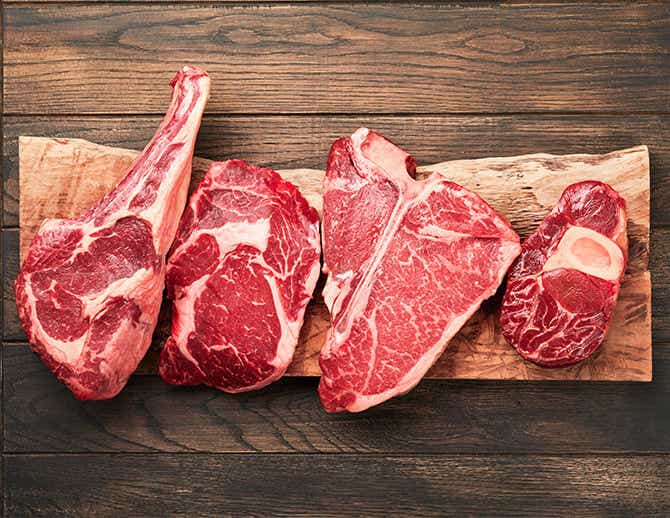 How to Prep
A few hours before grilling, liberally apply kosher salt (not table salt) to both sides of the meat. Refrigerate for 1 hour per inch thickness of meat.
30 minutes before grilling, remove the steaks from the fridge. Trim the excess fat and make vertical slashes in the outer ring of fat to prevent curling.
Apply freshly ground pepper and let the meat warm to room temperature.
How to Prep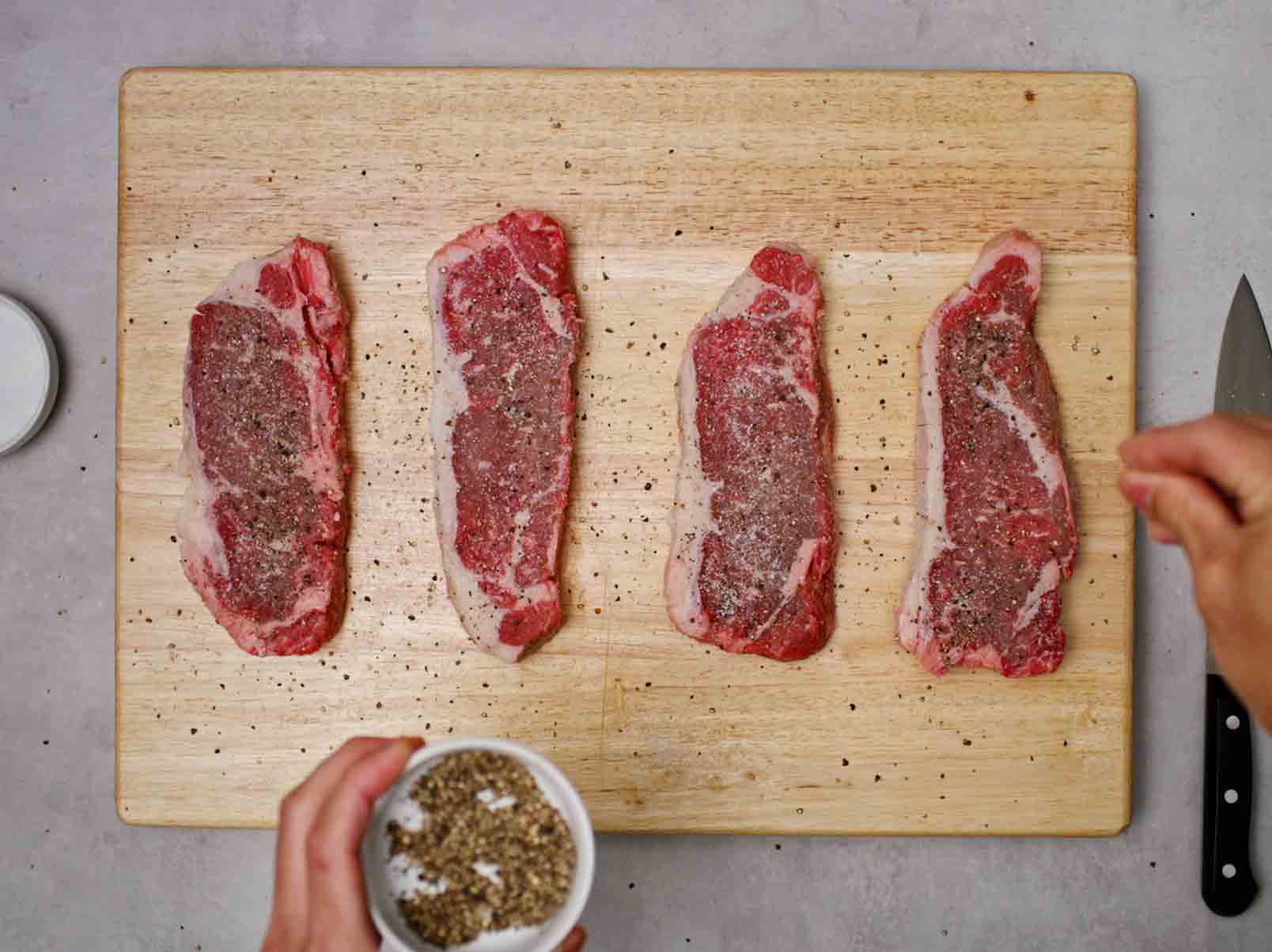 How to Build Your Fire
Give your top grill grate a good brushing and set it aside. Pour Kingsford® Professional Charcoal Briquets into a chimney — or pour them in a mound and light. Wait for coals to light fully.
Once the charcoal turns gray with ash, arrange coals in a Two-Zone Method: coals on one side of the grill and a void on the other.
Coals should be at Medium Heat — around 400°F. How to control the heat when grilling with charcoal.

How to Gauge Grill Heat Without a Thermometer

Carefully hold your hand about 5" to 6" above the grate, and refer to the temperature settings below:




• High Heat (450° to 550°F):
2 to 4 seconds
• Medium Heat (350° to 450°F):
5 to 6 seconds
• Low Heat (250° to 350°F):
8 to 10 seconds




Make sure your clothing doesn't touch the grate, and always move your hand away from the heat before you feel discomfort.




When you're at temp, put cooking oil on a folded paper towel. Grab the oiled paper towel with long-handled tongs and oil the grate thoroughly.

When you're at temp, put cooking oil on a folded paper towel. Grab the oiled paper towel with long-handled tongs and oil the grate thoroughly.
How to Build Your Fire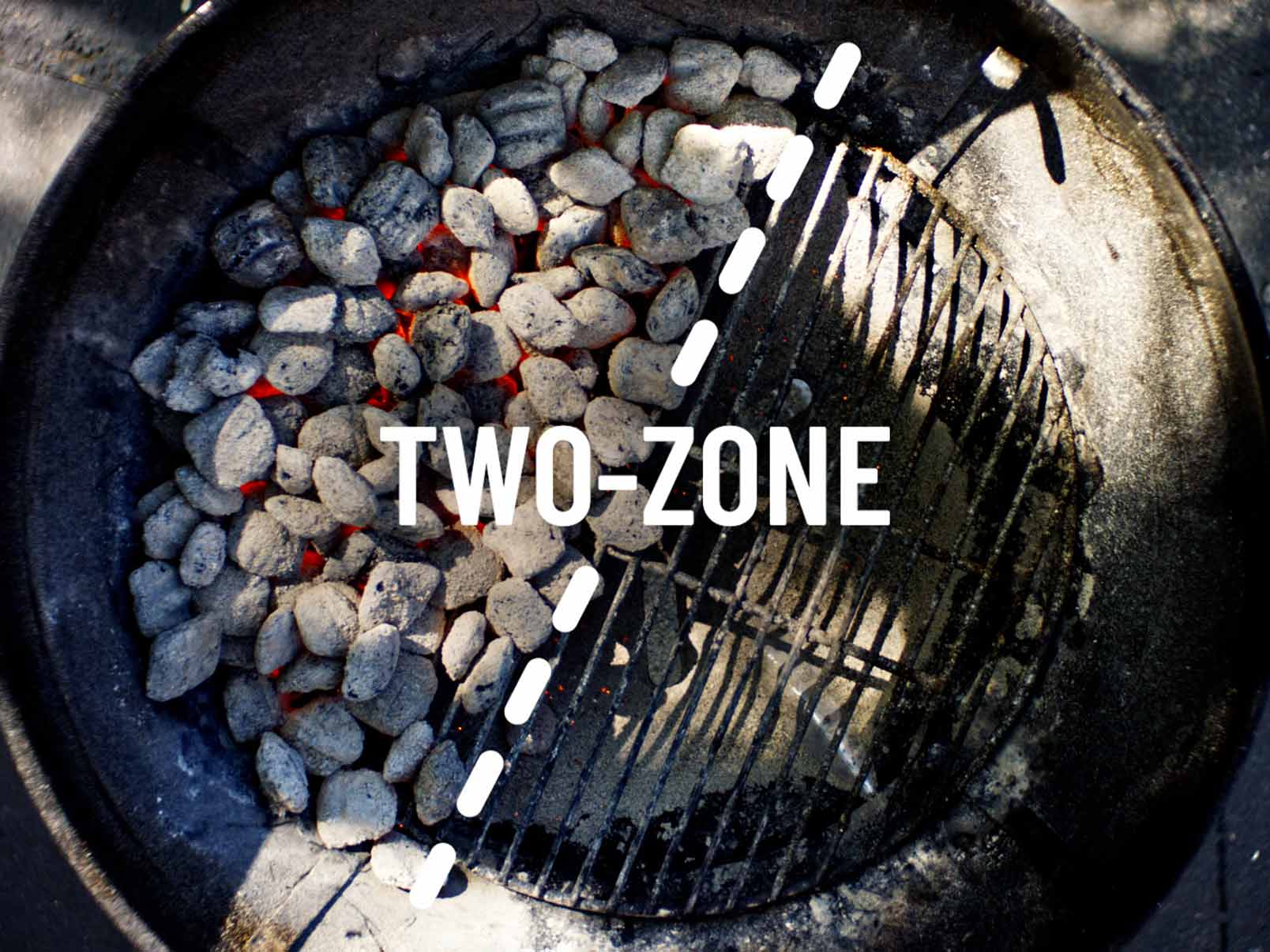 Grilling Time & Temp
Place your steaks directly above the coals and sear for 2 to 3 minutes per side with the lid closed. Don't touch the steaks while searing — you'll get better grill marks.
Once seared, move the steaks to the cooler side of the grate and close the lid for 2 to 11 minutes depending on grill temp, steak thickness and desired level of doneness.

How Done Is My Steak? Let's Find Out

* USDA Safety Guidelines recommend cooking steak to the mediumtemp of 145°F to make sure any harmful bacteria are destroyed.
** Cooking times are approximate and based on a 1" steak, including sear time.

While your steaks are still on the grill, insert the digital meat thermometer into the thickest part to check the internal temperature.
When they're a few degrees away from your goal temp, remove them from the grill — the temperature will continue to rise after they're removed from the grill.
Grilling Time & Temp
The Finish
Place steaks on a cutting board, loosely cover with aluminum foil and let them rest for 5 minutes before serving. Don't skip this step! It makes a world of difference in tenderness and tasty juices.
If you're slicing your steak, make sure you slice against the grain — the opposite direction of how the muscle fibers run. Serve and enjoy!
The Finish