Learn
How to Grill Pork Chops
Who doesn't love a grilled pork chop? Ideal for family meals or casual get-togethers, follow these simple steps for perfectly tender pork chops. You've got this — let's get started!
What You'll Need
Before starting, make sure you have everything on this list. We recommend using Kingsford® Original Charcoal Briquets. And don't skip the digital meat thermometer — it's the best way to get your pork chops done right.
Fuel and Tools
Kingsford® BBQ Smoking Chips Hickory or Mesquite (Optional)
Shallow Dish
Digital Meat Thermometer
Long-Handled Tongs or Long-Handled Metal Spatula
Paper Towels
Ingredients
1" Thick, Center Cut Bone-In Pork Chops
Water
Kosher Salt
Salt and Pepper
Glaze and Marinade (Optional)
Herbs (Optional)
Coarse Salt
Freshly Ground Pepper
Cooking Oil
How to Prep
Brine or marinate pork chops for 2 to 4 hours in the refrigerator. For the brine, combine ¼ cup of kosher salt with 4 cups of water in a shallow dish. Or use your favorite homemade or store-bought marinade.
If you love smoky flavor, soak some Kingsford® BBQ Smoking Chips (Hickory or Mesquite) in water 2 hours before you grill the chops.
After the chops are finished brining or marinating, discard the used brine or marinade and pat them dry with a paper towel.
Liberally apply coarse salt (not table salt) and freshly ground black pepper to both sides of the meat.

Here's How to Add More Flavor

Pork chops can be paired with a variety of spices, from brown sugar to chili powder, coriander, turmeric and any number of spice blends from around the world. Add your favorite seasonings with salt and pepper before grilling. Be adventurous!
How to Prep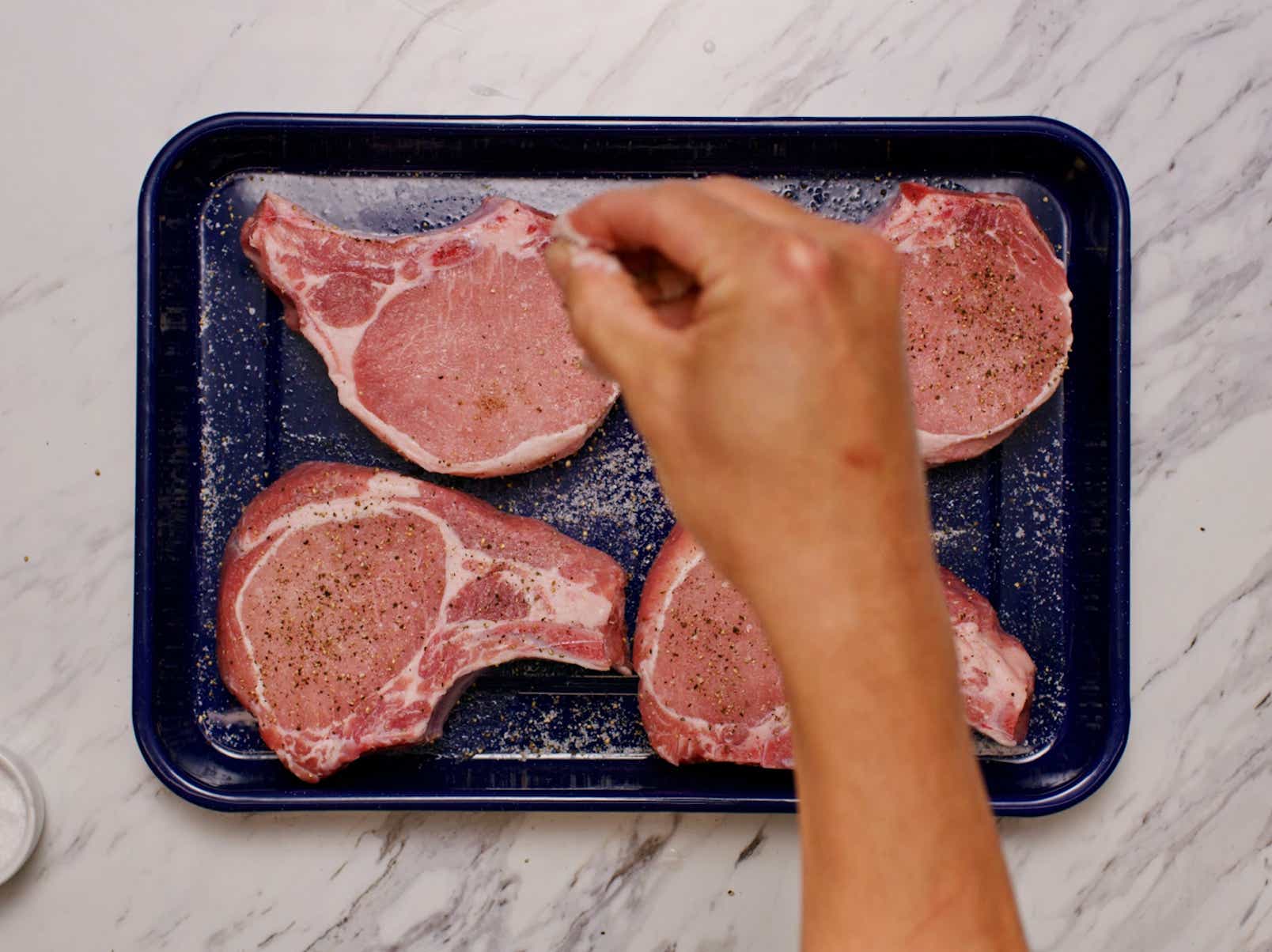 How to Build Your Fire
Give your top grill grate a good brushing and set it aside. Pour Kingsford® Original Charcoal Briquets into a chimney — or pour them in a mound and light. Wait for coals to light fully.
Once the charcoal turns gray with ash, arrange coals in a Two-Zone Method: coals on one side of the grill and a void on the other.
Coals should be at Medium Heat — around 375 to 400°F. How to control the heat when grilling with charcoal.
Add the grate and let it heat up.

How to Gauge Grill Heat Without a Thermometer

Carefully hold your hand about 5" to 6" above the grate, and refer to the temperature settings below:




• High Heat (450° to 550°F):
2 to 4 seconds
• Medium Heat (350° to 450°F):
5 to 6 seconds
• Low Heat (250° to 350°F):
8 to 10 seconds




Make sure your clothing doesn't touch the grate, and always move your hand away from the heat before you feel discomfort.




When you're at temp, put cooking oil on a folded paper towel. Grab the oiled paper towel with long-handled tongs and oil the grate thoroughly.

When you're at temp, put cooking oil on a folded paper towel. Grab the oiled paper towel with tongs and oil the grate thoroughly.
How to Build Your Fire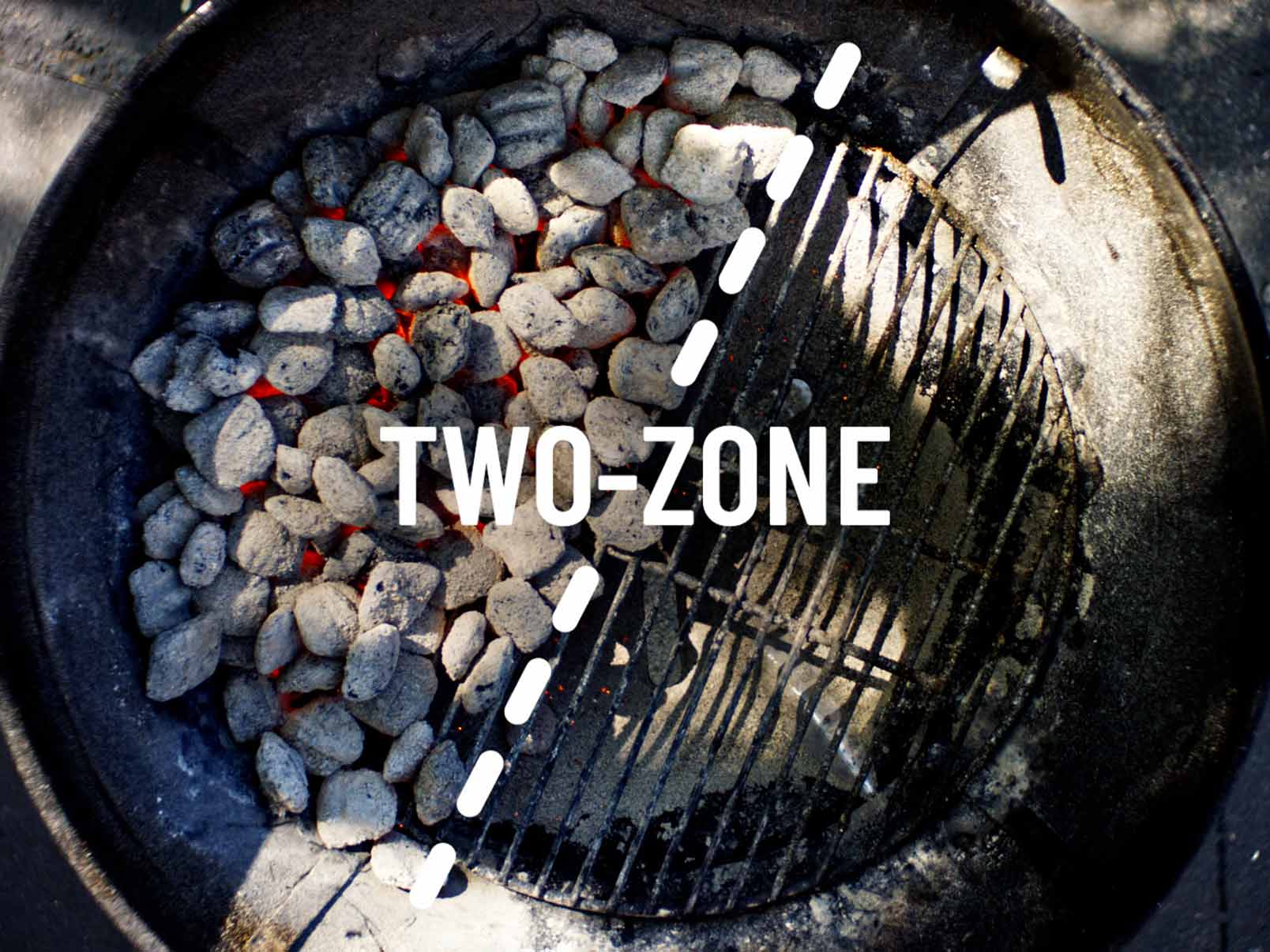 Grilling Time & Temp
Place the pork chops on the hottest part of the grate, directly above the coals and sear for about 3 minutes per side, flipping only once, until they develop a brown crust.
When the chops are browned, move them to the cooler side of the grate, with the bone side of the pork chops facing the coals to act as a heat shield. It should take about 12 to 14 minutes for your chops to reach an internal temp of 145°F.

When Do I Apply a Sugar-Based Glaze to Pork Chops? Let's Find Out!

Sugar-based glazes add delicious flavor to pork chops. To prevent the glaze from burning onto the chops, apply your glaze 10 minutes before the chops have reached doneness. Close the lid for 5 minutes to let it bake on, then open the lid, flip the chops over and repeat.

While your pork chops are still on the grill, insert the digital meat thermometer into the thickest part of the chop, but not touching the bone, to check the internal temperature.
When they reach an internal temperature of 145°F, your pork chops are done.
Grilling Time & Temp