Learn
How to Grill Chicken Wings
Served as an appetizer, gameday treat or even the main course, chicken wings are always a welcome treat. And when prepared over charcoal, this American favorite takes on a new level of flavor. We'll show you how — let's get started!
What You'll Need
Before starting, make sure you have everything on this list. We recommend Kingsford® Original Charcoal Briquets. And don't skip the digital meat thermometer — it's the best way to get your chicken wings done right.
Fuel and Tools
Digital Meat Thermometer
Sharp Knife
Large, Resealable Glad® Plastic Bag or Container
Long-Handled Tongs or Long-Handled Metal Spatula
Paper Towels
Ingredients
Whole Chicken Wings, Cut into Wings and Drumettes
Marinade or Barbecue Rub or Dry Seasoning
Salt and Pepper
Sauce or Glaze (Optional)
Your Favorite Dressings or Dipping Sauces (Optional)
Cooking Oil
How to Prep
Chicken wings have 3 sections: the wing tip, the middle joint and the drumette. Most likely the wings you buy will be whole. You can grill your chicken wings whole, but if you'd rather separate them, it's easy to do!

How to Separate Chicken Wings into 3 Sections? Let's Find Out!

With a sharp knife, remove the pointed wing tip. This piece has very little meat, so it can be discarded. Then, with one cut between the joints, separate the flat from the drum. It's that easy!
How to Prep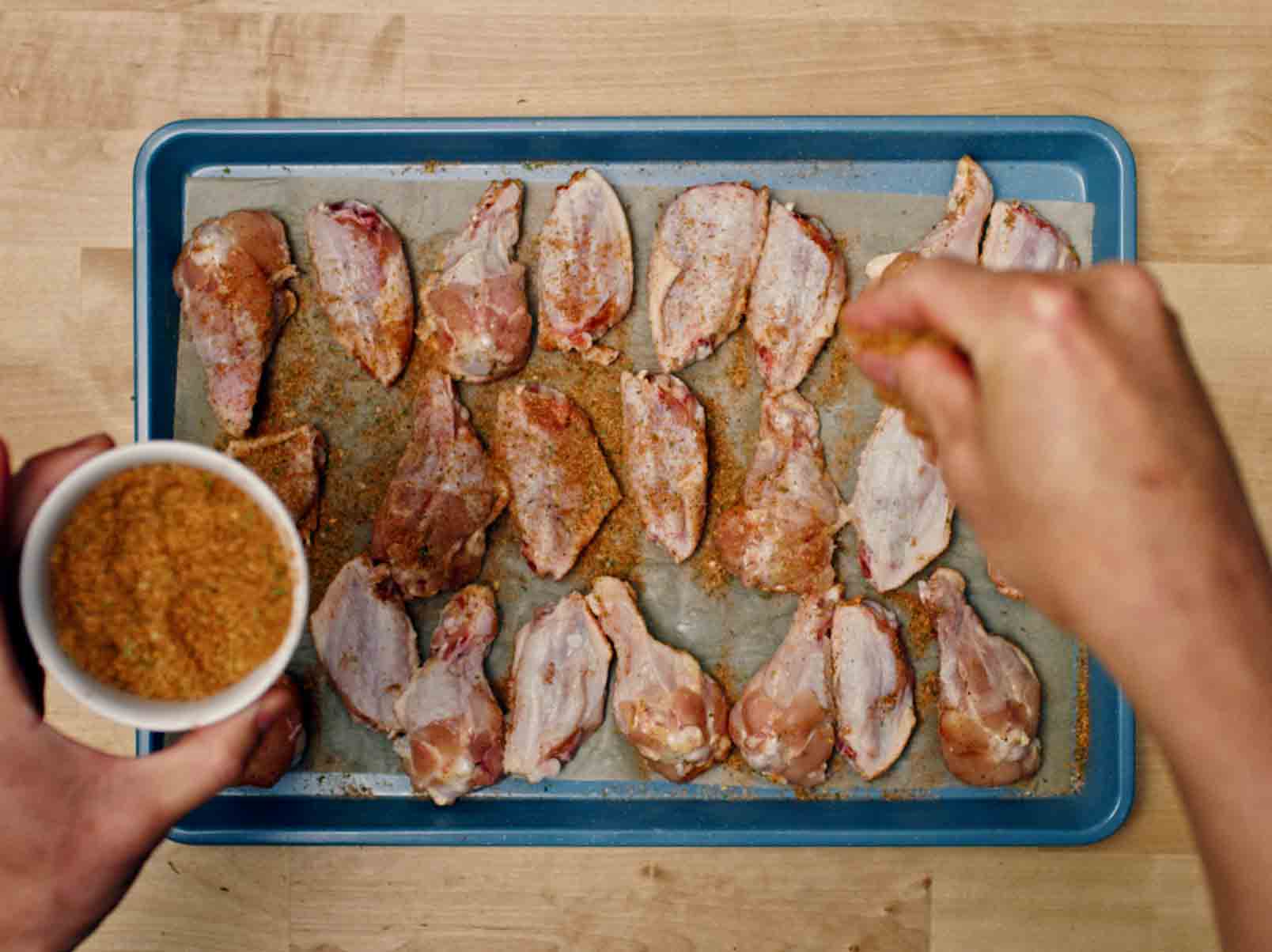 How to Build Your Fire
Give your top grill grate a good brushing and set it aside. Pour Kingsford® Original Charcoal Briquets into a chimney — or pour them in a mound and light. Wait for coals to light fully.
Once the charcoal turns gray with ash, arrange coals in a Two-Zone Method: coals on one side of the grill and a void on the other.
Coals should be at Medium Heat — around 400°F. How to control the heat when grilling with charcoal.
Add the grate and let it heat up.

How to Gauge Grill Heat Without a Thermometer

Carefully hold your hand about 5" to 6" above the grate, and refer to the temperature settings below:




• High Heat (450° to 550°F):
2 to 4 seconds
• Medium Heat (350° to 450°F):
5 to 6 seconds
• Low Heat (250° to 350°F):
8 to 10 seconds




Make sure your clothing doesn't touch the grate, and always move your hand away from the heat before you feel discomfort.




When you're at temp, put cooking oil on a folded paper towel. Grab the oiled paper towel with long-handled tongs and oil the grate thoroughly.

When you're at temp, put cooking oil on a folded paper towel. Grab the oiled paper towel with the tongs and oil the grate thoroughly.
How to Build Your Fire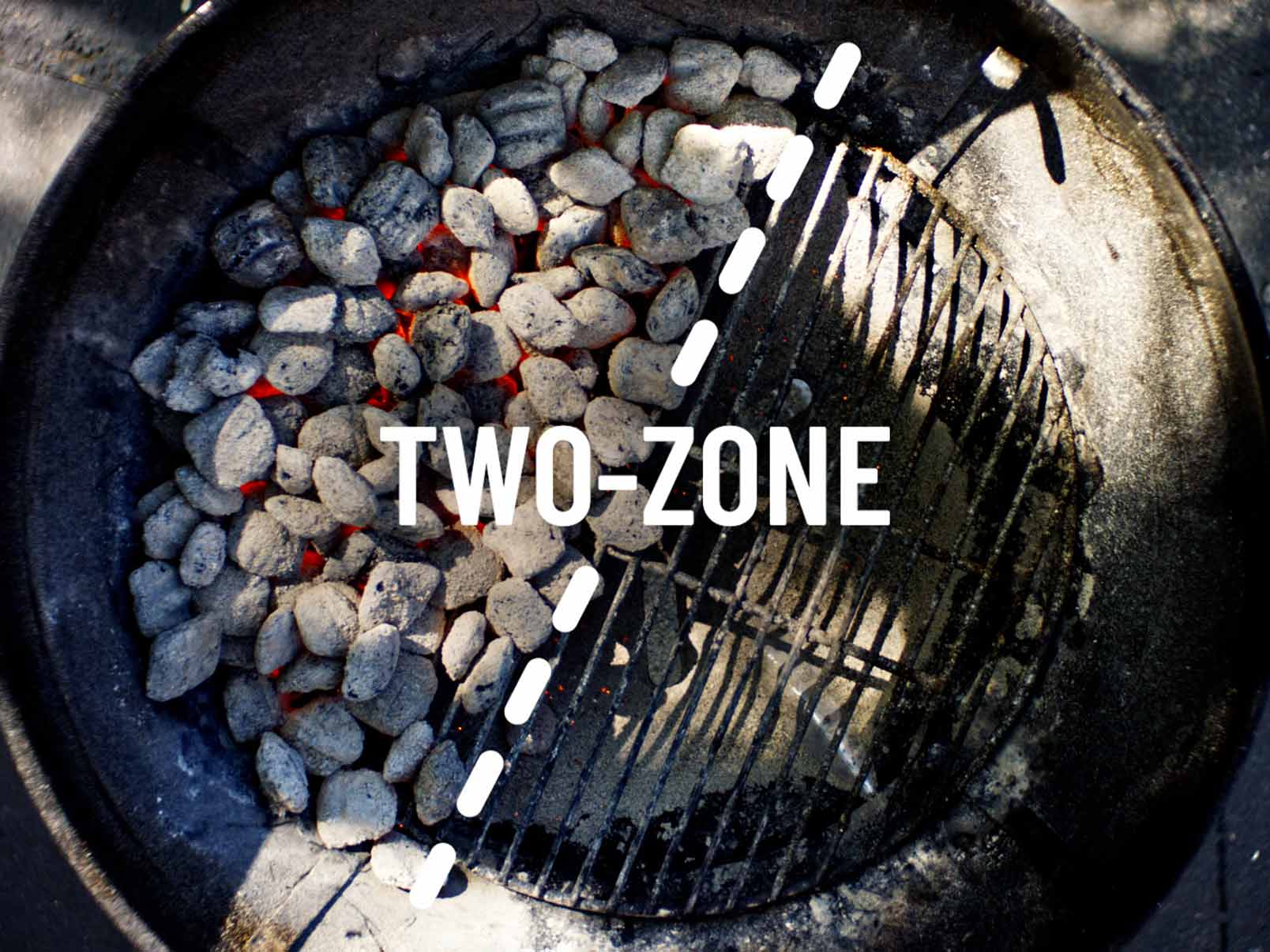 Grilling Time & Temp
Place the chicken wings on the hottest part of the grate, directly above the coals and sear for 1 to 3 minutes, searing the wings on all sides until they're nicely browned, and the skin is crispy.

How Do I Prevent Scorching When Searing Chicken Wings?

Chicken skin burns quickly, especially when the marinade or rub contains high amounts of sugar. So, watch them closely, and turn them often to prevent scorching.

When the chicken wings are browned on all sides, move them to the cooler side of the grate. Place the lid on the grill and let them finish cooking through.
Depending on the size of the wings, they should take about 8 to 10 minutes to finish cooking. Use your digital meat thermometer to make sure they've hit the internal temperature of 175°F.

When Do I Apply a Sauce or Glaze to Chicken Wings? Let's Find Out!

Sauces and glazes add delicious flavor to wings. To prevent charring, apply your glaze about 3 minutes before the wings have reached doneness. Close the lid to let the sauce or glaze heat up and caramelize on the wings.
Grilling Time & Temp
The Finish
There's no need to let chicken wings rest — they're ready to be served right off the grill.
Enjoy them with your favorite dressings or dipping sauces — we recommend Hidden Valley® Original Ranch®. And don't forget the celery sticks!
The Finish