Let's get grilling
1
Preheat Masterbuilt Gravity Series to 700°F.
2
Half the eggplant lengthwise and brush all over surface areas with grapeseed oil. Rub in yellow curry on the cut side. Reserve 1 tablespoon of grapeseed oil for the baba ganoush.
3
Roast eggplant for 5 minutes on each side to obtain nice chargrill marks on cut and skin surfaces. The more char on the cut side will result in a more smoky flavor, but be careful not to burn the eggplant.
4
Rest eggplant with skin side down on the grill and smoke/roast at 450°F for about 10 to 15 minutes or until eggplant starts collapsing.
5
Scrape eggplant flesh into a fine mesh strainer.
6
Rest for 10 minutes and allow as much moisture to leave through the strainer gently stirring occasionally to help moisture drain.
7
While the eggplant rests, prepare the wonton chips.
8
Cut wonton wrappers in half into 2 to 3 inch triangles.
9
Deep fry in dutch oven until golden brown at 375°F.
10
Rest on paper towels to dry and cool until ready to serve.
11
Transfer eggplant flesh to a mixing bowl, add all non-garnish ingredients, and stir with a fork until a creamy paste is obtained.
12
Pour into a serving vessel, garnish with green onion, cilantro, peanuts, chili flakes and sesame seeds. Serve with wonton chips, sliced cucumber and lemon wedge.
---
Ingredients
---
Italian eggplants

garlic, minced

shallot, minced

lemon juice

yellow curry powder

toasted sesame seeds

grapeseed oil

tahini

salt

dried crushed Chinese chili flakes
For Garnish:
finely sliced green onion curls

whole fresh cilantro leaves

crushed toasted peanuts
For Wonton Chips:
wonton wrappers

vegetable oil (for frying)
Credit: Recipe created by Howard and Anita Hsu of Sweet Auburn BBQ on behalf of Kingsford and Masterbuilt
---
Adventurous Eats
---
Take your taste buds outside their comfort zone with these unexpected twists on grilling favorites.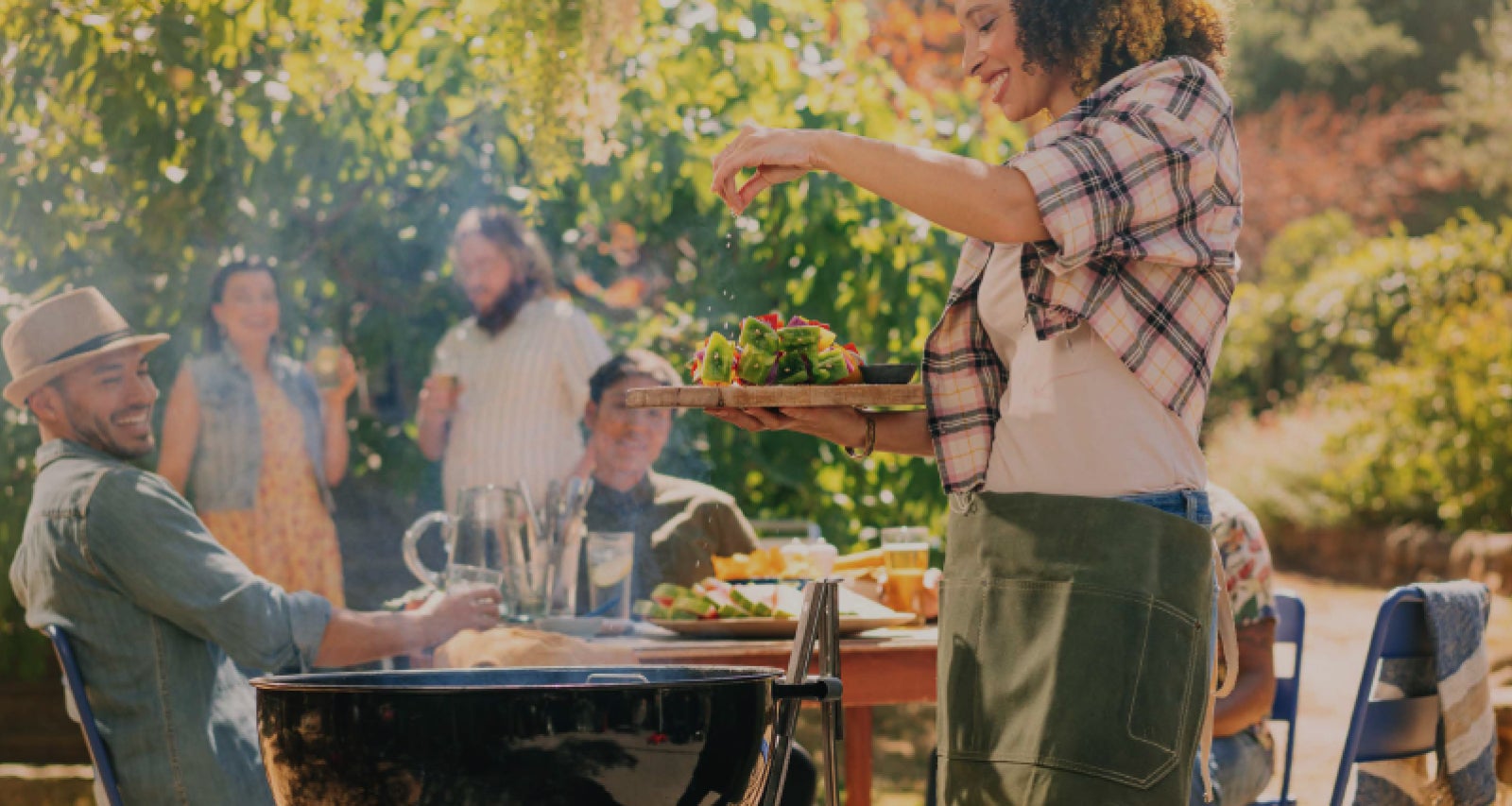 Light your fire with all new Kingsford® products.
Explore our full range of charcoal, pellets and flavor boosters to take your grilling to the next level.