How to Smoke a Turkey
Here's how to prepare, smoke, season and serve turkey for the holidays! This smoked turkey recipe will sure to be a hit at your next Thanksgiving or holiday gathering.
Let's get grilling
1
Once brined, it's time to season, inside and out. Place chopped aromatics — onions, garlic, even apple or lemon slices — inside the cavity. On the outside, a light coat of olive oil and spices will ramp up flavor and help to form that crispy mahogany skin we all love. Season the bird with a simple blend of salt and pepper, fresh or dried herbs (sage and thyme are great) or even a BBQ rub. Remember to back off on salt if you've brined your turkey.
2
Arrange coals in a parallel configuration.  Pile coals along both sides of the grill, with a water pan in the center to provide a moist environment and more consistent temperature.
3
Turkey meat loves smoke flavor. Add about two cups of Kingsford® Wood Chips with Hickory or large wood chunks. Be sure to soak the chips for at least 30 minutes in water before spreading onto the coals. Milder fruitwoods like apple or cherry wood also work well. Replenish the smoke wood as needed, but be careful not to oversmoke your bird.
4
Now grill your turkey with the lid on at about 350ºF. Use the vents to regulate temperature. Open vents wide to increase temperature. Close the vents to decrease temperature. Monitor the temperature regularly, adding more coals or wood chips as needed.
5
A meat thermometer is essential for turkey. It's done when the temperature reaches 165°F inside the thickest part of the breast or about 175°F at the thigh. In general, it will take roughly three hours to cook your turkey, depending on size.
6
Even after the turkey reaches the target temperature, you'll need to exercise a little patience. Here's how to serve smoke turkey like a pro: Take the cooked bird off the grill, and let it rest for 20 to 30 minutes before carving. This allows juices to redistribute throughout the bird. We recommend removing each side of the breast in one piece, then slicing across the grain. Enjoy!
For safe meat preparation, reference the USDA website.
Rated

5

out of

5
by
Ag97
from
Directions
Don't soak your wood chips. First wood does not absorb water or all the trees would turn to mush when it rains. Second it only gives you smoldering dirty smoke and steam and does not extend the burn time.
Date published: 2022-08-25
---
Adventurous Eats
---
Take your taste buds outside their comfort zone with these unexpected twists on grilling favorites.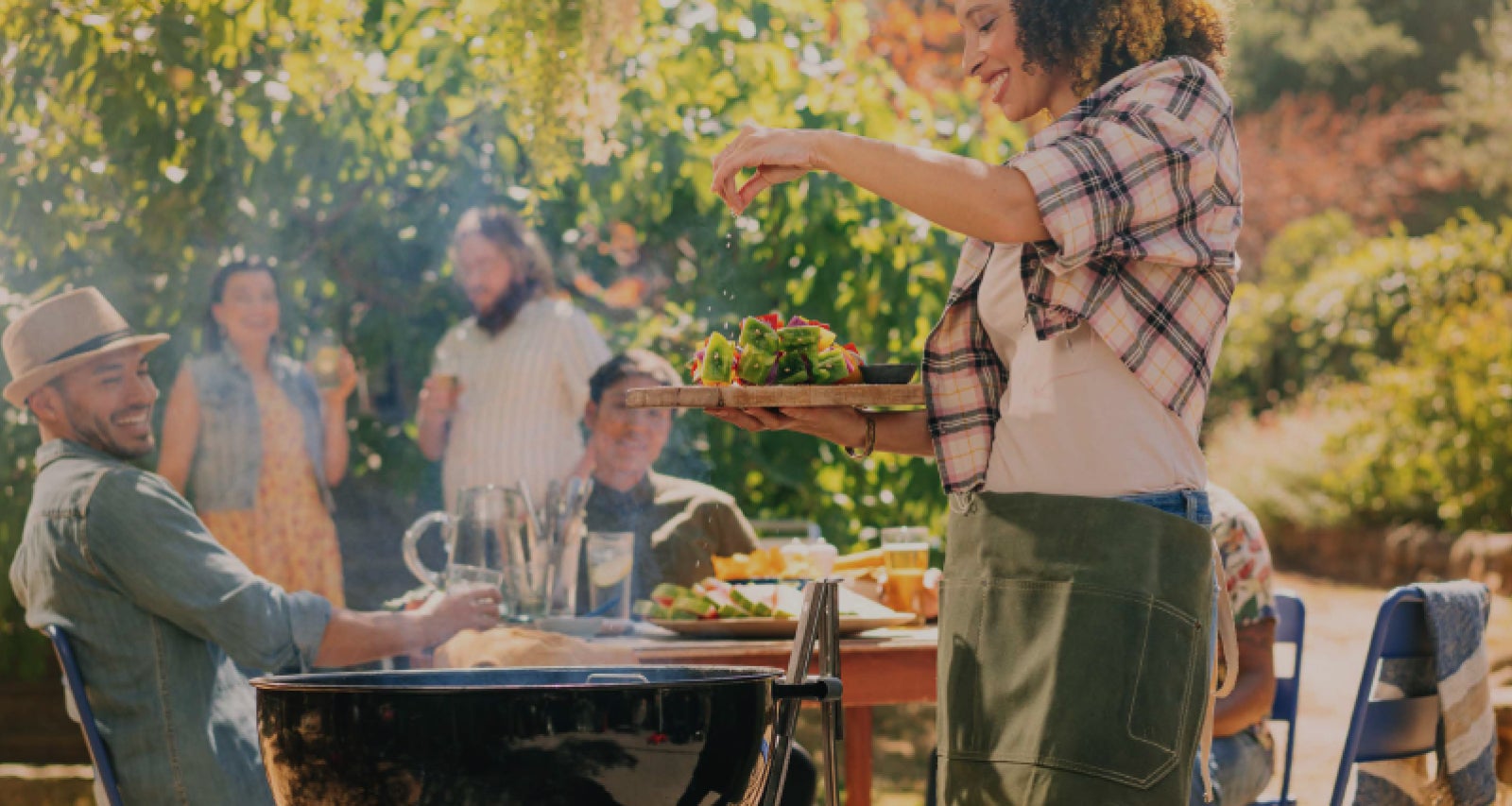 Light your fire with all new Kingsford® products.
Explore our full range of charcoal, pellets and flavor boosters to take your grilling to the next level.