Ingredients
pineapple, peaches or bananas
---
1
Food Prep
Start by prepping all of your fruit.


Pineapple: Cut off the top, the heel end and the rind from the outside. Then simply cut your pineapple into rings. You may also remove the core if you like.

Peaches: Wash peaches and cut them in half, removing the pit.

Bananas: Select ripe but firm bananas. Overripe bananas get soft quickly and are more difficult to grill without falling apart. Also, leave the skins on your bananas so they're easier to handle on the grill. Cut them in half lengthwise.
2
Grill Prep
How to Gauge Grill Heat Without a Thermometer
Carefully hold your hand about 5" to 6" above the grate, and refer to the temperature settings below:
• High Heat (450° to 550°F):
2 to 4 seconds
• Medium Heat (350° to 450°F):
5 to 6 seconds
• Low Heat (250° to 350°F):
8 to 10 seconds
Make sure your clothing doesn't touch the grate, and always move your hand away from the heat before you feel discomfort.
When you're at temp, put cooking oil on a folded paper towel. Grab the oiled paper towel with long-handled tongs and oil the grate thoroughly.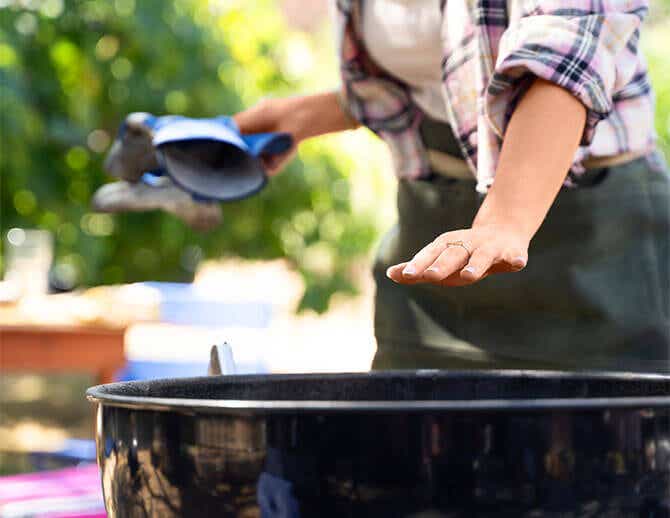 3
The Cook
Allow your grill to heat up with all vents fully open. When you're at temp, put cooking oil on a folded paper towel. Grab the oiled paper towel with long-handled tongs and oil the grate thoroughly.

Pineapple: Place your pineapple directly over the coals and grill it until the flesh has good grill marks and the surface is slightly caramelized, then flip your pineapple and grill the other side. If flare-ups occur, move your pineapple to the cooler side of the grate. Grill your pineapple until it's slightly tender but not too soft.

Peaches: Place your peaches cut side down on the grate directly over the coals. Grill your peaches until they have good grill marks or are slightly caramelized, then move them to the cooler side of the grate. Continue cooking them until they become a bit more tender, but not too soft.

Bananas:Grill your banana quarters cut side down, skin side up directly over the coals. Once you get nice grill marks, move your bananas to the cooler side so they can heat all the way through, but not burn or get too soft.
Tasty Dishes for Your Grilled Fruit
When you grill fruit, the natural sugars get caramelized, bringing out deep, rich flavor. This makes grilled fruit versatile and a great addition for a variety of sweet treats and savory sides.
Desserts: Grilled pineapple, peaches, and bananas are great for any dessert, but you can also try grilling any fruit you love. Some other great options are watermelon, mango, apples or nectarines.
Serve them hot off the grill with vanilla ice cream or make a shortcake with grilled fruit and whipped cream. You can make tasty grilled bananas foster by adding hot butter, rum and cream sauce. Or, try grilled fruit in a dessert you already love for a fresh new take on it.
Salsas and appetizers: Try serving grilled fruit as a side for the combined taste of sweet and savory flavors. Grilled fruit salsas are also simple to make and pair nicely with fish and chicken. Add grilled pineapple or peaches to your favorite salsa recipe to elevate the flavor.
You can also try grilled fresh figs stuffed with goat cheese and wrapped with bacon for an amazing appetizer that marries the worlds of sweet and salty flavors.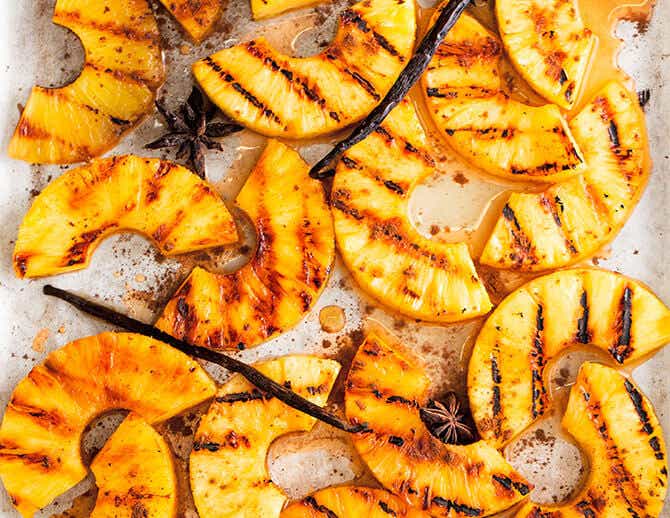 Rated

3

out of

5
by
ramaker
from
Something that gets my interest in trying
Something new to try when I cookout. I,ve never grilled banaas
Date published: 2023-08-04
Rated

5

out of

5
by
FaytalM
from
So sweet and fresh
This is a great starter, salad, side dish, or dessert. The grilling brings out even more of the natural sweetness of the fruit, and the cherry smoke enhances the flavor.
Date published: 2023-08-03
Rated

5

out of

5
by
JanetK1970
from
Quick & Delicious
Grilled fruit is a perfect side to grilled chicken or shrimp.
Date published: 2023-08-02
Rated

4

out of

5
by
JAWS
from
Sounds great but a little beyond my expertise
I tried it and it came out okay but I think it could have been better.
Date published: 2023-08-01
Rated

5

out of

5
by
martink
from
Tasty Fruit That's Grilled! 😊
Never thought about grilled fruit until I read a recipe from Kingsford on how to do just that. Best tasting pineapple, peaches and yes even a banana that I had grilled. Funny thing was, my children placed them as a topping on our dessert of plain ole vanilla ice cream. Now THAT is a real treat! 😉
Date published: 2023-07-25
Rated

5

out of

5
by
Toria
from
Salsa!
So I ended up using this as a warm salsa with homemade tortilla chips and it was amazing! I highly recommend.
Date published: 2023-07-08
Rated

5

out of

5
by
Faytal
from
Super Sweet
Quick and simple recipe. The grilling/heat bring out all the sugar in the fruit, making it super sweet, and extra juicy. Makes a great dessert, or accompaniment to any meal.
Date published: 2023-06-25
Rated

5

out of

5
by
Tjones2371
from
Sweet delights!
This one really outdid my grilling. It was so fabulous! I absolutely loved the grilled texture of the fruit and inside flavors!
Date published: 2023-06-23
Rated

5

out of

5
by
Stargazer1966
from
Whole family loved this refreshing summer side
I am so happy I tried this!! I used it for grilled fish tacos and it was a hit with my family. It makes me want more just thinking about it. It's so versatile for a side dish with chicken as well. I have also added jalapenos in it and purple onion to seve with my Mexican styled chicken. Try it today you may really be surprised at how well your taste buds will enjoy this recipe. Thanks for coming up with new ideas to break the hum drum cycle of routine foods!!
Date published: 2023-05-26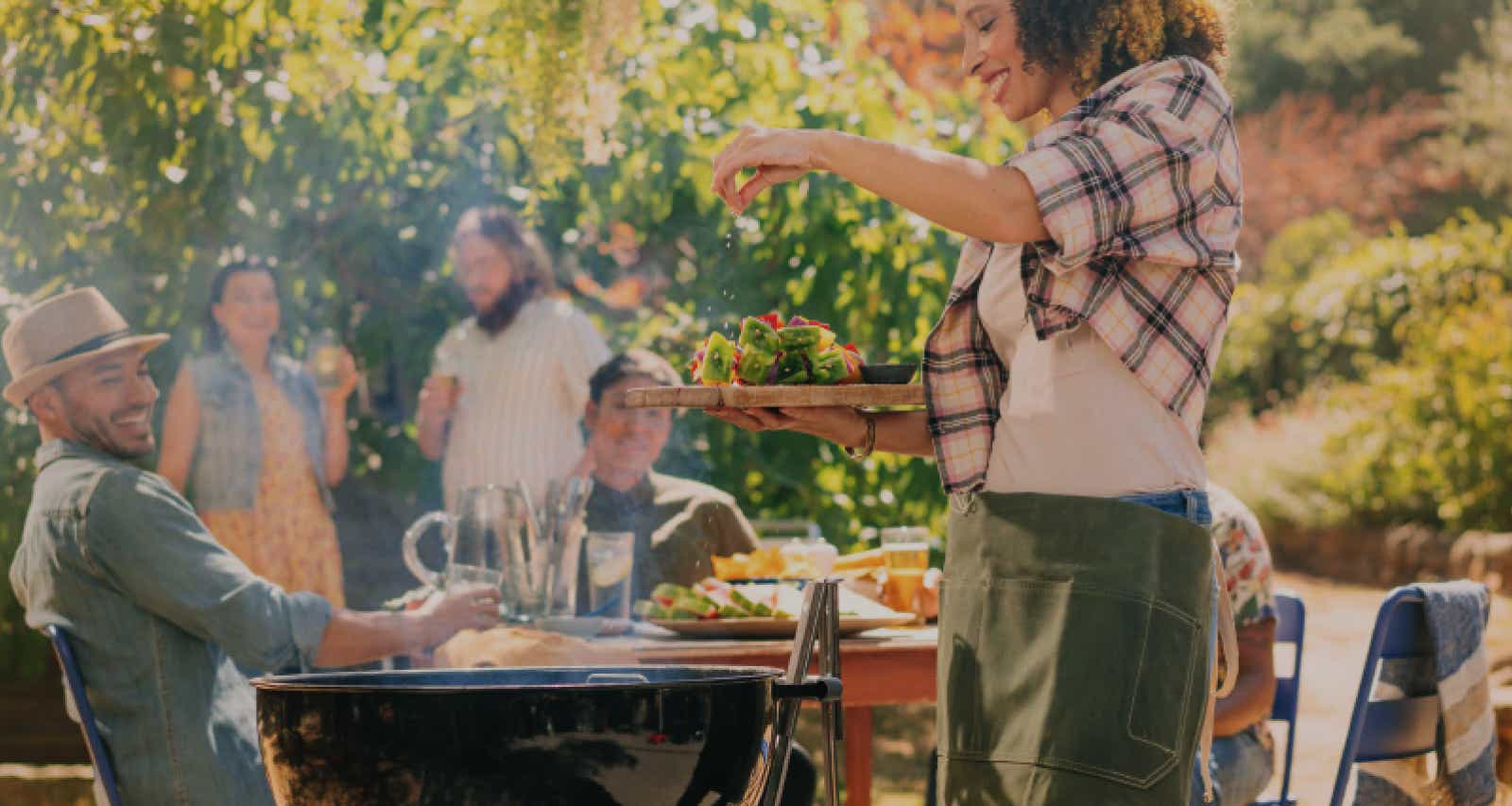 Light your fire with all new Kingsford® products.
Explore our full range of charcoal, pellets and flavor boosters to take your grilling to the next level.