Green Onion and Sage Turkey Meatballs with Bourbon-Soaked Cranberries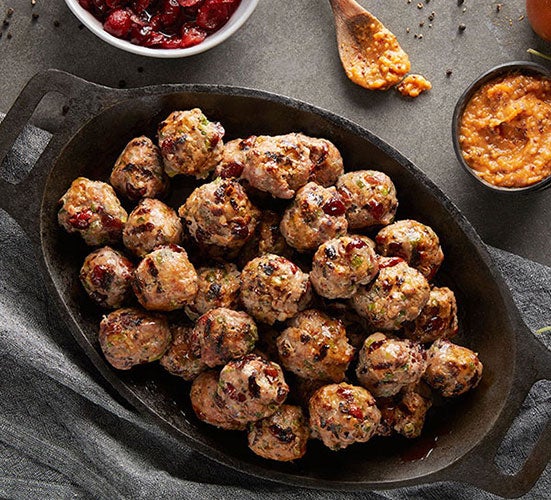 Let's get grilling
1
To make the bourbon-soaked cranberries, simply combine all ingredients and allow to sit overnight in the refrigerator.
2
For the turkey sausage, combine all ingredients in a large mixing bowl until thoroughly mixed. Once mixed, the sausage mixture can be formed into meatballs.
3
Build a charcoal fire for indirect cooking using Kingsford® Charcoal with Applewood by situating the coals on only one side of the grill, leaving the other side void. Preheat the grill to 400°F.
4
Grill meatballs over indirect heat and cooked for 10 minutes, or until the internal temperature reaches 160°F.
5
To make the sweet potato mustard, start by tightly wrapping the sweet potato in tin foil. Place the wrapped sweet potato on the grill over indirect heat, close the lid and cook for 30 to 40 minutes, or until soft. Once cooled, scoop out of its skin and reserve 10 ounces of the grilled sweet potato.
6
In a small pot, combine the yellow mustard seed, brown mustard seed, champagne vinegar, water, allspice, cinnamon, bay leaves and salt, and bring to a simmer. Simmer for 45 minutes and allow to cool overnight in the refrigerator. Separate the now pickled mustard seeds from the pickling liquid, but do not discard.
7
Combine the sweet potato with the pickling liquid, pickled mustard seeds, curry powder, brown sugar and cayenne pepper. Mix well and set aside. The sweet potato mustard will hold for up to 5 days in the refrigerator
8
When serving, liberally spread sweet potato mustard on both sides of a hot dog bun and place your grilled meatballs inside. Serve hot.
---
Ingredients
---
Bourbon-Soaked Cranberries
dried cranberries

bourbon

hot water
Turkey Sausage
ground turkey

ground pork

green onion

sage

black pepper

salt

cranberries

reserved soaking liquid
Sweet Potato Mustard
medium to large sweet potato

yellow mustard seed

brown mustard seed

champagne vinegar

water

allspice

cinnamon stick

bay leaves

salt

pickling liquid

pickled mustard seeds

yellow curry powder

light brown sugar

cayenne pepper
Credit: Recipe created by Jean-Paul Bourgeois of Blue Smoke on behalf of Kingsford® charcoal.
For safe meat preparation, reference the USDA website.
---
Adventurous Eats
---
Take your taste buds outside their comfort zone with these unexpected twists on grilling favorites.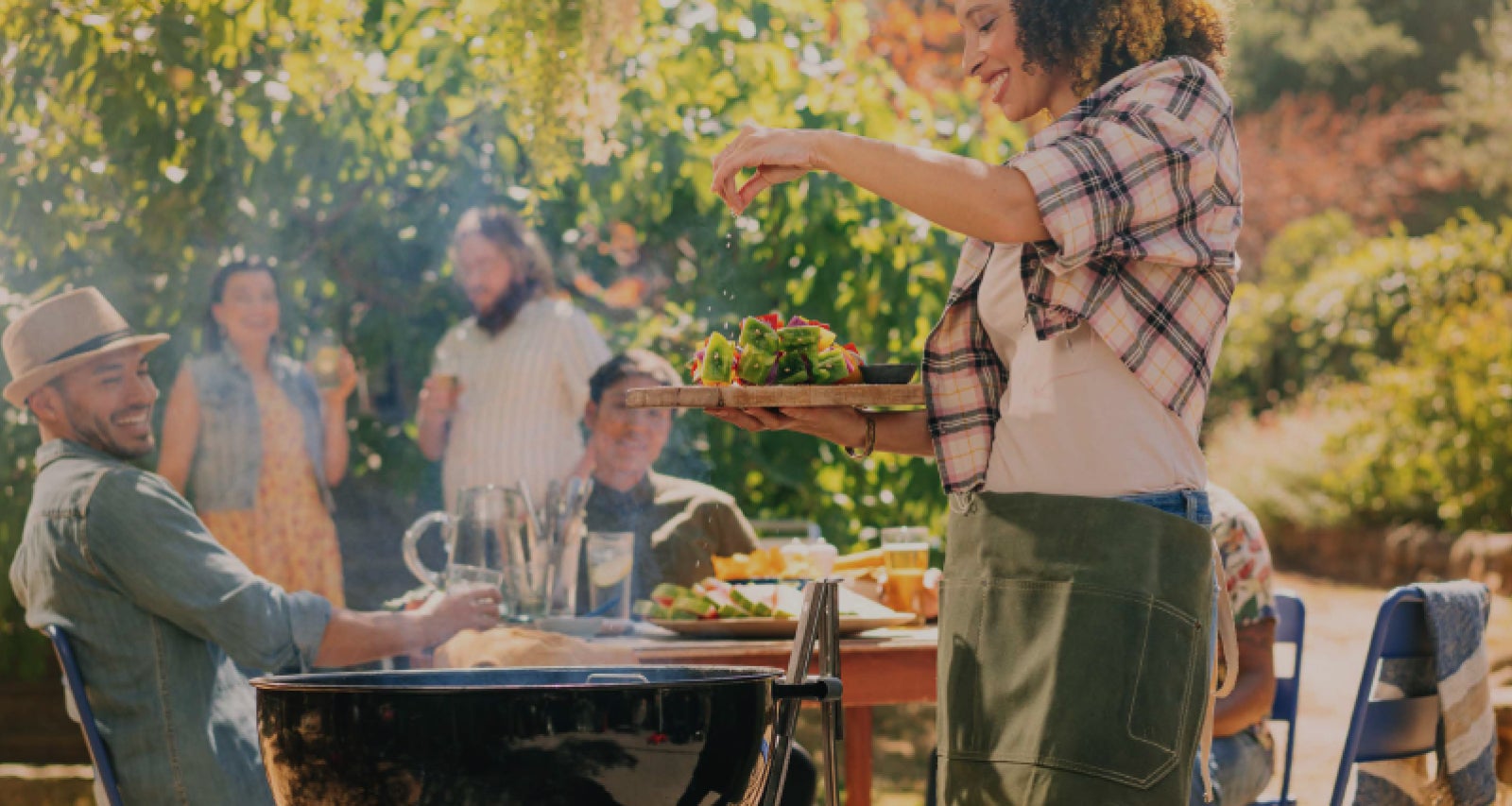 Light your fire with all new Kingsford® products.
Explore our full range of charcoal, pellets and flavor boosters to take your grilling to the next level.