Ultimate Kingsford Pulled Pork Nachos
Write a Review
Read Reviews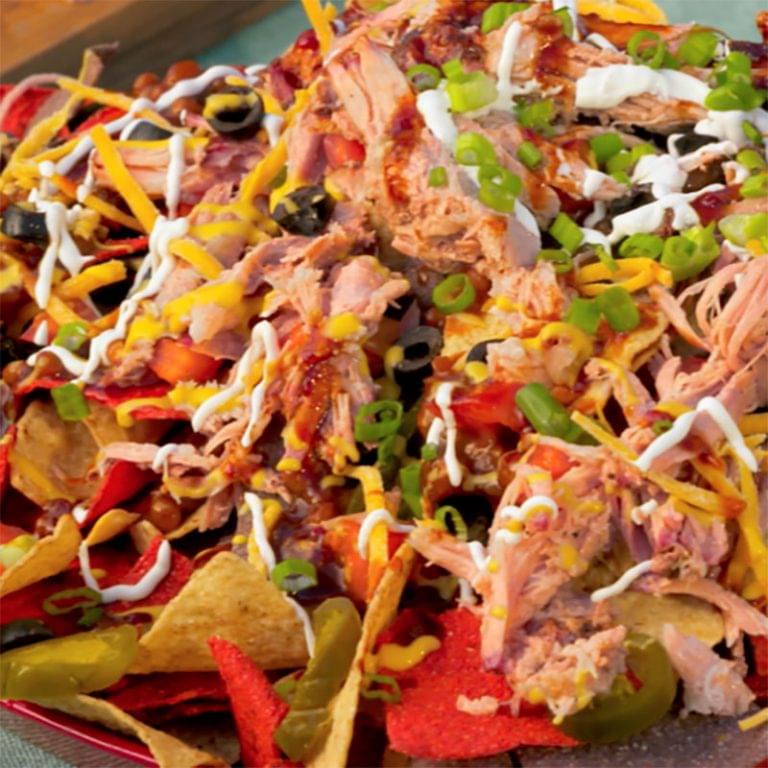 Ingredients
Ingredients
1 bag Kingsford® Long-Burning Charcoal Briquets and 1 bag Kingsford® Charcoal with Pecan
4–6 lb boneless pork butt
The Shed BBQ BBQ Rub (see recipe below)
Injection (see recipe below)
aluminum or metal water pan
foil
tortilla chips
your favorite homemade or canned baked beans
shredded cheddar cheese
nacho cheese sauce
sour cream
your favorite BBQ sauce
sliced black olives
sliced pickled or fresh jalapeño peppers
diced tomatoes
diced green onions
BBQ Rub
3 cups dark brown sugar
2 tablespoons black pepper
1½ teaspoons white pepper
1 tablespoon cumin
1½ teaspoons dried oregano
4 tablespoons paprika
4 tablespoons garlic salt
Injection
1 cup apple juice
3 tablespoons water
3 tablespoons cider vinegar
2 tablespoons kosher salt
Instructions
Injection
Injection: Combine ingredients in a bowl. Fill injector with mixture. Inject pork butt in 1-inch intervals, at a slight angle to avoid piercing all the way through butt.
BBQ Rub
BBQ Rub (yields 4 cups): Combine ingredients in a large bowl. Rub pork butt generously with BBQ Rub.
Smoked Pork Butt
Let pork butt rest at room temperature while you prepare your grill.
Build fire to one side of grill, creating two-zone heat. Pork butt will cook more evenly on the indirect side.
Grill temperature should stay consistently between 225–250°F.
Place small pan of water under grill grate on the indirect side of the fire.
Place pork butt on top of grill grate, over the water pan.
Cook pork slowly until internal temperature reaches 190°F or until meat is fork tender (approximately 8–9 hours). Reload hot coals as needed.
Take pork butt off grill, tent with foil and let rest 30–45 minutes.
Hand-pull pork and begin assembling your Ultimate Pulled Pork Nacho mountain with remaining ingredients! Pork can be cooked, pulled and refrigerated up to 3 days prior to your Ultimate Nacho Party! Don't forget to layer in the Baked Beans! #Startsomething
For safe meat preparation, reference the USDA website.