Swig & Swine Smoked BBQ Wings
Write a Review
Read Reviews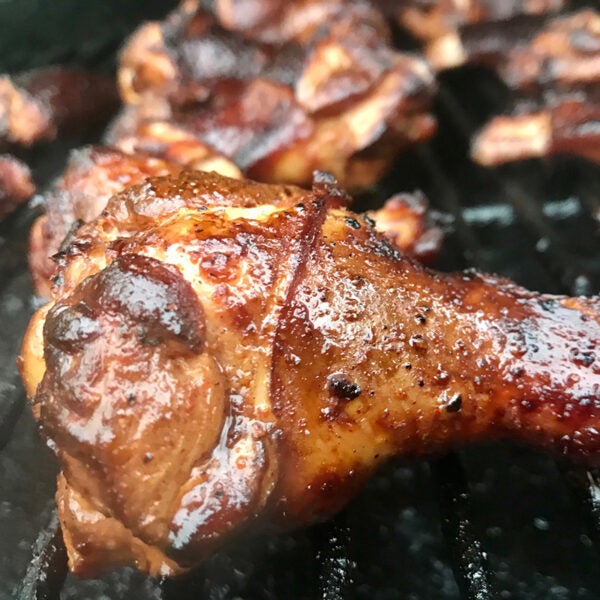 Yields:

4 Servings

Cook time:

2 h 15 m

Prep time:

15 minutes
Ingredients
2 pounds fresh jumbo wings, trimmed into drums and flats
wood chips
For Dry Rub
2 tablespoons brown sugar
1 tablespoon chili powder
1 tablespoon kosher salt
1 tablespoon black pepper
1 tablespoon granulated onion
1 tablespoon granulated garlic
1 tablespoon cayenne pepper
For Sweet Red BBQ Sauce
6 tablespoons chili powder
2 tablespoons kosher salt
1 teaspoon cayenne pepper
1 teaspoon crushed red pepper
1 pinch ground cloves
1 pinch ground allspice
12 ounces canned tomato paste
2 cups apple cider vinegar
4 cloves garlic, preferably smoked
1 small onion, chopped and smoked, skins included
2 stems rosemary
3 tablespoons Worcestershire sauce
5 tablespoons molasses
5 tablespoons corn syrup
2 cups brown sugar, packed
1 orange, cut in half, rind on
38 ounces bottled ketchup
Instructions
Soak wood chips in water for 30 minutes. While soaking, build a fire using Kingsford® Charcoal for indirect grilling by situating the coals on only one side of the grill, leaving the other void. Preheat the grill to 250°F, and add pre-soaked wood chips.
Rinse wings with water and pat dry with a paper towel.
In a large bowl, mix dry ingredients together, then mix in wings and toss until evenly coated.
Place wings on the grill over indirect heat, away from the coals, and cook at 250°F for 2 hours, or until the internal temperature of the chicken reaches 165°F.
While the wings are smoking, make your Sweet Red BBQ Sauce. Start by toasting all dry spices over medium heat in a heavy bottom sauce pot to release the oils. Add tomato paste and continue to toast for a couple of minutes before deglazing with vinegar.
Add garlic, onions, rosemary, Worcestershire sauce, molasses, corn syrup, brown sugar, squeeze orange and add rind to pot. Simmer for 45 minutes. Add ketchup and simmer for another 30 minutes.
Cool and strain through a wire mesh strainer.
Once the wings have reached an internal temperature of 165°F, remove them from the grill and toss in the Sweet Red BBQ sauce. Once covered in sauce, return to the grill directly over hot coals until the sauce starts to caramelize.
Remove from the grill and serve!
Anthony DiBernardo Tip:
Give yourself time to let the wings smoke or cook slowly. Let them break down and get tender as they develop color.
Credit: Recipe created by Anthony DiBernardo, Owner/Pitmaster Swig & Swine, on behalf of Kingsford Charcoal
For safe meat preparation, reference the USDA website.