Sweet Cheeks Q Pork Belly BLT
Write a Review
Read Reviews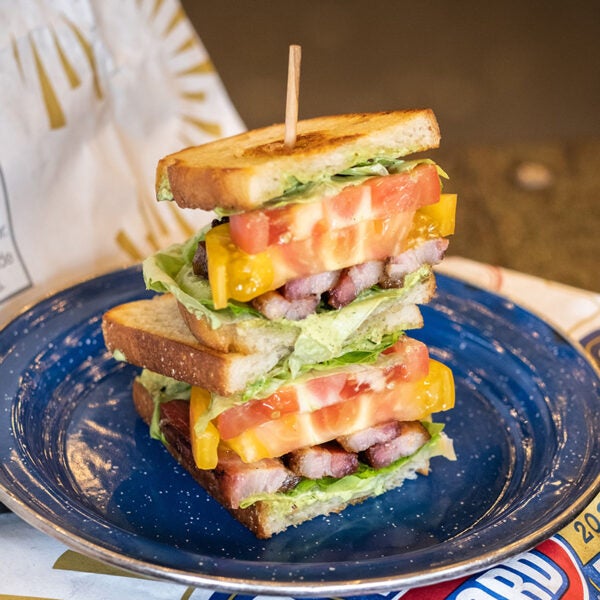 Yields:

4 Servings

Cook time:

4 h

Prep time:

72 h
Ingredients
Pork Belly
3 pounds skinless pork belly, preferably Berkshire or other heritage breed hog
1 cup pork belly cure
2 quarts brine
1 cup Jalapeño Green Goddess Aioli
2 heirloom tomatoes, washed and sliced in ¼–½-inch slices
1 head Boston bibb lettuce, washed and picked
8 slices sourdough bread, toasted
Green Goddess Aioli
1 cup mayonnaise
¼ cup cilantro, washed and roughly chopped
¼ cup tarragon, washed and roughly chopped
¼ cup parsley, washed and roughly chopped
½ scallions, washed and roughly chopped
4 green jalapeños, chopped and deseeded (leave seeds in for more heat)
4 shallots, roughly chopped
4 lemons, zested and juiced
Sweet Cheeks Brine
2 quarts water
1 tablespoon mustard seed
1 tablespoon fennel seed
1 tablespoon coriander seed
8 star anises
2 tablespoons black peppercorns
¾ cup sugar
1½ cups salt
½ pound onion
½ pound celery
10 cloves garlic, smashed
Instructions
Green Goddess Aioli:
Place the lemon juice, zest, shallot, mayo and scallions in your blender. Turn on low and gradually increase to high until blending is consistent. Gradually add in all other ingredients until fully incorporated and bright green.
Season with salt and pepper and chill for at least one hour before serving.
Brine:
Bring water to boil with the spices, sugar and salt. Turn off heat and add vegetables. Let cool completely.
Belly:

Score the top layer of fat on the pork belly &frac;14-inch diamonds. Rub the belly with the cure and let sit in your refrigerator on a rack-lined tray for 18–24 hours.
Gently wipe off the cure with a wet paper towel, and place the pork belly in a container with 2 quarts of the brine. Let sit in the brine for another 18–24 hours.
Remove the belly from the brine and dry with a paper towel. Let sit at room temperature and continue to dry for another 20–30 minutes while you get your smoker ready.
Build a two-zone charcoal fire for both direct and indirect cooking using Kingsford® Charcoal by situating the coals on only one side of the grill, leaving the other side void. Preheat the smoker to 225–250°F.
Smoke the belly, fat side up for 3–4 hours, or until it turns dark in color, is soft to the touch and reads an internal temperature of about 160°F.
At this point you can either let the belly rest for 15 minutes, slice and assemble the sandwich, or you can let the belly cool overnight and slice and cook it like bacon (as thick as you like).
Tiffani Faison Tip:
For grilling, make sure your meat is almost room temperature and dry before you place it on the grill if you are looking for a nice sear without a marinade! And always season liberally for thicker pieces of meat.
Credit: Recipe created by Tiffani Faison Sweet Cheeks Q on behalf of Kingsford Charcoal
For safe meat preparation, reference the USDA website.