St. Louis BBQ Ribs
The people of St. Louis know their BBQ sauce, and when they talk BBQ, they're actually talkin' grilled pork ribs, smothered in a sweet, smoky layer of deliciousness that you'll want to pour over everything. Take our advice, and make plenty of extra sauce and dry rub to store away for later.
St. Louis BBQ Ribs
Write a Review
Read Reviews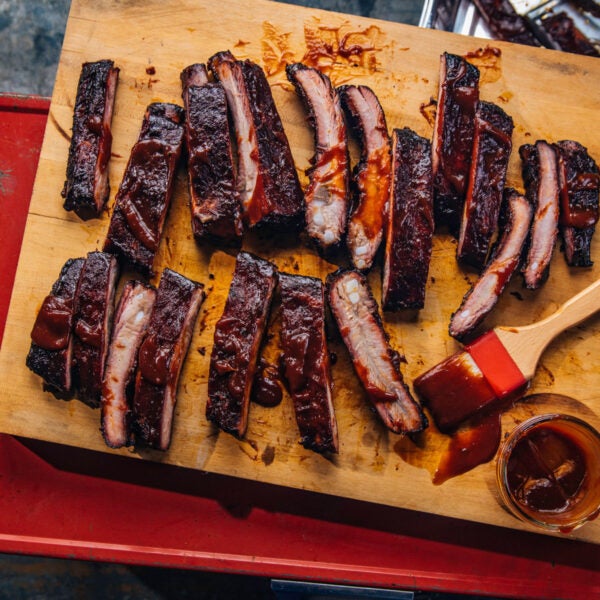 Yields:

4–6 Servings

Cook time:

4 h

Prep time:

30 minutes
Pitmaster note: If you're going through the trouble of making a dry rub and scratch BBQ sauce, it's a good idea to have some left over. The extra rub will last several weeks in an airtight container, and you can save the sauce for at least a week to 10 days.
Ingredients
2 slabs St. Louis-style cut ribs, membrane removed from underside of ribs, any loose fat or meat trimmed
For the spice rub
¼ cup brown sugar
2 tablespoons onion powder
2 tablespoons smoked paprika
1 tablespoon dry mustard
½ tablespoon garlic powder
½ tablespoon dried oregano
1 teaspoon ground coriander
½ teaspoon cayenne pepper
2 tablespoons kosher salt
2 teaspoons freshly ground black pepper
For the sauce
2½ cups ketchup
1/3 cup apple cider vinegar
¼ cup brown sugar
¼ cup molasses
2 tablespoons Dijon mustard
1 tablespoon Worcestershire sauce
1 teaspoon liquid smoke (optional)
Instructions
Prepare the rub: In a medium bowl, whisk all rub ingredients together. Use your fingertips to break up any large clumps of brown sugar.
Set aside 2 tablespoons rub to use in sauce and apply the rest of the rub to front and back of ribs.
Build a charcoal fire using Kingsford® Original Charcoal for indirect grilling by situating the coals on only one side of the grill, leaving the other side void. Preheat to 250°F.
Once the grill is preheated, place the ribs on the grill meat-side up and cook with indirect heat for 3½–4 hours, or until the ribs are tender. For your safety, please reference the USDA safe cooking temperatures.
While ribs are cooking, make the sauce by combining all the sauce ingredients into a medium saucepan along with the 2 tablespoons reserved spice rub.
Stir in 1/2 cup water and bring to a boil over high heat, reduce heat and simmer for 8 to 10 minutes, stirring often, until reduced to a glaze consistency. Sauce should reduce by about one-third. Remove from heat and allow the sauce to cool.
During the last 30 minutes of cooking, brush the sauce on to both sides of the ribs in two coats. Discard any leftover sauce after use; do not reuse or re-boil sauce.
Remove the ribs from the grill and place them on a cutting board to rest for about 10 minutes. Carve the ribs and serve.

Major League Baseball trademarks and copyrights are used with permission of Major League Baseball. Visit MLB.com.
For safe meat preparation, reference the USDA website.