Spicy BBQ Bacon Ranch Burger
Write a Review
Read Reviews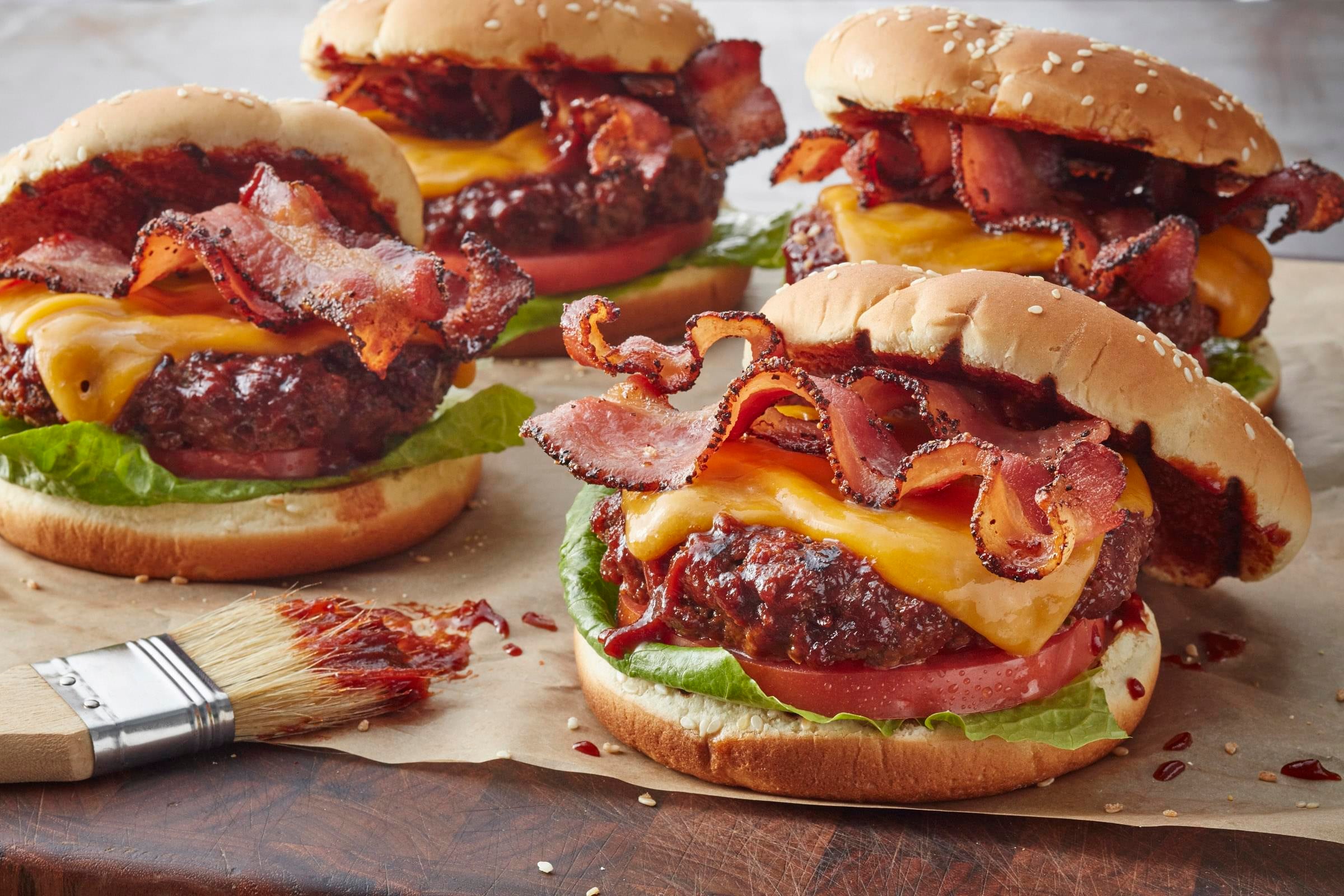 Ingredients
1 pound ground beef (preferably 80/20 meat-to-fat ratio)
1 packet (1 oz) Hidden Valley® Spicy Ranch Salad Dressing & Seasoning Mix
4 slices cheddar cheese
1 tomato sliced
lettuce
8 slices bacon precooked
4 hamburger buns lightly toasted
1 cup Kingsford® Honey Jalapeño Mesquite BBQ Sauce for basting the burgers and brushing on buns
Instructions
Using Kingsford® charcoal, build a fire for direct grilling and preheat to medium-high (approximately 400°F). While the grill preheats, gently blend ground beef and spicy ranch seasoning mix in a large mixing bowl.
Form seasoned beef into four ¼ pound burger patties.
Grill the burgers for approximately 4 minutes per side until they reach an internal temperature of 160°F. During the last minute of cooking, baste both sides of the burgers with Kingsford® Honey Jalapeño Mesquite BBQ Sauce* and top each burger with a slice of cheese.
To assemble the burgers, place lettuce and tomato slices on each bottom bun, top with a burger patty, and bacon.
Brush additional BBQ sauce on the cut side of the top bun then place on the burger.
*Tip: Always add sauce at the end of the cooking process as too much exposure to direct heat can cause it to burn. Basting with a few minutes left in the grilling process ensures that the sauce has time to caramelize without overcooking.
For safe meat preparation, reference the USDA website.